In Nicole "Snooki" Polizzi's novel, "A Shore Thing," characters Gia Spumanti and Bella Rizzoli hit Seaside Heights, N.J., for a summer of partying. Read the first chapter.
Chapter one
Life was hard. But a pouf? That should be easy.
Giovanna "Gia" Spumanti was a hair raising pro. She'd been banging out poufs since age eleven, or as soon as her fingers were long enough to hold a bottle of Deluxe Aqua Net. After ten years of trial and error to find the right combination of spray, twisting and shine serum, Gia could add four inches to her overall height — which, at five feet flat, she could use. Gia's pouf defied the laws of gravity. It was her crowning glory. Although she'd love to wear an actual crown or a rhinestone tiara whenever she left the house, it just wasn't practical. It could fly off on the dance floor, and take out an eye. The pouf, however, wasn't going anywhere (but up).
Tonight, humidity was a bitch. Her thick black mane refused to cooperate. Gia brushed it out to start over — again — feeling discouraged. Her first night out in Seaside Heights, New Jersey, she wanted to present the best version of herself. Hundreds of guys would get a look at her, and she'd be searching among them for her near future fling(s). After the year she had back home in Brooklyn — landing and losing a couple of jobs and boyfriends — she deserved the sexiest summer ever.
Gia hoisted the front section of her hair, holding it high over her head with one hand. With her other hand, she gave it a blast of spray. Then she twisted the clump into a bubble, and fastened it in the back with a butterfly clip, aka, a tramp clamp. Her tried and true technique should have worked. But her bump fell to one side like a deflated tire.
"Waa!" she whined at her reflection, but just for a second. Complaining wouldn't fix her pouf. It wouldn't make her tall and skinny. Or turn her rented Seaside Heights beach house/dump into a palace.
"Dump" was a slight exaggeration. But only slight. From the outside, the two-story, two-bedroom bungalow looked like an aging Atlantic City hooker. For a month, this hooker would be home. The photos on the real estate website that convinced Gia to rent the place sight unseen had been taken a few thousand years ago. Since then, sand and salt ravaged the gray shingles and warped the shutters. The vibe inside, though? Much better. The kitchen was old, but clean (for now). The big and plushly furnished living room was painted berry pink, like a vodka cranberry cocktail. The couch — red velvet, super soft — reminded Gia of giant lips. She dubbed it the official Make Out Zone.
With any luck, hot guidos would kiss her on it.
Gia chose the smaller of the two bedrooms. The cozy room instantly charmed her with round pothole windows facing the ocean. The bed sagged in the middle, and the closet was the size of a Barbie Dream House. But the wall paintings of shells and seagulls and the sand pink paint job were comforting. Gia brought her leopard print bedspread from home, for that touch of the familiar. She could already picture herself and a yummy juicehead rolling around on top of it.
Her cousin Isabella "Bella" "Bells" and "Hells Bells" Rizzoli poked her head into Gia's bedroom. "What the hell?" she said, clearly annoyed. "You're not done yet? It's been, like, an hour already."
Gia said, "The club will not run out of tequila before I get my hair right. So shut the f--- up."
Bells flopped onto Gia's bed. Nothing on her body bounced, including her new boobs. They were Bella's birthday gift to herself when she turned twenty-one a few months ago. She'd waited her whole life for t--- to grow, and finally decided to give up on Mother Nature, and turn to Dr. Rosenberg. He boosted her from a 32B to a 34D. Not a major change. As a karate brown belt and runner, Bella couldn't haul around a pair of watermelons. Gia suspected the inflated boobs were a part (parts?) of Bella's overall life reboot plan. After six years with Bobby Bonehead, Bells was single, willing and eager to make up for lost time. She must have packed two dozen bikinis for their month down the shore. Tonight, Bells wore her "club" bikini top, two silver lamé triangles the size of Doritos connected by a couple of strings.
"What do you call those?" asked Gia, looking at her cousin's bottoms. "Denim panties?"
"Too much?" asked Bella, who rolled over to check if her short shorts showed crack and/or cheek.
"I can practically see what you had for lunch," said Gia. "Daisy Duke would be embarrassed to wear those."
"Good," said Bella, laughing.
If there was one rule about how to dress on the Jersey Shore: Less was more.
Gia said, "If I could trade bodies with anyone, Bells, it'd so be you." Anyone would agree. Bells had long smooth tan legs, a luscious ass, tiny waist and iron flat belly, as well as the finest set money could buy.
Bella said, "What about you? Real boobs, great legs. Fun-sized and adorable. Seriously. Every guy you meet wants to tuck you into his back pocket and take you home."
If only it were true, thought Gia. Bella was a nine. Gia was, maybe, a seven ... point nine. She'd put on some weight since her cheerleader days in high school. On her petite frame, one extra pound made her muffin top. Two pounds? It was a dough explosion. Gia tried not to stress about it. She could starve, not drink, and be skinny. Or she could have a good time, and be a curvy. Gia chose curvy. Any sane person would. But, when it came to weight, most girls were crazy.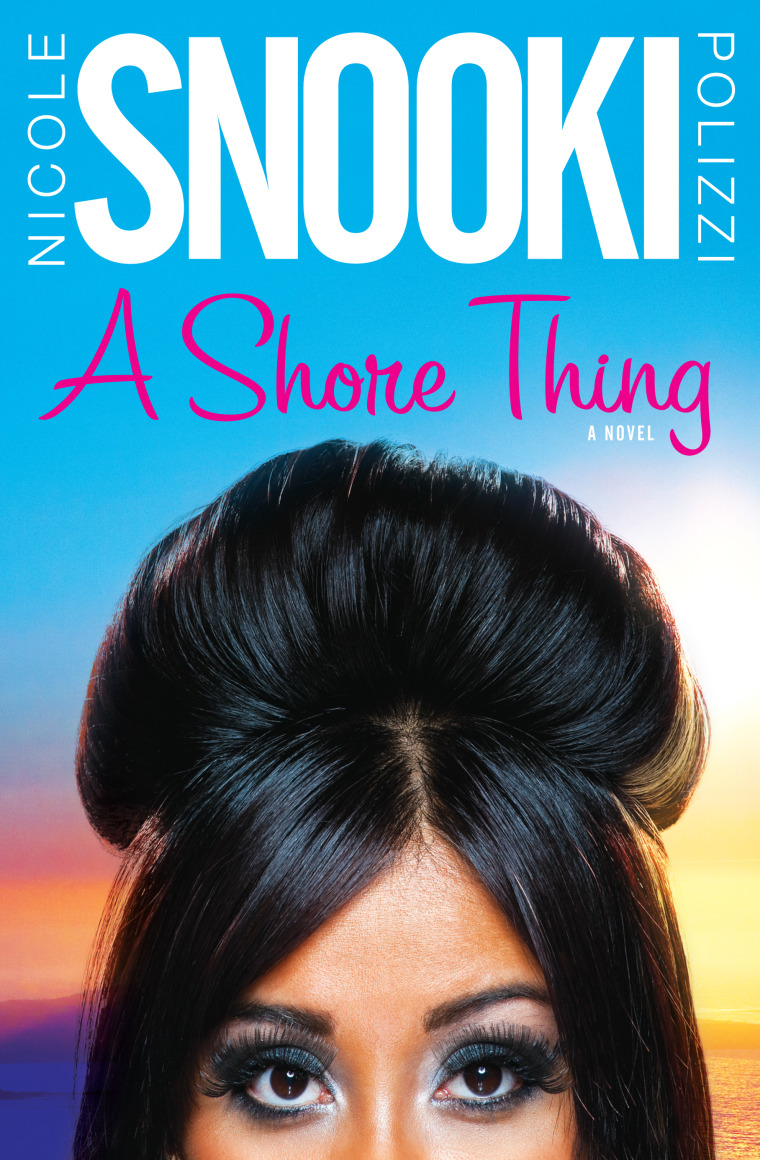 "Just give me two minutes to fix this," she said, twisting her hair again.
"Go flat tonight," said Bella.
"I love my pouf," said Gia. "But maybe my hair is trying to tell me something. You have to know when to stop fighting a losing battle."
Bella frowned for a second, and Gia figured she was thinking about Bobby. Unlike Gia's relationships — her longest lasted about four hours — Bella and Bobby stayed together way too long. He wouldn't let her go. At the end, he turned into a third-degree stalker, showing up at their apartment building, the family-run Italian deli where Bella worked and all her favorite spots around the nabe. Carroll Gardens, Brooklyn, became a war zone for Bella. Bobby the land mine blew up all over the place.
"Brooklyn might as well be a million miles away," said Gia gently. "No one knows us here. We can be who ever we want." Giving up on the pouf, Gia moved on to the next step — unwrapping not one, not two, but three sets of false eyelashes. She bought lashes in bulk, a hundred sets at a time. She had to bring a separate suitcase just for her lashes, clips, makeup, hair products, and tan-in-a-can spray.
After using the brush-on adhesive, Gia pressed two rows of lush lashes to her upper lids. Then she fixed on the bottom rows. Batting her eyes at her reflection, she said, "Right this way, boys."
"Super hot," said Bella, saying the right thing, as always.
"Your turn," said Gia, calling her over.
Bella rolled off the bed, and knelt in front of her cousin — which put them face-to-face. She closed her eyes. Gia put the lashes on Bella's lids.
"There," said Gia. "Now you'll kill the boys with one look."
"Not if you kill them first," said Bella, smiling.
* * *
Karma, the biggest and best club in Seaside Heights, was only a few blocks from their bungalow on Kearney Street. The cousins walked in their heels. Gia wore heels almost constantly. When she wasn't in her fuzzy pink slippers, she teetered in platforms, or, like tonight, six-inch stilettos.
A two-story structure, Karma's top floor was an open air bar, perfect for chilling on hot summer nights, taking a break from dancing, or catching an ocean breeze. The downstairs was divided into two parts. The first, a dark inside room that, even from the outside, smelled like mung beer, Axe Bodyspray and sweat. The other half of the ground floor was a palazzo bar, with a DJ riser and a dance floor. Through the windows from the street, Gia spotted five hot guys at the outdoor bar. Honestly? She'd get with any of them. Her heart started beating in time with the techno music. This was it! The first night!
Two doors to chose from to get into the club. One said, "General," and had a long line of kids in front of it. The other — "VIP" — no line at all. Bella said, "This one," and pushed through the VIP door.
The bouncer sat just inside on a stool. "Hold up," he said. "IDs?"
They showed their driver's licenses. Both girls were twenty-one, legal anywhere in America to drink until they puked. The bouncer looked at them and said, "This entrance is for table service only."
Same annoying rule as New York City clubs. Table service meant you had to buy, say, a $400 bottle of vodka that cost $40 at a liquor store. Friggin' rip off.
"But we're hot girls," Gia pointed out. "We don't need to pay for anything."
The bouncer sized her up. Which didn't take long. "You girls from out of town?"
"We're here for the whole month," said Gia. "If we like it, we might move here permanently, so you should be nice to us."
Gia didn't know if she should credit her sass or her ass, but he said, "Okay. Have a good night, ladies."
Once inside, she looked around. "Oh my God. He's here."
"Who?" Bella asked.
"My new boyfriend," said Gia. "I haven't met him yet, but I'm sure he's here somewhere."
"Let's go find him."
Gia felt eyes on her as she and Bella walked across the room. Alone, each cousin got her share of attention. Together? They couldn't miss. Gia in four-inch heels and a skintight leopard print minidress that clung to every inch. Bella in a bikini top, teeny shorts, motorcycle boots, brown hair in a high ponytail to show off the angel wing tattoos blazed across her back. Gia imagined the moment in slo-mo, the music falling silent, guys turning to watch them walk, her hair swinging with each step. And then, the scene returned to normal speed. They'd made an entrance.
Bella said, "Bar," and pointed toward the neon lit tiers of bottles in the center of the dark room. At least six bartenders ran around inside the round bar, mixing and filling pitchers with beer. The crowd around it had to be three deep.
"We'll have to kick our way in," said Bella.
"Not necessary," said Gia. A tiny dynamo, she cleared a path like a plow straight to the bar. Bella followed in her wake.
A bartender appeared to take her order. "Slippery Nipple," she said. "Extra slippery." Bailey's and butterscotch Snapps. Yummy.
Two guys to her right slapped twenties on the bar to pay for it.
Bella said, "Tequila shot."
The bartender asked, "Lime?"
"Do I look like I want fruit?"
Two guys to her left slapped hundreds on the bar, and offered to pay for her drinks for the rest of her life.
Of course, they accepted the kind offers. Drinks weren't cheap, and they had limited funds. After paying for the rental, new clothes, and repairs on Bella's 1995 Honda Accord, the cousins could barely afford to feed themselves. They both had to get jobs a-sap. In the meantime, they'd let willing donors buy their drinks.
"Hey," said one guy, after he'd nudged his way over to them. "I couldn't help noticing you when you came in."
Gia checked him out. Cute, in a puppy dog way. Scrawny and scruffy, the Disney version of a heartthrob. He wore bangs in his eyes, cargo pants, high-tops and a stretched out white t-shirt with the words "Mr. Pink" on the front. So not Gia's type. She preferred her men big, ripped, tan, and gorilla. This kid? He didn't even look Italian.
Bella, however, thought Zac Efron was a hottie. She introduced herself.
"I'm Benjamin," he said, holding out his hand to shake. Now Gia knew he was from up north. Shore guys didn't shake hands. They came in for a kiss on the cheek when they met a hot girl for the first time.
Gia could (and should, really) write a book about the difference between Shore and City boys. She knew both types well. Before her parents split three years ago, she lived in Tom's River, five miles from Seaside Heights. Gia graduated from Tom's River High School. Two days later, her mom Alicia moved to Brooklyn and into Aunt Marissa and Uncle Charlie's brownstone building. Gia was dragged along. She loved her family, and couldn't part with her Mom. Living in the same building with Bella was a dream come true, like finally having a sister.
But Gia missed her life down the shore. Uprooting so quickly, she didn't get a "senior summer" between high school and college. She lost touch with most of her classmates as they went their separate ways, to college (like Gia, for a couple of years anyway), jobs or on road trips that kept on tripping. Weird, how you could be so tight with someone, and then drift apart so quickly and easily. In a way, returning to Jersey this summer was a homecoming for Gia. She hoped to reclaim that sense of belonging she never quite felt in Brooklyn, despite living with her extended family.
Bella and Benjamin ("call me Bender," he said) seemed to hit it off. Gia half-listened to their conversation, sipped her drink, and glanced around. One guy, a preppy with a sweater tied around his neck (barf), was looking at her, not in a nice way.
"What're you looking at?" she asked.
"Nothing much," he replied.
Sh--head! She would have slapped him, or thrown a drink or stamped on his foot, something. But another guy diverted Gia's attention. A hot guido was staring at her — in a very nice way — from across the room.
Gia smiled at him. His back against the wall, he stood just off the dance floor, thumb in a belt loop. His chest muscles stained the fabric of his black tank top. It fit across a tummy that was hard and flat enough to cut salami on. No tattoos, which meant plenty of empty space on his arms to ink "Property of Gia." He stared like he could see through her dress, right down to the zebra print bra and thong set underneath.
"I found him," Gia said to Bella, draining her Slippery Nipple in one long suck.
"Who... oh," Bella replied.
"You okay here with your boy?" asked Gia.
Bender said, "I'm your boy? Is that good?"
Bella laughed. God help her, she loved preppies.
Gia took that as permission to leave her cousin at the bar. Right at that moment, a Deadmau5 mix came on. He was her fave; it was a sign. She stepped onto the dance floor. The music took her over. Dancing had to be Gia's second favorite way to work up a sweat. It definitely beat going to the gym. For exercise, Gia cranked house music in her bedroom and danced until her legs felt numb. She loved dancing, and was talented, too. Gia won a contest in high school for shaking it the longest and hardest without spilling a single drop of her vodka tonic.
Tonight, she aimed her gyrating hips straight at Salami Boy. The guy could take a hint. In two seconds, he creeped over to her. In five seconds, they were grinding, her butt pressed against his thighs.
She turned round to introduce herself. "I'm Gia," she screamed in his ear above the music.
"Rocky," he said, putting a bear paw in her waist and holding her against him.
Rocky in his jeans, thought Gia.
Even in the dark room, his blue eyes dazzled Gia. Ice blue. Something about light eyes on dark skin always made Gia's body temperature rise. The music was too loud to talk, not that it mattered. Gia wasn't interested in making a deep soul connection. Tonight was all about the three D's: Drinking, Dancing and Duh.
"Are you from around here?" she yelled.
"You got a nice rack," screamed Rocky in reply.
Well, yeah, she thought. Okay, not super genius. That was fine. Gia didn't judge. She was glad he approved.
"Come here," he said, lifting her off her heels to bring her lips to his. She had to wrap her legs around his hips to stay up there. Here we go, thought Gia. Twenty minutes from club entry to hook up. This might be record, even for her.
"Bitch, get away from him!" peeled a shrill voice from behind.
Bony fingers grabbed Gia's shoulder, and yanked her out of Rocky's arms. She hit the floor on her heels like cat, but then stumbled and landed on her ass embarrassingly. A few guys stared, jaws unhinged, at her sprawled on the dance floor. One started drooling.
"Oops," she said, realizing her dress was pushed up around her waist. Full frontal thong exposure.
Bella and Bender were on her in a flash, helping her to her feet, yanking down her dress.
Gia met the eyes of a seething blond bimbo who'd thrown her to the floor. The girl's arms were in battle position, ready to go. Rocky stood behind her, grinning as innocent as a choirboy.
The blond lowered her arms suddenly. "Gia friggin' Spumanti," she said.
"Oh my freakin' God," said Gia. "Linda Patterson."
One of the girls from the Tom's River high school cheerleading team. Gia and Linda were co-captains. Both high energy and petite, they were the blond and brunette bookends on the squad, and besties. At the start of senior year, though, Linda turned on her. Gia couldn't remember exactly what happened. It was a blurry year.
"You look exactly the same," said Gia. True. Linda was, then and now, a cute blond, head-to-toe in Juicy. She was uptight and snotty, which gave her a hard, brittle edge. And she was painfully thin. Linda made Lady Gaga look like a hippo.
"You know this girl?" Rocky asked. "Cool."
"Shut up, idiot" said Linda to him. Glaring at Gia, she said, "Once a whore, always a whore. Zeroing in on other girls' boyfriends."
"Don't blame me," said Gia. "You should keep him on a tighter leash. And I'm not a whore. I'm a slut. There's a difference."
Rocky laughed. "She's funny," he said. "Let's invite her over for dinner."
"Idiot!" shrieked Linda, who went at him with her fresh manicure.
Gia cringed. She hated to see anyone break a nail.
"Don't you ever ... look ... at ... another ... girl ... again!" ranted Linda, bitch slapping and kicking her boyfriend. Rocky put up his arms to defend himself, but Linda got in some solid punches.
"That's what he deserves," said Bella.
"Karma's a bitch," said Gia.
Bender said, "Is this awkward? Should we go?"
"What? Leave now?" asked Gia. "Before it gets ugly? Are you crazy?"
They wandered back to the bar for another drink and to watch round two on the dance floor.
Excerpted from "A Shore Thing," by Nicole "Snooki" Polizzi. Copyright (c) 2010, reprinted with permission from Simon and Schuster.