/ Source: The Associated Press
On the night when all of music bands together for one genre-busting party, Ray Charles received a fitting eulogy Sunday as his final album, "Genius Loves Company," won a leading eight Grammys.
Much like his career, the album Charles recorded in the final months of his life spans soul, rock 'n' roll, R&B, country, jazz and blues. It won album of the year and best pop album; the song "Here We Go Again," with Norah Jones, won record of the year and best pop collaboration with vocals.
"I'm going to cry, actually," Jones said as she accepted the trophy for record of the year. "I think it just shows how wonderful music can be."
Other winners included Alicia Keys and Usher, each nominated for eight Grammys. Keys won four while Usher had three. They shared one award, for best R&B performance by a duo or group with vocals for their chart-topping duet, "My Boo."
U2 won three awards, including best rock performance by a duo or group. Green Day, the most nominated rock act with six for their politically charged punk opera "American Idiot," won best rock album.
"Rock 'n' roll can be dangerous and fun at the same time, so thanks a lot," Green Day lead singer Billie Joe Armstrong said as he accepted the award.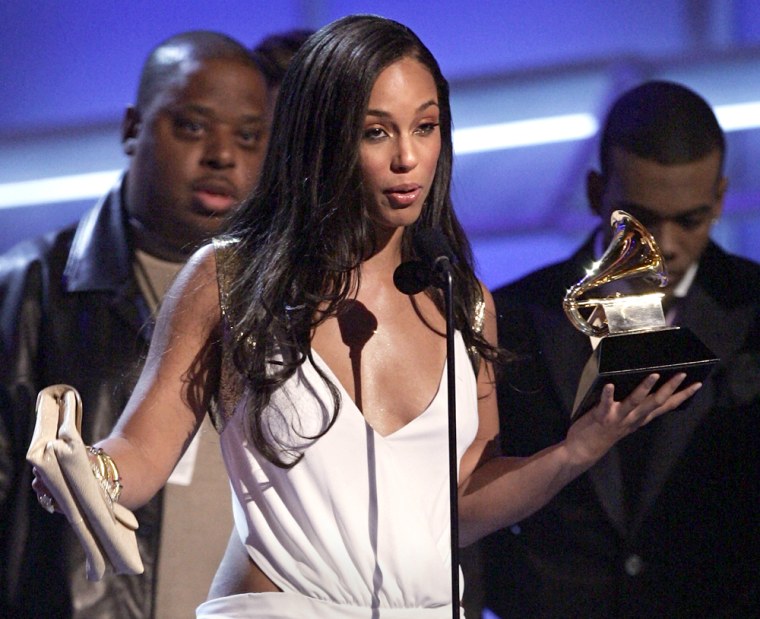 Keys had a chance to win more than any other woman in one evening. In 2002 Keys won five Grammys for her debut album, "Songs in A Minor," becoming only the second woman to win that many in one night. (Lauryn Hill won five in 1999; Jones and Beyonce also won five after Keys did.)
John Mayer was one of the artists who prevented a record night by Keys, as his mellow tribute "Daughters" won song of the year.
The most nominated artist of the year was perhaps the most multifaceted — Kanye West, the songwriter-producer who made his rap debut in 2004 with the cutting-edge CD "The College Dropout." He was nominated for 10 Grammys, including album of the year, but only took home three, including best rap album and best rap song for "Jesus Walks."
He was upset in the best new artist category, losing to Maroon 5 in a race that also included country singer Gretchen Wilson, the Los Lonely Boys and soul siren Joss Stone.
Maroon 5's Adam Levine seemed almost apologetic after winning.
"Kanye West, I want to thank you so much for being wonderful," he said. The camera cut away to West, who looked less than pleased.
Some expected West to have a meltdown like at the American Music Awards, where he complained bitterly backstage after losing the same award to Wilson. But on Sunday night he went on to deliver an eye-popping performance of "Jesus Walks" and an emotional acceptance speech for best rap album.
After referencing the car accident a few years ago that almost took his life, West promised to live life to the fullest: "I plan to celebrate and scream and pop champagne every chance I get because I'M AT THE GRAMMYS BABY!"
He also referenced his American Music Awards embarrassment. "Everybody wanted to know what would I do if I didn't win. I guess we'll never know," he said, holding his trophy up high.
At least West didn't have to wait decades to get a trophy, as did some veterans finally honored by the Recording Academy.
Steve Earle's left-leaning "The Revolution Starts ... Now" won for contemporary folk album. And Rod Stewart — who had complained in recent years about never winning a Grammy — won for traditional pop vocal album for his standards recording "Stardust ... The Great American Songbook Vol. III."
Brian Wilson, who released his album "Smile" after a more than three-decade wait, won best rock instrumental performance for "Mrs. O'Leary's Cow." He had never been honored before, even as leader of The Beach Boys. The big irony: the man who did more for vocal harmony than anyone in rock 'n' roll won in an instrumental category.
"I waited 42 years for this Grammy and it was well worth the wait," Wilson said backstage. "It represents triumph and achievement in music that I feel that I deserved, and I'm really glad I won."
The oft-maligned Britney Spears also won her first Grammy — best dance recording for "Toxic."
Spears wasn't present, but another newlywed was on hand: Jennifer Lopez performed a duet in Spanish with new hubby Marc Anthony, their first public performance together.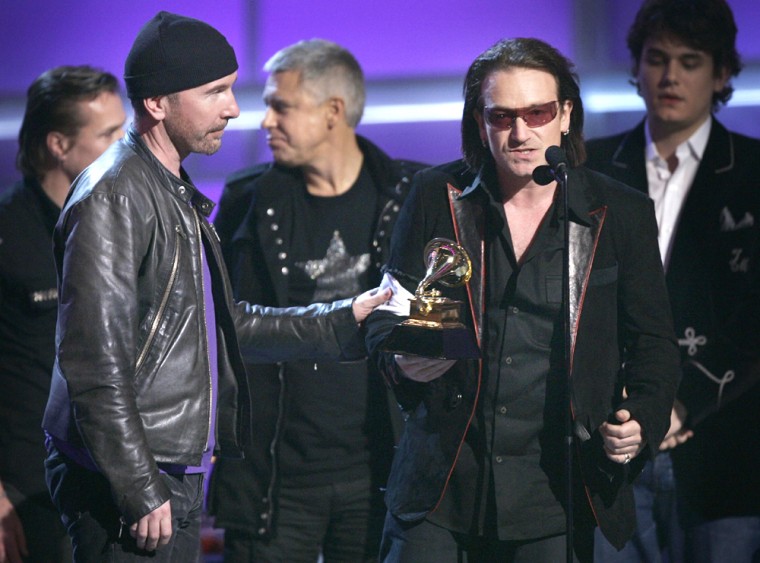 Other performers included Green Day, whose rollicking performance was bleeped by the censors; and U2.
Perhaps the evening's most exhilarating performance was from Melissa Etheridge. The rocker, who is battling breast cancer, took to the stage for a Janis Joplin tribute with a shaved head but strong voice, and received a standing ovation.
But ultimately, the night belonged to Ray Charles. "Genius Loves Company" sold more than two million copies — the most of his 60-plus albums. Besides the four awards for best album and song, "Genius Loves Company" won for best instrumental arrangement accompanying a vocalist, best gospel performance, best engineered album and best surround sound album.
Charles was 73 when he died in June, with a total of 12 Grammys in his 50-plus year career. The most he ever won in one night was four in 1960, including two for the classic "Georgia On My Mind."
That was the song performed Sunday by Keys and the actor Jamie Foxx, considered an Oscar lock for his portrayal of Charles in "Ray."
Foxx, a more then decent musician, sat at a piano opposite Keys as Quincy Jones conducted the orchestra.
"For an old friend," Foxx said as he began to play.