/ Source: The Associated Press
Portraits of frolicking nudes, pensive children and fashionable Parisians are among 34 Renoirs being shown for the first time in a century, unique reproductions of original pastels discovered in a French estate.
"Renoir: The Pastel Counterproofs" are mirror images of 19th-century portraits by Pierre-Auguste Renoir, the renowned impressionist. They are being offered for sale at Adelson Galleries in Manhattan through Dec. 23, at prices up to $350,000.
The one-of-a-kinds were produced in 1895-1905 by French lithographer Auguste Clot at the behest of Parisian art dealer Ambroise Vollard, just as Renoir's originals were coming into high demand.
Clot transferred the original images to tissue-thin Japan paper using a lithographic press. The reproductions are softer in tone than original pastels, but retain ethereal qualities that make them very valuable in today's art market.
Framed and glass-covered, the counterproofs range from $40,000 to $350,000, with most in the six-figure range. Four have already been purchased or are spoken for, including the most expensive, an 1898 portrait of a beautiful young woman in a large black hat and red dress. Many are in 18 1/2 inches by 22-inchs.
"On the Boulevard," a study in bold strokes for an 1876 street scene, is offered at $300,000. The least expensive at $40,000 is a sketch of three young girls in profile, below a larger female face.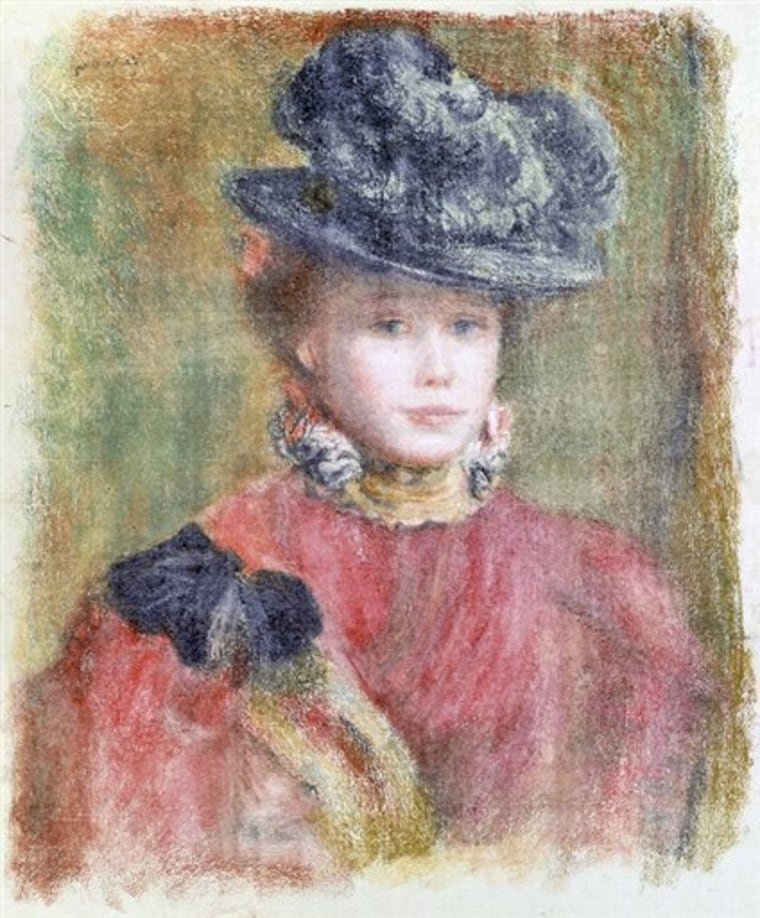 Vollard kept the counterproofs hidden on expectations of a rising art market after he had them made with Renoir's blessing. When Vollard died in 1938, the collection was acquired by Henri Petiet, a Parisian art lover. After Petiet's death in the early 1980s, the counterproofs went to his family.
Marc Rosen, a New York dealer, discovered the counterproofs in early 2004 when the heirs asked him to look into the estate. He said he was astonished to find 70 Renoir counterproofs and 48 by American impressionist Mary Cassatt. Her works were exhibited here last year.
Warren Adelson, the gallery president, said that showing the Renoirs together, rather than individually at an auction, allows potential buyers to study them as a group. "It's a whole experience, an educational experience. They haven't been seen in public in 100 years," he said Thursday.
Eight of the portraits are female nudes in various poses, including two variations of one of Renoir's most erotic paintings, "Les Grandes Baigneuses" (1887), owned by the Philadelphia Museum of Art.
The related counterproofs, titled "Les Baigneuses au Crabe, I" and "Les Baigneuses au Crabe, II," show two nudes grappling in a pastoral setting, as others watch. They are thought to be Diana of mythology cavorting with her handmaidens or other goddesses. Each is priced at $125,000.
A sitting nude bather, "Baigneuse Assisse" (1885), is offered at $150,000. It's in one-color copper tone, in contrast to the other nudes scenes rendered in rainbow hues.
Extraordinarily productive, Renoir had produced 1,741 paintings, pastels and drawings by the time of his death in 1919; all are listed in a catalog published by Vollard. Testifying to Renoir's popularity, 1,000 were sold during his lifetime, and 700 were left to his family.