Actress Ellen Albertini Dow, best known for her memorable version of "Rapper's Delight" in "The Wedding Singer,'' died at 101 years old on Monday.
A theater-trained actress who had multiple degrees from Cornell University, the 4-foot-11 actress was only on screen for a short time in the 1998 Adam Sandler movie, but left fans remembering her version of "Rapper's Delight,'' which was included in the film's multiplatinum soundtrack. She also had a memorable turn as the inappropriate grandmother in "Wedding Crashers'' in 2005.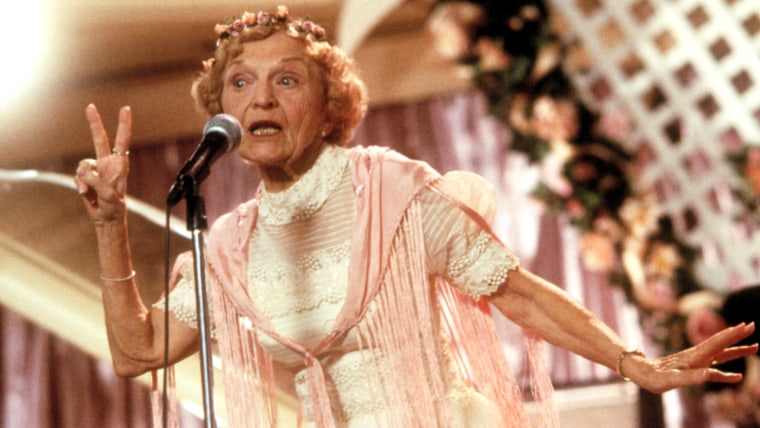 Dow was still acting well into her 90s, doing voice work for "Family Guy" up until 2012 and playing a character on an episode of the show "New Girl" in 2013, according to her IMDB page. She was 85 years old when "The Wedding Singer" was released, and she had audiences cracking up as she rapped lines from the Sugarhill Gang classic like, "To the bang bang boogie, say, up jump the boogie, to the rhythm of the boogie, the beat" in her pink shawl.
She was born on Nov. 16, 1913 in Mount Carmel, Pennsylvania, and taught drama and dance for 30 years after finishing her degrees at Cornell. It wasn't until she retired from teaching in 1985 that she began her career in acting, including several appearances on "The Golden Girls" from 1988-91. She appeared on hit shows like "Family Matters," "Star Trek: The Next Generation," "The Wonder Years," "Seinfeld," "ER," and "Will and Grace."