It's been two decades since "She's All That" gave us an epic makeover, an unforgettable hacky-sack performance and some of the sharpest zingers ever flung in the halls of a high school.
And when star Rachael Leigh Cook recently visited TODAY, we asked her to reminisce about the 1999 teen classic, in which she played adorably nerdy Laney Boggs.
Cook had warm words for the movie's leading man, Freddie Prinze Jr., whose character bets a friend (Paul Walker) that he can turn bespectacled outcast Laney into a prom queen after being dumped by his girlfriend, queen bee Taylor Vaughan.
"My favorite Freddie memory from filming is the scene where my character says 'Am I a bet? Am I a f---ing bet?'" she said. "You see his character take in the gravity of what he's done. And Freddie was so upset about it, like he really was kind of was emotional in that moment because he had really taken on what a person who had done that might feel like. I remember he was kind of choked up and that was definitely the cutest thing I've ever seen."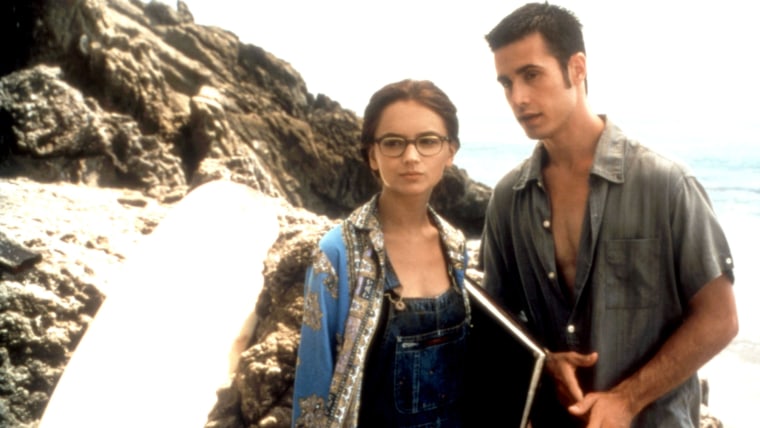 Cook also had fond memories of filming with Walker, praising the late actor's work.
"I think it's well known what a philanthropic and kind person he was," she said. "But Paul was also a really damn good actor. And I don't feel like that gets said enough. He became so synonymous with the 'Fast and Furious' franchise and he made a lot of smaller movies that he does absolutely beautiful work in."
She continued, "I remember we were shooting this scene in 'She's All That' where, granted his character is being incredibly duplicitous, but he comes to my house and he's trying to endear himself to me and is very, very convincing about it. And I remember the take ended and I heard the camera guy go, 'I believe him.' That's what we always want as actors, is someone from the camera department to actually be mildly impressed by what you're doing."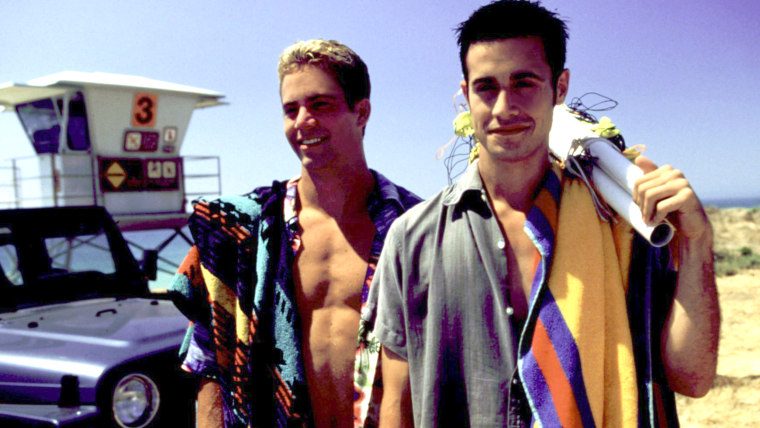 In fact, Walker's untimely death at age 40 prompted Cook to reunite with Prinze last year.
"I remember in 2013, right after Paul died very suddenly, thinking to myself, wow. Life is incredibly short and I should reach out," she said. "He's someone who I care about, someone who I want to see again. It had been a million years then and somehow it took me another three years after that to finally reach out and say, 'Hey, I know we're not day-to-day friends, but it would be great to see you.' So we caught up last year over an epic coffee and pastry selection and he's doing great."
Prinze isn't the only cast member Cook has seen.
"I've actually kept in touch with Tamara Mello, who was a member of Taylor Vaughan's crew of popular kids," Cook said, adding that she also ran into Jodi Lyn O'Keefe (who played Taylor) at a recent audition. "I started a group thread where I cc'ed both of them and Jodi didn't answer. And I texted Tamara on the side and was like, 'There's a moment coming about six hours from now where she realizes she has to text us back because otherwise this whole thing is way too meta.' So I think we're going to hang out someday?"
Cook, who began acting in movies as a young teen, says she treated "She's All That" as her own high school experience. "I didn't get to go to prom," she said. "I remember when we were shooting the prom scenes thinking, 'This is good enough. I'll take this.'"
Of course, most real-life proms don't feature elaborately choreographed dance sequences.
"I remember being told that there was going to be an elaborate dance sequence in the movie at the prom and thinking this isn't really mentioned in the script; that'll be interesting," she recalled. "Especially interesting for the person who has to teach me how to do this dance. Not so skilled with the choreography over here. I was able to justify that my character wouldn't necessarily know this dance that everybody else seems to know and I think they just gently swept me to the side when they realized I wasn't the best dancer."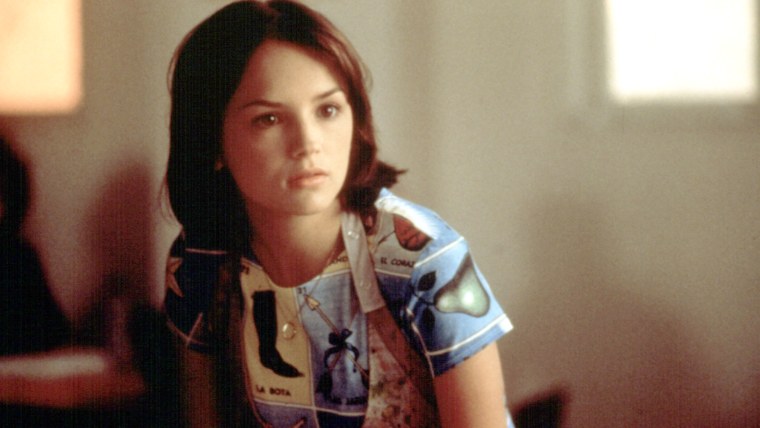 Cook joked that she was a "total natural" when it came to Laney's clumsy moves — including one memorable tumble toward the beginning of the film.
"I could fall all day; I'm really good at that," she said. "Someone reminded me, and I think that this is true: I don't think that the trip at the end of the stairs was actually scripted. At least the first time that it happened. I don't know if that's the one that's in the movie, but I think that that just kind of happened."
Another scene the actress remembers well? Her character's long-awaited first kiss with Prinze.
"We were running out of time. The day was ending," she recalled. "I'd started a take and I could tell that I didn't really like what I was doing, but I was like, 'They won't use this if I blink a lot.' Yes, they did. Yes, yes, they did. I was like, 'Surely, I'll get another crack at it. I'll do my best, but I'll just be like blinkety blinkerson and then how can they possibly even use it?' And it's in the movie and I will never try that again. Whoops."
It's hard to imagine "She's All That" without its infectious theme song, and Cook says she still hears it often.
"I feel like Sixpence None the Richer's 'Kiss Me' is following me," she said. "I'll just be at the CVS, Rite Aid, whatever, just picking up stuff, and it'll just come on and I feel like I'm on 'Candid Camera' every time. Maybe I am."