According to Jane Lynch, nothing beats the scent of a baked Big Apple. "I love New York in the summer," the "Glee" star raved to Vanity Fair this week. "I love the smell of urine in the subway. ... Let that smell live."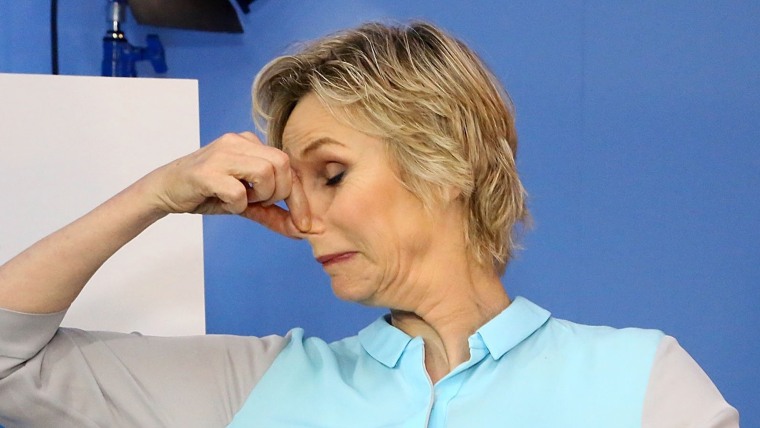 Those may seem like strange words for a newly minted Febreze pitchwoman — until you realize just how many celebs savor scents that are puzzling, odd and downright gag-inducing.

How well do you know the olfactory passions of the famous? You're about to find out.
Sign up for top Entertainment news direct to your inbox
Step 1: Study this celebrity word bank.
Robert Pattinson

Alexander Skarsgard

Courtney Love

Sarah Jessica Parker

Kate Moss

Karl Lagerfeld

Justin Timberlake

Step 2: Match each star to his or her favorite scent.
A. Wet diapers
B. Beer
C. Construction zones
D. "People"
E. Used dental floss
F. Foul sausages
G. Gasoline

Step 3: See how well you did.
A. Sarah Jessica Parker. "I love the smell of diapers; I even like when they're wet and you smell them all warm like a baked good," the mother of three told Elle in 2009, shortly after the birth of her twin daughters. "I love the smell of Balmex. Love it."
B. Justin Timberlake. "Call me crazy, call me weird, but I like the smell of beer. I don't think men should overdo their 'aura' or let people smell you before you walk in the room," he was said to have revealed in the U.K. edition of Glamour in 2012, in a chat about his fragrance-endorsement deal with Givenchy. 
C. Karl Lagerfeld. "I love the smell of a building site," the fashion designer opined while passing a Paris construction zone in the 2007 documentary "Lagerfeld Confidential."
D. Robert Pattinson. "I like the smell of people," the "Twilight" star reportedly told Portuguese magazine Activa in 2013. "It is really strange, and I'm sure it has to do with pheromones. We like people because subconsciously we like the way they smell. I always find this very interesting to observe."
E. Courtney Love. "When we were younger, Courtney taught me the magic of smelling the dental floss after flossing," her longtime friend, Faith No More keyboardist Roddy Bottum, recounted to Spin in 1999. "It's vile and disgusting, it's the rotten smell of death, and it's fascinating and unavoidable."
F. Alexander Skarsgard. "There was this sausage factory a block away from my childhood apartment. It didn't smell nice, like chorizo or something. It was pretty foul. Just nasty," the Swedish-born actor told New York magazine. "But that smell reminds me so much of my childhood, because every morning when I was going to school I would smell that. So if I ever find myself near a sausage factory, I like it. It reminds me of my childhood."
G. Kate Moss. "I remember loving that smell when I was young," the supermodel reportedly said of gasoline in a 2008 interview. "I've heard it's one of the most preferred scents in the world. Maybe that's something to study for my next fragrance. Sometimes natural smells are the best. … Worryingly, my daughter Lila loves the smell of gasoline, too. She always says, 'Mummy, keep the door open,' when I'm filling up the car."