It's the most adorable time of the year!
That's because Jimmy Fallon has once again rounded up his fuzzy set of puppy predictors and unleashed their psychic pup power on ... Super Bowl 50!
On Thursday's "Tonight Show," Fallon put the pups through their paces by letting the gaggle of snuggly goodness race down a runway toward two food bowls, one marked for the Carolina Panthers, the other Denver Broncos.
"This works every year," promised Fallon, who crouched down to introduce all the pups, as they scrambled over one another to be let free. At last, he loosed the hounds, who pawed down the path and ... mobbed the Broncos bowl!
Noted Fallon, it was a "landslide!"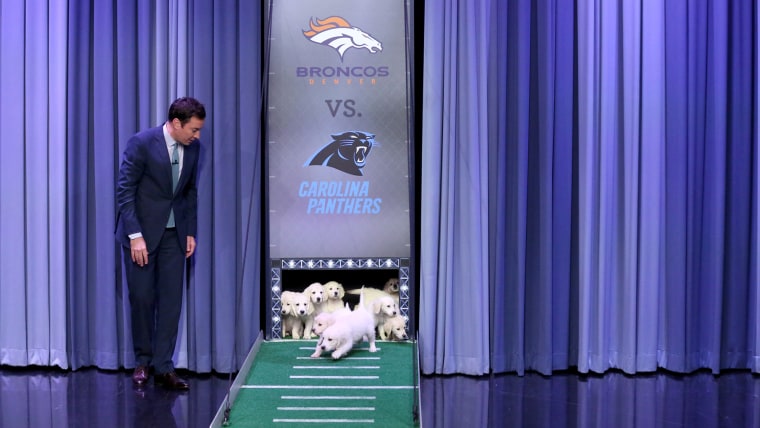 MORE: Marilyn Dafoe? Willem Dafoe is a cranky Marilyn Monroe in Snickers' Super Bowl ad
There you have it, folks: The Denver Broncos are a lock for a win.
But take it all with a grain of kibble. In 2013 the pups correctly indicated that the Baltimore Ravens would win the game, but in 2014 they chose the Broncos over the Seattle Seahawks and were wrong. As for 2015, they chose the Seahawks ... but the New England Patriots won the game.
That said, the pups did choose American Pharoah to win the Kentucky Derby last year, and the horse went all the way to the Triple Crown.
MORE: Ohio State or Oregon? Jimmy Fallon's puppies predict college football champs
But win or lose, these puppies are the best! So just enjoy them for the oxytocin they're bringing through your screen. Don't you feel the love now?
Follow Randee Dawn on Twitter.