With all the red carpet preening, heavily bleeped performances and outlandish headgear (we're looking at you, Pharrell), Sunday night's Grammys left us with more than a few unanswered questions. Here's what we discovered.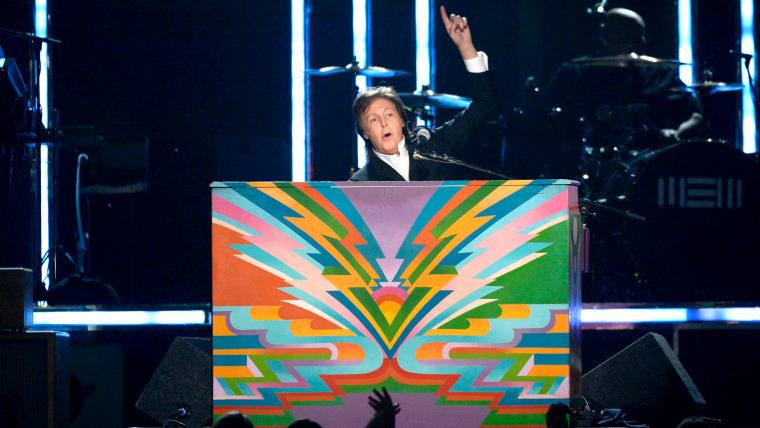 What was up with the psychedelic piano Paul McCartney played?
Yes, Beatles fans, you may have recognized the rainbow-painted upright piano the Cute Beatle was playing. According to a tweet from the official Grammy account, it was the very piano used during the Beatles' 1967 "Magical Mystery Tour" era. We found out a little more: The piano is McCartney's own, and usually resides in his music room in London. It was painted by notable British artist Dudley Edwards, who lived with McCartney for six months in 1967 and also lived with Ringo Starr for a time. McCartney wrote "Getting Better" on the colorful piano, and once said, "Of course the way in which it was painted added to the fun of it all."

Were the weddings performed during the show legal?
Probably? After Macklemore & Ryan Lewis performed "Same Love" and before Madonna sang a slowed-down version of her 1980s hit, "Open Your Heart," more than 30 couples — gay and straight both — stood in front of the stage while Queen Latifah asked them to share rings and then shouted that "by the power vested in me by the state of California," they were now married. Queen Latifah was indeed deputized by Los Angeles County and will sign the marriage certificates for each couple, the New York Times reported. Not all of the marriages were between same-sex couples (Ryan Lewis' sister Laura and her groom were among the couples), and same-sex marriages are legal in California, but any same-sex couples from out of state would have local laws to deal with in their home states.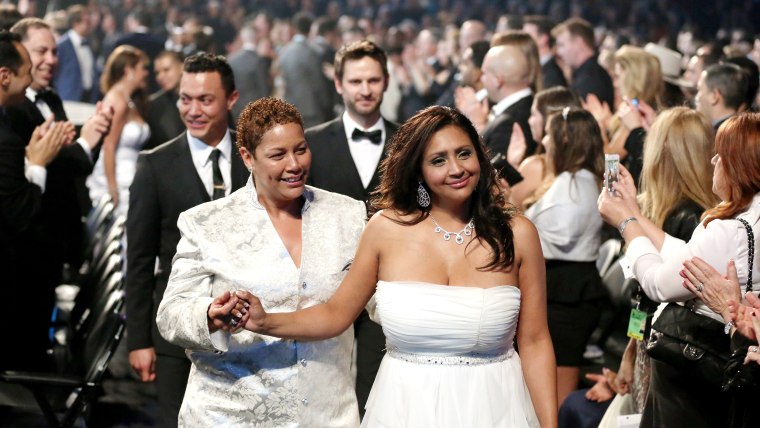 What was up with Daft Punk's helmets? Pharrell Williams' hat? Madonna's grill?
Start with big winners Daft Punk. The French duo used to hide their identity with bags and Halloween masks, according to Rolling Stone, but the helmets play to the idea that they're robots. "We're not models — it would not be enjoyable for humanity to see our features," musician Guy-Manuel de Homem-Christo said, "but the robots are exciting to people." The duo switched from black helmets to white ones later in the show, but a report that they'd don authentic "Star Wars" stormtrooper helmets never came to pass.
Pharrell Williams' giant hat had Grammy-watchers buzzing, and kept Internet meme-makers busy. Fashionistas correctly identified the hat as a Vivienne Westwood vintage creation from the early 1980s. Similar hats cost about $140 and are still available from London shop Worlds End if you must have one of your own.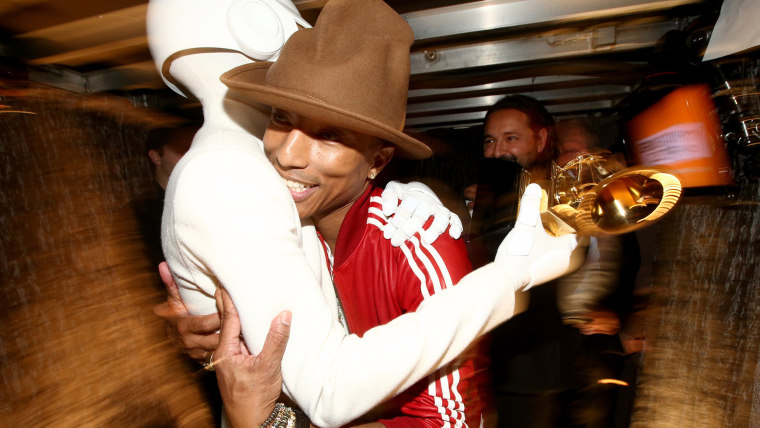 Madonna's mouth bling was another hot topic. She's worn the gold grills before, and not just for fancy events — the Material Girl was snapped wearing them last week when she flew into New York's JFK Airport. Son David, 8, said on E! that his mom promised to get him a set for his next birthday.

Did Stephen Colbert take home a Grammy?
You know it, Colbert Nation. The late-night host beat out legends Carol Burnett, David Sedaris, Billy Crystal and Pete Seeger in the spoken-word category for "America Again: Re-becoming the Greatness We Never Weren't." Unfortunately, the award was given out before the telecast, so no witty speech from Colbert was seen. He also won in 2010 for "A Colbert Christmas: The Greatest Gift of All," an album based on his TV special.

Crystal took it well, giving a shout out to the winner on Twitter:
What's the difference between all the confusing categories?
Record, album and song of the year often confuse Grammy-watchers. 
The record of the year award (won by Daft Punk's "Get Lucky") is a prize for the actual recording of a single song, and goes to the artist, the producer, the recording engineer and/or mixer for that one song. 
Song of the year (which went to Lorde's "Royals") is about the composition of the song and goes to the songwriter who composed the lyrics and/or melodies to the song. 
Album of the year (won by Daft Punk's "Random Access Memories") is presented to the artist, producer, recording engineer and mastering engineer for the winning album.

To further confuse matters, albums released between Oct. 1, 2012 and Sept. 30, 2013 were eligible, meaning even though Taylor Swift's "Red" was released in 2012, it was up for a 2014 award.
And speaking of Taylor Swift's 'Red,' did she think it won album of the year?
It sure looks that way. "Red" and the actual winner, Daft Punk's "Random Access Memories," both start with the same letter, and it appears from Swift's immediate reaction that she thought her album was about to be called — she opened her mouth and appeared shocked, and the people sitting with her reacted as if Swift had won. But the reaction was momentary.
Where was Miley Cyrus?
As one of the most talked-about names in music — who couldn't stop making headlines with her awards performances in 2013 — it was a surprise to some that Cyrus had no place in Sunday's show. She did perform at executive Clive Davis' annual pre-Grammy Awards gala on Saturday (and photobombed a picture Lorde was taking with Recording Academy President and CEO Neil Portnow), but Cyrus was a no-show on Sunday. And her absence did not go unnoticed:

But she wasn't contending for a prize anyway. Cyrus' album, "Bangerz," came out too late to make the Grammy cut-off, and her wildly popular singles "Wrecking Ball" and "We Can't Stop," which made the deadline, weren't nominated.
Did the show cut off its own finale?
Yes. That wasn't your DVR shutting down early. The Grammys closed out with a rocking performance by a varied ensemble consisting of Queens of the Stone Age, Dave Grohl, Nine Inch Nails, and Lindsey Buckingham of Fleetwood Mac. But the three-and-a-half hour show was running long, and their number got cut off.