After everyone on "New Girl" calmed down from the news of Prince — yes, The Purple One — guest starring on the Fox comedy's post Super Bowl episode, it turns out there was still more freaking to be done. 
In addition to his special appearance on the show he loves, he collaborated on the script, gave feedback on jokes and knew exactly where he'd fit in. Prince plays himself in the episode (which means he plays pingpong and kills it) and transforms Jess (Zooey Deschanel) in a way she will never forget. 
But first, back to the freaking out: Creator and executive producer Liz Meriwether said she couldn't handle it when he performed a new song during the episode. 

"When the take was over, he was like, 'Is that OK?' and it was so embarrassing. I was kind of crying," Meriwether told TODAY. "I was trying to play it off: 'Yeah, I think that's going to work,' but I was totally tearing up. ... Working with him was truly the most amazing thing that's ever happened to me. I am a big fan of his."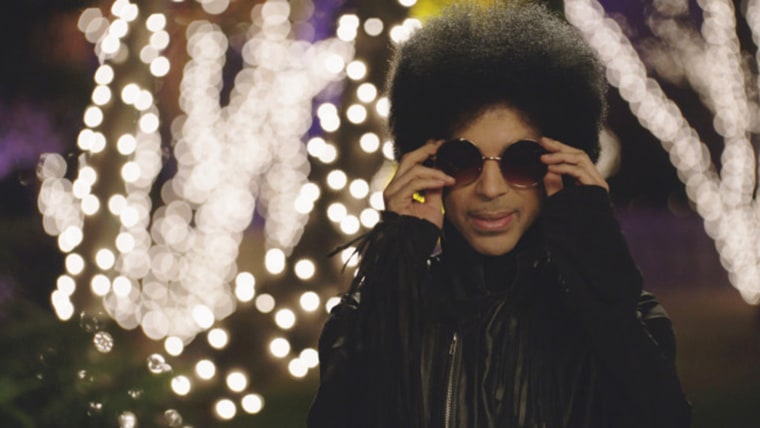 Understandable. But how did Prince wind up on the sitcom? Last season, for an episode about virginity, the writers wanted Cece (Hannah Simone) to reveal that she lost hers to Prince. Meriwether contacted the singer's manager, who told her he was busy then, but he loved the show and wanted to be on it in the future. Meriwether took that as politeness and moved on. 
But this season, the manager reached out. 
"It was right about the time that the network offered us the post Super Bowl spot and it was the obvious thing to get Prince after the Super Bowl because it felt so big and exciting," Meriwether said. "There's always the challenge of that slot because you're introducing your show to a really sizable new audience so the episode has to work on two levels: It almost re-pilots the series but it also has to work as a special episode for people who have been watching for three seasons. And also, how do we have someone like Prince playing himself and still make it believable that this would happen to this group of people?"
Prince took care of that. He pitched the idea of helping Jess through a relationship problem with Nick (Jake Johnson) by giving her an internal and external makeover.
"He's trying to make her into a stronger, more courageous, more Prince-like version of herself," Meriwether said. "It was actually his idea. ... He really has great instincts for comedy. He knew the show really well. His vibe played in really well with Zooey because she's more outgoing and louder and goofier. He's laid-back and very wise, an extremely cool sort of Oracle."
By the end of the episode, Jess, Nick and their friends are left wondering how they will go on with their lives now that they've hung out with an artist who is so cool he was once identified simply by a symbol. After spending time with him, Meriwether understands those feelings as well.
"I definitely felt the awe of it when I was talking to him," she said. "I'm very awkward in general and talking to Prince and trying to keep it together was not easy. I think he brings that out in people because he's a true genius. If you are a die-hard Prince fan, you're going to really enjoy the episode because it's a new fun look at him. He's really, really funny."
"New Girl" guest starring Prince airs Sunday right after the Super Bowl on Fox.