Prince William is a fan of Pink, but Pink is no longer a fan of the prince.
The heir to the throne is so keen on Pink's music that he had wanted her to play at his 21st birthday party (she had a previous commitment), but the chameleon-haired singer is an animal lover and a member of People for the Ethical Treatment of Animals, so when she learned that while on safari, the young prince speared and killed a dwarf dik-dik deer, she fired off an angry letter to him.
"I was happy to hear that I was your first choice to play at your 21st birthday bash—then disgusted to learn that you hunt and kill animals for fun and that you purposely rammed a spear through a tiny deer in Africa," Pink has written in a letter to the hunky young Bambi-slayer. "Why? Was it some kind of 'trying to prove you're a man' trip?"
Pink, however, is willing to change her mind if the Prince will change his ways and oppose blood sports like his mother Princess Diana did.
Her letter continues: "But hey — we all make mistakes in our lives and we can all change. Hopefully you'll have a change of heart and find more interesting things to do with your spare time than kill animals. Call me or PETA if you'd like any suggestions! Then maybe I'll come play at your next birthday…!"
Click here to read Pink's letter.
Kidman's body language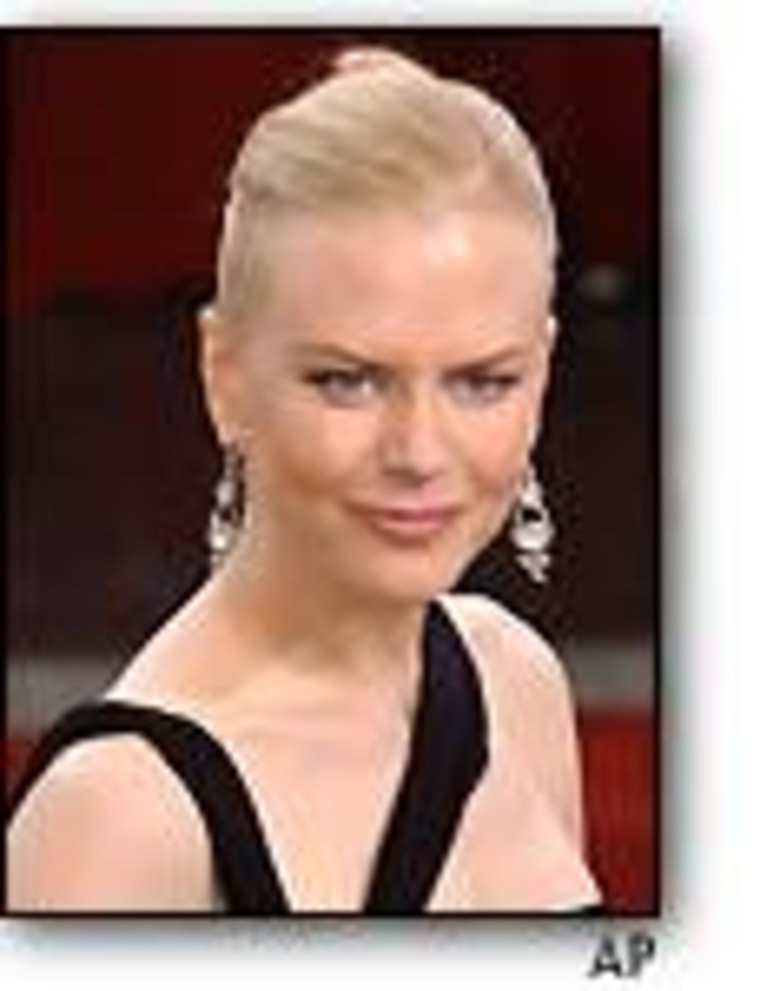 Nicole Kidman continues to push those boundaries.
Tom Cruise's ex-wife, who has received critical acclaim for her flicks since she split from the other half, has a steamy nude scene in one of her upcoming films. In "The Human Stain," based on the Philip Roth novel, Kidman plays an cleaning lady who has an affair with a much older professor, played by Anthony Hopkins. "She does a pretty provocative strip tease," says a source who has seen the film. "And there are lots of shots of them in bed together." The flick opens in the fall.
Another source says Kidman also bares her derriere in the upcoming, "Cold Mountain," due for release later in the year. "It's a pretty brief shot," says the source. " But it's not a body double."
"It's not like we haven't seen Nicole's skin before," says a source, pointing to "Eyes Wide Shut," "Billy Bathgate," and her provocative West End Play, "The Blue Room." "But she's becoming known as Hollywood's A-list lady who's willing to take it off, sort of a thinking man's Elizabeth Berkley."
Notes from all over
Don Johnson is suing the German finance minister for tarnishing his sterling reputation after customs officials found the actor was caught with over $5 billion in cash and stock certificates in the back of his car. Johnson explained that he was merely on his way to buy a new car. Theories of how the money got there were publicized — some pretty nefarious — but no charges were ever filed against Johnson, and now he's suing the officials who made his name public in the mess. . . . From the Reasons to Be Grateful Department: Lisa Marie Presley has nixed the idea of singing a duet with her dead dad, a la Natalie Cole's duet with Nat King Cole. "It would be just too weird," Elvis's daughter said. . . .
Robert Englund, better known as Freddy from "Nightmare on Elm Street," inadvertently rescued a woman from a life of ill repute. One day he was in full makeup, driving in a limo through a street filled with prostitutes. "Someone pushed the button and rolled down the window," he told the London Mail, "and one poor girl who saw me — let me tell you right now — she is no longer in the oldest profession."
Jeannette Walls Delivers the Scoop appears Monday through Thursday in MSNBC Entertainment.