The celebration of Prince Philip's life following his death last week at 99 has once again brought notice to the striking resemblance between a young Philip and his grandson Prince Harry from their days in the military.
Chris Jackson, the royal photographer for Getty Images, reposted the cover of a 1957 issue of Paris Match magazine on Instagram Monday that showed a young Philip bearing an uncanny resemblance to Harry with his red beard and blue eyes in his Royal Navy uniform.
"I was reminded today of this incredible vintage @parismatch_magazine from 1957 I acquired a few years ago," Jackson wrote. "I was blown away the minute I spotted it. It always reminds me of the unique, historic reference points that Royal photography provides. The front cover features a fantastically suave Prince Philip on tour with The Queen."
Harry, 36, who has returned to London this week ahead of Philip's funeral Saturday, paid tribute to his beloved grandfather in a statement released Monday.
"My grandfather was a man of service, honour and great humour," Harry said. "He was authentically himself, with a seriously sharp wit, and could hold the attention of any room due to his charm — and also because you never knew what he might say next.
"He will be remembered as the longest reigning consort to the Monarch, a decorated serviceman, a Prince and a Duke. But to me, like many of you who have lost a loved one or grandparent over the pain of this past year, he was my grandpa: master of the barbecue, legend of banter, and cheeky right 'til the end."
Jackson first posted the 1957 magazine cover on Instagram in 2018, when royal watchers noticed the unmistakable resemblance between Philip and Harry.
The similarities between grandfather and grandson were also on display in 2018 during the first royal tour together for Harry and Meghan, Duchess of Sussex. The duke and duchess visited the Australian state of New South Wales, paying tribute to all Australians who served their country.
While attending and unveiling a new plaque to commemorate the opening, Harry wore traditional royal uniform, and some on social media were quick to point out his resemblance to Philip.
(Click the arrow to see both photos)
Over the years, the two royals appeared side by side, looking very much alike every time.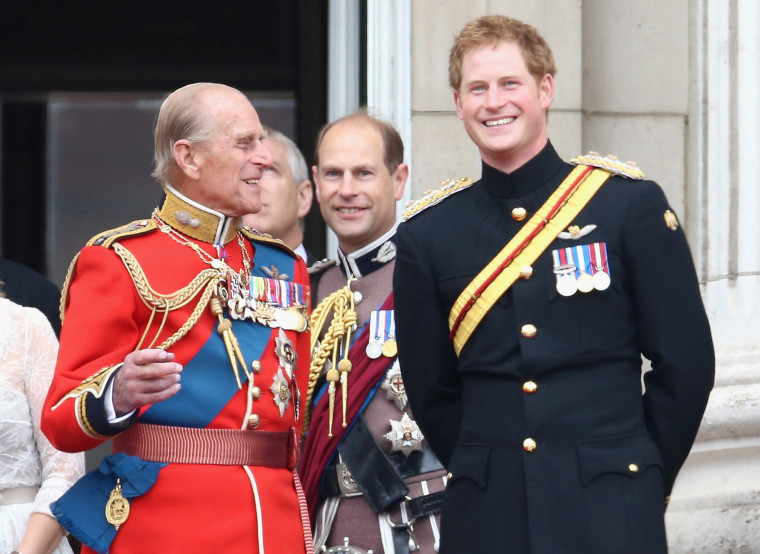 Like his grandfather, Harry also is a military veteran. The younger royal served two tours in Afghanistan during his 10 years in the British Army before retiring to focus more time on his charity work, particularly with injured service members.
The Duke of Edinburgh served as Captain General of the Royal Marines for 64 years before Harry succeeded him in 2017. However, Harry relinquished that title last year after he and the former Meghan Markle made the decision to no longer serve as senior members of the royal family and moved to California.
Related:
This story was originally published in October 2016.