It's been 25 years since "Pretty Woman" charmed audiences with unlikely love, big laughs and the perfect on-screen matchup of Julia Roberts and Richard Gere.
On Tuesday, TODAY's Matt Lauer chatted with the cast and director of the blockbuster — gathered together for the first time since 1990.
Here's what they revealed about the classic rom-com during the exclusive interview:
1. It wasn't even meant to be a rom-com
While "Pretty Woman" made a big — huge! — impression with romance and comedy lovers, the film wasn't meant to be funny or a love story. Instead, it was scripted as a dark tale called "3,000" — a reference to the price Roberts' character was to be paid.
"Richard's character threw my character out of the car, threw the money on top of her and drove away and the credits rolled," Roberts said of the intended ending.
2. Richard Gere didn't want the role
As hard as it is to imagine that dark take on the tale, it's even harder to imagine the story without Gere playing the leading man. But that was nearly the case, as he turned down the part when it was first offered to him.
"A few times," according to director Garry Marshall.
Why?
"Well, there wasn't a part," Gere explained. "There was just nothing. The joke was [it was just] a suit. You could put a suit on a goat and put it out there, and it would work."
But things changed.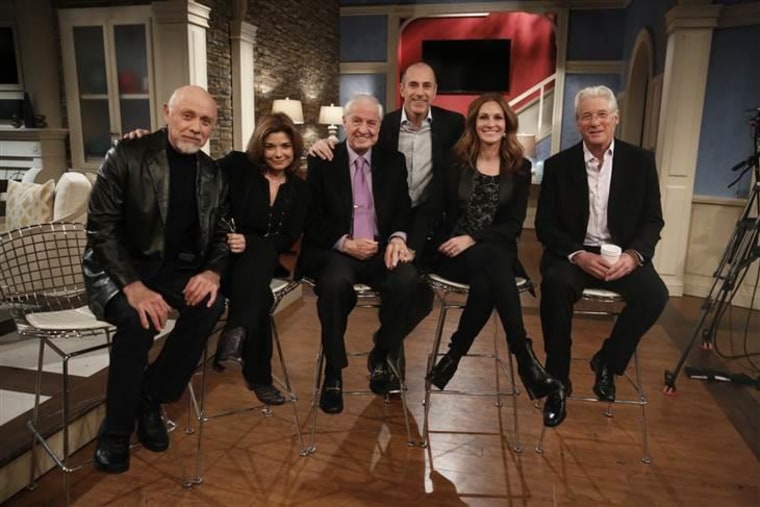 The "Pretty Woman" gang, 25 years later: Hector Elizondo, Laura San Giacomo, Garry Marshall, Julia Roberts and Richard Gere.
3. Acting aside, the chemistry was real
As the character filled out, Gere got to know his would-be co-star and he soon found her irresistible.
"We're getting to know each other," he explained. "We're flirty-flirty, nice-nice. ... And [Garry] calls up and is kind of like, 'How's it going?'"
But Gere still wasn't sure — until Roberts passed him a Post-it note.
"She turns it around and she pushes it to me, and it said, 'Please say yes!'" he recalled.
Of course, he did.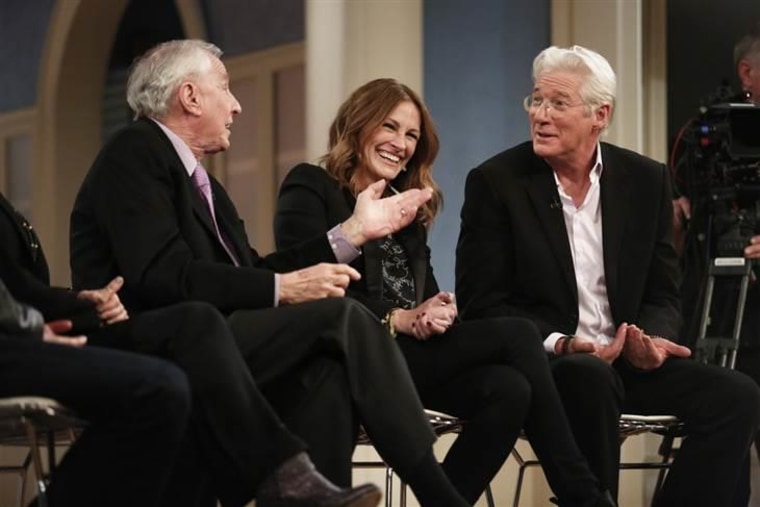 4. Favorite scenes
While fans who've rewatched the movie magic many times over the years can easily pick their favorite scenes, Roberts isn't quite sure which one she'd call the best.
As for Gere, he had no trouble taking a trip down his favorite part of memory lane.
"Well, it was basically any scene where Julia was walking — which was fun for all of us," he said with a laugh as he thought back to her short dress and long boots. "In that outfit. Yeah, it was all about legs."
5. Why wasn't there a sequel?
Fans loved it. The cast loved it. So why didn't they make a sequel to hit?
"We made a pact a long time [ago] — when we did it," Marshall shared. "We said, we're not doing 'Pretty Woman 2' unless we all do it together. And we—"
"We're happy to announce ...," Roberts interrupted with laughter.
But after the exciting tease, they both said, "...We didn't do it."
Of course, any fan would eagerly point out, there's still time!
If all of the "Pretty Woman" talk has you wishing you could see even more from the cast, then you're in luck. The reunion fun continues Wednesday on TODAY.
Follow Ree Hines on Google+.