And you thought your high school was cliquey? Sunday marks the 30th anniversary of "Pretty In Pink," the classic teen dramedy written by John Hughes that depicts high school in the '80s as complete class warfare.
Caught in the middle are poor-girl Andie (Molly Ringwald) and rich-guy Blane (Andrew McCarthy), who start a romance despite the disapproval of their peers — two memorable ones, in particular (hint: one likes dancing in wingtip shoes, the other prefers chain-smoking in linen suits).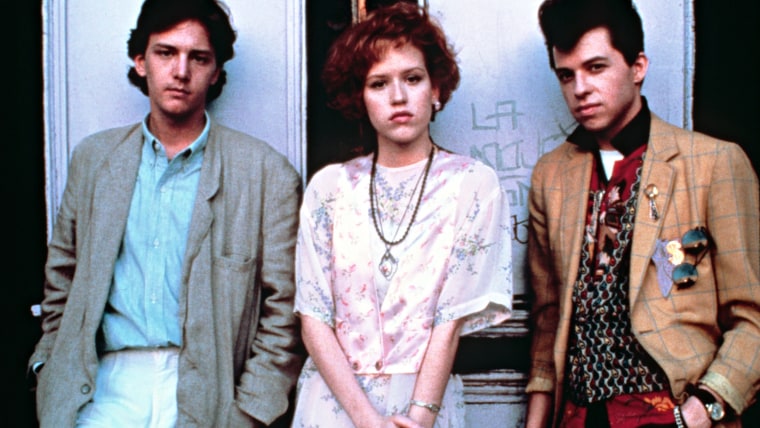 Whether you saw it for the first time 30 years ago or 30 hours ago, here are 17 insider facts about "Pretty In Pink" that may surprise you!
1. The role of Andie was written for Ringwald — but almost went to someone else.
"As far as the character, she's so much like I am," said Ringwald in a 1986 interview with MTV. "I had to do it because John wrote the script for me right after we did 'Sixteen Candles' … If anyone else played that part it would be like somebody wearing my clothes, you know? I had to do it." However, though Hughes had written "Pretty In Pink" for his favorite Brat Packer, the movie studio originally wanted "Flashdance" star Jennifer Beals to play Andie.
2. Andie's wardrobe mirrored Ringwald's own personal style.
"The eclectic, vintage-chic look immortalized onscreen by Andie was really Ringwald's own," Susannah Gora, author of "You Couldn't Ignore Me If You Tried: The Brat Pack, John Hughes, and Their Impact on a Generation," told TODAY.com. "Though she was pulling in serious bucks from her films, Ringwald's parents kept her on an allowance, so she shopped in secondhand stores and thrift shops."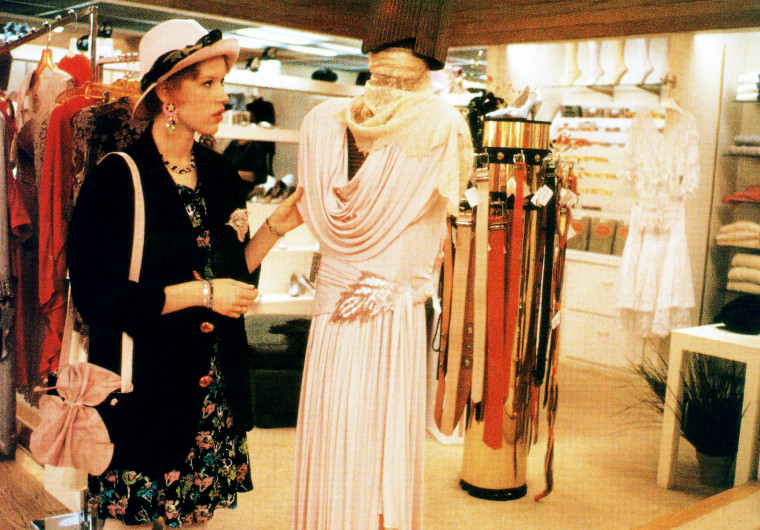 3. Ringwald had a crush on McCarthy during filming.
Turns out that the onscreen chemistry wasn't all acting — at least on Ringwald's part. To create sparks, "I would tell Andrew McCarthy that Molly really had this crush on him, which was true, and Molly that Andrew had this big crush on her, which wasn't true," director Howard Deutch told People in 2006. "It worked."
4. But … Ringwald's boyfriend was also on set.
Awkward! Dweezil Zappa, son of musician Frank Zappa, was Ringwald's boyfriend at the time — and even had a "Pretty In Pink" cameo during a scene at Andie's favorite hangout, Cats. "I respect him and he's really gorgeous," Ringwald told People in 1986, when asked about Zappa.
5. McCarthy didn't fit filmmakers' vision for Blane — however, Charlie Sheen did!
Though Hughes and Deutch pictured Blane as more of a confident jock (Charlie Sheen was a top contender), Ringwald had seen McCarthy's sensitive performance in "St. Elmo's Fire" and wanted him for the role. "It was Molly, really, who got me the part because — I heard this afterward — she said to John, 'That's the kind of guy I would fall in love with, not some square-jawed, hunky guy,'" said McCarthy in the "Pretty In Pink: Everything's Duckie" DVD edition. As a thank-you, he sent Ringwald a 4-foot-tall Gumby doll after getting cast. "I don't know why," McCarthy told Gora of the gift. "It was ridiculous."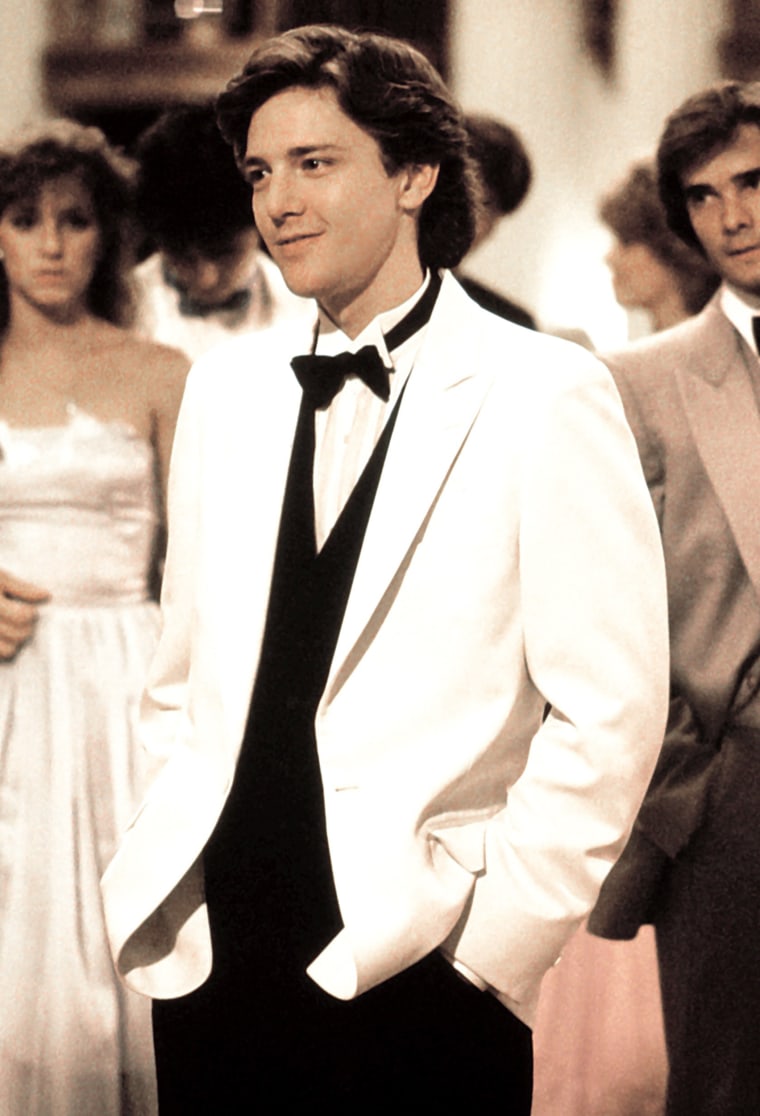 6. Ringwald wanted Robert Downey Jr. to be her BFF, not Jon Cryer.
The role of Duckie, Andie's wisecracking best friend and not-so-secret-admirer, went to scene-stealing Jon Cryer — but was meant for Anthony Michael Hall, who had played lovable (and lovestruck) geeks in four other Hughes screenplays. However, after Hall turned down the role, Ringwald told Gora she felt Duckie should have been played by "somebody like Robert Downey, Jr." because "he was different, and he was quirky, but it was completely imaginable that we would end up together."
7. In the original ending, Andie ends up in Duckie's arms instead of Blane's — but that's it.
"There's a misconception about the original ending," says Gora. "It's thought that Andie and Duckie ended up together as a couple, but in fact, 'it was mostly as friends,' Cryer told me. There was no kiss." As for what actually happened, Gora says that "after being devastated when Blane dumps her because of pressure from his friends, Andie is reinvigorated when she and Duckie reunite at the prom in an 'us against the world' climax where they boldly dance in the center of the dance floor to David Bowie's 'Heroes,' oblivious to the people around them."
RELATED: Brain, athlete, basket case, princess or criminal? Find out which 'Breakfast Club' character you are
8. The original ending was axed after a poor test screening.
"A test screening of teenagers who were watching and loving 'Pretty In Pink' actually booed when they saw the ending where Andie and Duckie end up together," says Gora. "After a lot of soul-searching, the filmmakers ultimately decided to give the audience what they wanted: Andie and Blane ending up together. Hughes realized that the key was to have Blane show up to the prom alone — it meant that he had rejected his mean, preppy friends and that there was no other girl for him but Andie."
9. The new movie ending required a wig (but apparently, not a good one).
"Weeks had passed, and though most of the actors looked the same as they had, McCarthy was playing a soldier in the John Pielmeier play 'Boys of Winter,' and had shaved his head for the part," says Gora. As such, McCarthy needed a wig for the now-iconic prom scene and kiss. "It looks like a rodent on my head," McCarthy told Gora. "If they had known we'd still be talking about 'Pretty In Pink,' they would have paid for a better wig."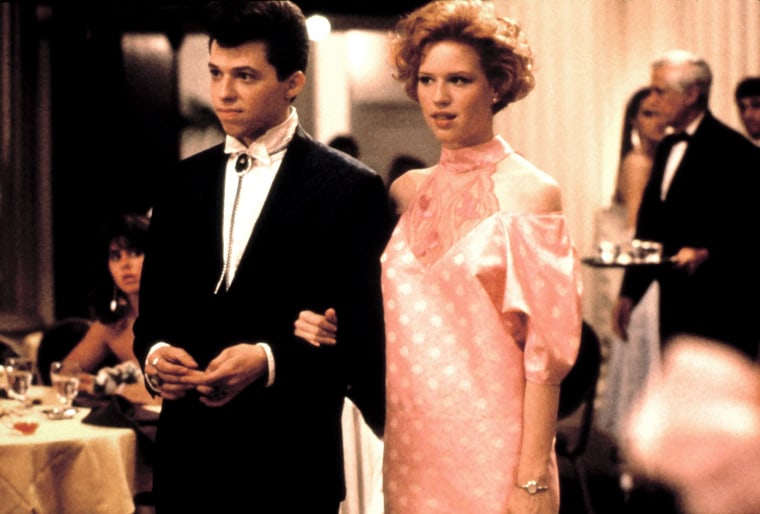 10. Molly Ringwald was not a fan of her now-iconic prom dress.
"She hated that dress! Molly actually hated it with such a passion, you have no idea," said "Pretty In Pink" costume designer Marilyn Vance in a 2013 interview with Dazed magazine. "I cut up two dresses to make the prom dress, just like she does in the film. Poor John Hughes — Molly's in her trailer with her tutor, she hates the dress and he's whining to me, 'You can't make her do that, she hates it.' I said, 'Andie is not going to wear like, a Madonna dress. And she's not going to dress like the other kids, she's an individual. She's pulling clothes apart and making her own style.' And John decided, 'Okay, that's it, Molly is going to wear it.'"
RELATED: Relive 14 movie proms in 2 minutes: A supercut of high school's biggest night
11. James Spader and McCarthy attended prom in "Pink" — but never went to their own proms.
Spader and McCarthy may have played popular and privileged "richies" onscreen — but off-screen, they had a greater affinity for "zoids," Hughes' term for outcasts not part of the "in" crowd. "I couldn't get a date," admitted McCarthy to an MTV reporter at the 1986 premiere. "It's not a tale that I'd really like to talk about — it just wasn't a big deal, I guess."
Spader could relate. "I guess I was a zoid. I dressed funny. I did theater, and my friends were always the strange group of characters. And I was attracted to [that] — the stranger, the better, in my book," he told a local TV show host in 1986, adding, "I didn't graduate from high school, so I didn't go to prom. I never went to prom and all the anxiety and fear that prom [provokes] would probably keep me away from a prom today."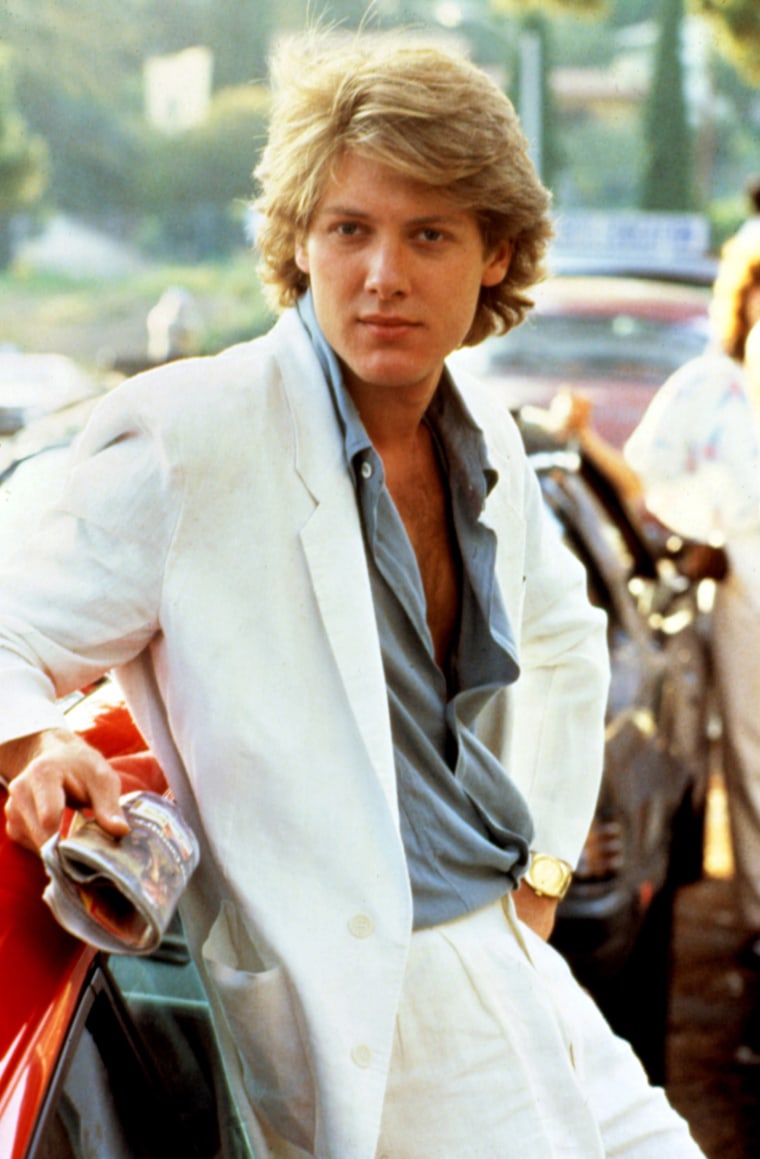 12. Spader's audition for Blane's loathsome friend, Steff, went so well that he almost wasn't hired.
"He was just so believable — you know, I was casting the movie and I went, 'I hate this guy,'" said Deutch in the "Pretty In Pink: Everything's Duckie" DVD.
"I remember James Spader coming in and smoking a cigarette … and he was just obnoxious, but he was completely in character because he's actually a lovely character. Very nice and not at all like the character he plays," added Ringwald. "But he just had this real sneer about him … and I think he even dropped the cigarette on the floor and stamped it out, and just left."
13. Some of the movie's most memorable moments were improvised.
"Hughes and Deutch created an environment where the actors felt free to improvise, and this led to some of the greatest lines in the film," says Gora. "Cryer came up with Duckie's comedic reaction to the tampon machine in the girl's bathroom: 'We don't have a candy machine in the boys' room!' He also improvised what may well be the most beloved and oft-quoted line from the entire movie — the one Duckie utters exasperatedly upon learning his romantic rival's name: 'Blane? His name is Blane? That's a major appliance, that's not a name!'"
While Cryer gets much of the improv credit, however, he says that Spader made some great contributions. "Frankly, I think he steals the movie — he did all kinds of things. Like, he wanted to know exactly when the [school] bell was going to ring so he could point up. It was all great," Cryer told Entertainment Weekly in 2006. According to Cryer, Spader even took their hallway scuffle at school to the next level, spitting on the floor before slithering away.
RELATED: Double Duckie! Jon Cryer and James Corden re-create 'Pretty in Pink' dance
14. Duckie's famous dance moves came courtesy of the "Footloose" choreographer.
A high point of the movie is when Duckie saunters into the record store where Andie works, and proceeds to dance and lip-sync to Otis Redding's "Try a Little Tenderness." Of the now-famous scene, Cryer told EW: "It was Howie [Deutch] who found the Otis Redding song. Nobody really anticipated that I was gonna go to town on it the way that I did. Although, I completely blame Howie, because he got me together with Kenny Ortega the night before [we shot the scene]. And getting together with a seriously world-class choreographer, you're gonna come up with something."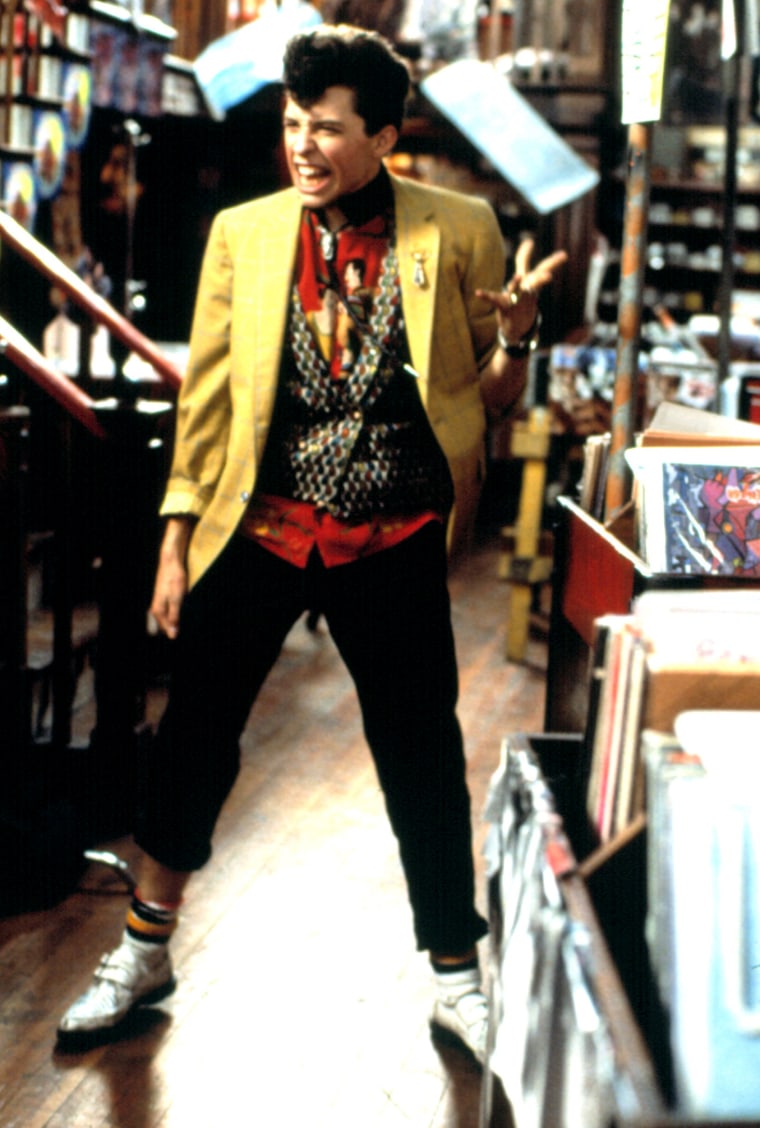 15. His dancing shoes were one-of-a-kind … and nowhere to be found today.
Duckie got his close-up during the expertly choreographed dance scene — and so did his signature pointy-toed white shoes. According to Yahoo! News, his standout footwear was hand-picked by the film's costume designer at NaNa — an LA punk rock shop also responsible for Julia Roberts' unforgettable thigh-high boots from "Pretty Woman."
"I had the Duckie shoes for the longest time and then in the mid-'90s, I lent them to Planet Hollywood, which decided that I wasn't lending them, I was giving them — despite documents to the contrary," Cryer told EW. "They're probably in the last remaining Planet Hollywood in, you know, Singapore or something. Isn't that ridiculous? The Duckie shoes should be mine!"
RELATED: Don't you forget about 'The Breakfast Club': 22 times pop culture paid tribute to the '80s classic
16. The featured band in "Pretty In Pink" also got a shoutout in "Sixteen Candles."
"Ringwald had a say in all sorts of major elements of the film, including the music," says Gora. "The band performing at the night club where Andie takes Blane on their date was the Rave-Ups, whose lead singer, Jimmer Podrasky, was dating Molly's sister and later had a child with her." Prior to "Pretty In Pink," Ringwald had also promoted the band in "Sixteen Candles" by boldly inscribing their name on her character's binder.
17. Certain "Pretty In Pink" actors reunited onscreen, some more than once.
Ringwald and McCarthy starred together in 1988's "Fresh Horses," which featured the same opposites-attract plot, but without the same box-office success as "Pretty In Pink." Meanwhile, McCarthy went on to appear with Spader in two other popular '80s films, "Mannequin" and "Less Than Zero." More friends than frenemies in real life, the two also worked together last year when McCarthy directed several episodes of "The Blacklist," Spader's hit primetime show on NBC.