Stephen Colbert is leaving his "Colbert Report" on Dec. 18, but on Monday night's show he may have found his replacement: President Barack Obama.
The leader of the free world ably took over both Colbert's chair and "The Word" segment.
"You've been taking a lot of shots at my job, I've decided I'm going to go ahead and take a shot at yours," said Obama. "How hard can this be? I am just going to say whatever you were about to say."
Not hard at all, unless the jokes are at your own expense! 
Over the course of the segment (renamed "The Decree"), the audience laughed along as Obama poked fun at how "arrogant" the president must be ("I bet he talks about himself in the third person"); Obamacare ("How do you stop something that more and more people are starting to like?") and the fact that jokey news shows may be "beneath his dignity" but above his approval rating.

It was a short commute for the president, who has appeared on "Report" twice before (once as president), as Colbert was temporarily taping his show in Washington, D.C. Later, Obama returned as the show's guest and faced questions over topics ranging from his family to immigration.
But throughout his "Decree" segment, Obama kept the chuckles coming with a more-than-credible deadpan version of Colbert's oh-so-serious character as he read through the jokes. Later on, he noted, "I will say, I felt more powerful behind that desk."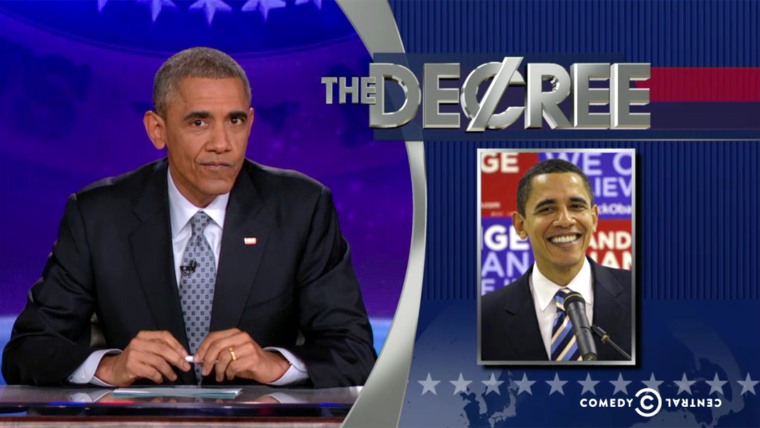 Colbert joked right back: "With great power comes medium cable ratings."
If only running the free world was this much fun all the time!