Ellen DeGeneres was so touched by her wife's heartfelt birthday gift, she burst into tears of joy.
Actress Portia de Rossi surprised DeGeneres Thursday by dropping by the set of "The Ellen DeGeneres Show" to deliver a very special 60th birthday present to her.
The talk-show host, who turned 60 on Jan. 26, has been receiving fun trinkets and heartfelt tributes from Hollywood pals all week long. But nothing prepared her for the thoughtful gift her wife delivered to her during Thursday's special two-hour birthday celebration.
"It's your 60th birthday and this gift had to be really special and it had to represent who you are and what you really care about," de Rossi told DeGeneres. "Not just now, but what you've always cared about. What you were influenced by and what has made you the amazing person that you are today."
Knowing that DeGeneres is an avid admirer of the late conservationist Dian Fossey, who spent most of her life studying mountain gorillas in Rwanda, the "Scandal" alum revealed the couple will be building The Ellen DeGeneres Campus of the Dian Fossey Gorilla Fund next to Volcanoes National Park in Rwanda — a center for education, tourism and further scientific research.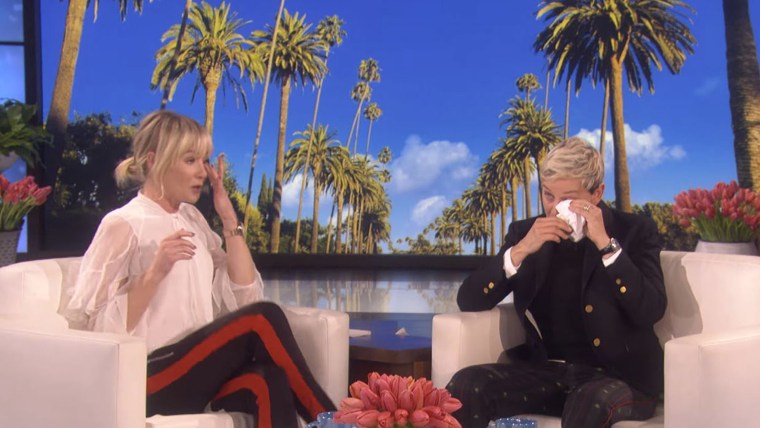 DeGeneres, a longtime animal rights advocate, immediately teared up and shared an embrace with her wife.
But de Rossi, 45, wasn't done with the surprises: She also revealed to her big-hearted wife that the campus is only the first initiative of the newly launched foundation The Ellen DeGeneres Wildlife Fund, which will work to protect and advocate for the world's most vulnerable animals and wildlife.
Watch the beautiful birthday celebration in the video above!