Robert De Niro, Joe Pesci, Martin Scorsese and Lorraine Bracco are paying tribute to Ray Liotta, their "Goodfellas" co-star, following news of his death at age 67.
"I was very saddened to learn of Ray's passing. He is way too young to have left us. May he Rest in Peace," De Niro said in a statement obtained by NBC News.
Pesci said in his own statement to NBC News, "God is a Goodfella and so is Ray." 
Martin Scorsese also sent a statement to NBC News.
"I'm absolutely shocked and devastated by the sudden, unexpected death of Ray Liotta," Scorsese said. "He was so uniquely gifted, so adventurous, so courageous as an actor."
"I am utterly shattered to hear this terrible news about my Ray," Bracco wrote on Twitter. "I can be anywhere in the world & people will come up & tell me their favorite movie is Goodfellas."
She added, "Then they always ask what was the best part of making that movie. My response has always been the same…Ray Liotta."
Her post included a photo of the two of them. The pair played husband and wife in the classic crime drama.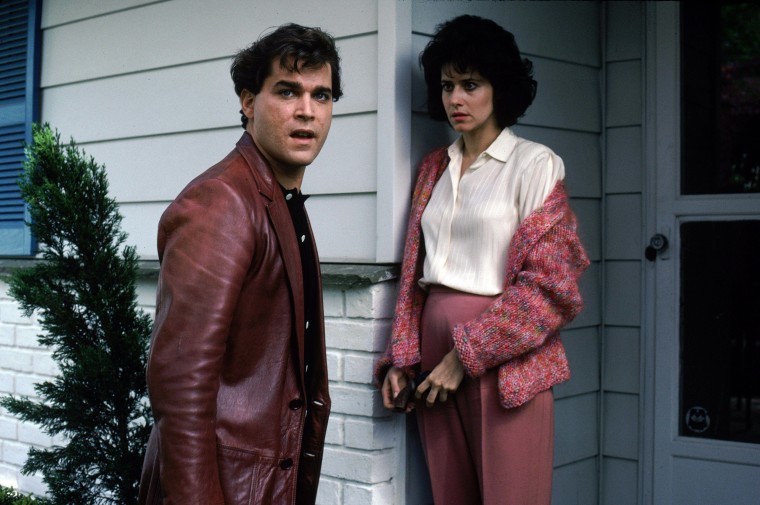 In the Academy Award-winning Martin Scorsese film, Liotta impressed audiences with his portrayal of gangster Henry Hill.  
Jennifer Lopez, who shared the television screen with Liotta in the NBC drama "Shades of Blue," honored the actor's life with a heartfelt Instagram post. 
"Ray was my partner in crime on Shades of Blue …" she began in the lengthy caption. "The first thing that comes to mind is he was so kind to my children. Ray was the epitome of a tough guy who was all mushy on the inside … I guess that's what made him such a compelling actor to watch."
She called him the "original Goodfella" and also recalled the "electric spark and a mutual respect" between them on set. Her post included scenes from the show and pictures from events they had attended during the three years that they filmed together.  
"Field of Dreams" co-star Kevin Costner uploaded a clip from the baseball drama to his Instagram page.
In the caption, Costner said he was "devastated" to hear about Liotta's death. 
He wrote, "While he leaves an incredible legacy, he'll always be 'Shoeless Joe Jackson' in my heart. What happened that moment in the film was real. God gave us that stunt. Now God has Ray."
Danny Trejo posted a picture to Twitter of him and Liotta holding the "Machete" actor's lifetime achievement award that he received at the National Association of Latino Independent Producers in 2013.
"Ray Liotta could play in Good Fellas as a vicious gangster and could play as a lovable character in the Muppets," he tweeted. "He was amazing actor, man, and great friend."
Seth Rogen expressed on Twitter how he was in disbelief after hearing about Liotta's passing. He complimented the late actor for being "such a lovely, talented and hilarious person."
The "Pam & Tommy" star referred to working with Liotta as "one of the great joys of my career." The two co-starred in the 2009 crime dramedy "Observe and Report." 
Jeffrey Wright revealed on Twitter that he met Liotta for the first time last year and called him a "GREAT actor."
He added, "Nice to have had a chance to say that to him. RIP." 
On Thursday, NBC News confirmed in a phone call with Liotta's publicist, Jennifer Allen, that he had died. 
Allen said that the veteran actor passed away while on location in the Dominican Republic to film a movie called "Dangerous Waters."
Liotta's publicist also shared that there was nothing suspicious about his death and that no foul play is suspected. 
The actor's fiancée, Jacy Nittolo, was with him on the island as he worked on the film. 
Liotta started to become a major star in Hollywood after starring in the 1986 movie "Something Wild." He played a jealous ex-husband named Ray Sinclair. The action rom-com helped him secure a Golden Globe nomination.
Throughout his illustrious career, Liotta also appeared in "Field of Dreams," "Wild Hogs," "Hannibal," "Heartbreakers," "Narc" and "Revolver." 
Last year, he starred in "The Many Saints of Newark" and also had a six-episode stint on the Amazon Prime Video series "Hanna."
His next project, "Black Bird," which co-stars Taron Egerton and Greg Kinnear, is expected to premiere on Apple TV+ in July.