Sarah Hyland's wedding to Wells Adams doubled as a "Modern Family" reunion. 
Hyland and Adams, who got engaged in July 2019, tied the knot on Aug. 20 at a stunning vineyard. In attendance were Hyland's former co-stars from the ABC hit comedy, including Sofía Vergara, Jesse Tyler Ferguson and his husband, Justin Mikita, Julie Bowen and Nolan Gould. 
The bride looked stunning in a white gown featuring a sweetheart neckline, a thigh-high slit and a sprawling train. "A train as long as our engagement 💕," she captioned a post that showed two black-and-white photos of her wearing the striking dress. Hyland also incorporated a traditional piece of bridal attire — a garter — into her wedding ensemble and shared a behind-the-scenes look of her putting it on.
Just days after saying "I do," the newlywed posted several photos of herself and her groom on Instagram. In the trio of photos, the couple poses at the end of the aisle after tying the knot, shares a sweet kiss and looks at each other lovingly. "Ladies and gentlemen… The Adams Family ✨🌙," the bride captioned the post.
The 31-year-old first broke the happy news by sharing a photo of the couple posing on a balcony against a gorgeous backdrop. In the photo, Hyland is wearing a second wedding gown with transparent sleeves and an open shoulder. The gown also featured a sweetheart neckline and a long train.
Hyland's "Modern Family" co-stars made sure to document the special day on social media. Ferguson, who officiated the ceremony, shared a photo of the couple kissing at the altar and said he had "the best seat in the house."
"I also do Bar Mitzvahs," he joked.
The actor shared several selfies with his co-stars, who seemed to have an incredible time.
Vergara, who brought her son, Manolo, as her date, shared an image from a photo booth where she posed alongside Mikita, Gould, Ferguson and another guest. 
Earlier in the day, Vergara shared two snaps in an Instagram carousel post posing alongside her son as well as Stephanie Levinson, executive vice president of casting at 20th Television. In the caption, she added, "Summer wedding!!"
After posting a photo posing in a floral black-and-white dress leaning up against a car, Vergara shared a sweet snap of her with Ferguson and Mikita, writing, "Luv u @jessetyler @justinmikita."
In an Instagram story, Vergara shared two more pics with her former co-stars.
The "America's Got Talent" judge and Gould posed for a selfie after the sun had set, both smiling for the camera. Vergara tagged her on-screen step-grandson and added a purple heart sticker to the frame.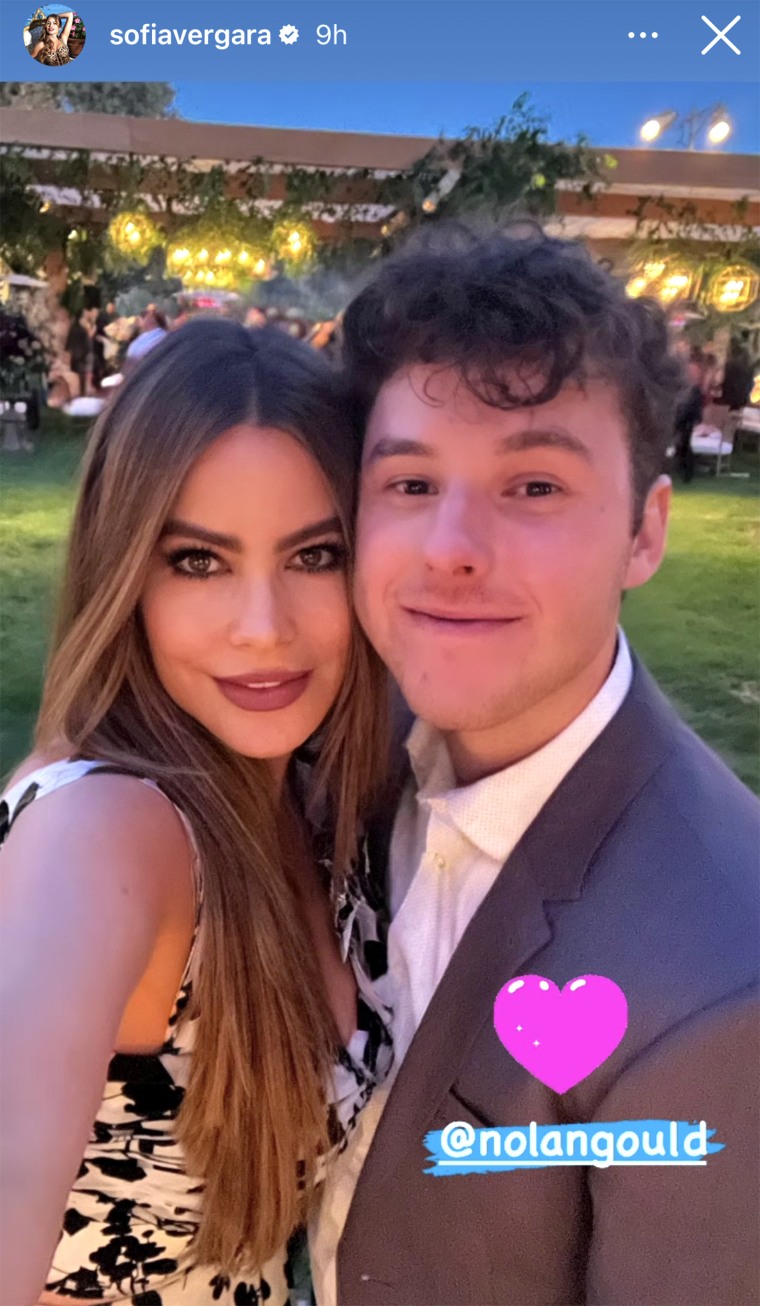 In another photo from the ceremony, Vergara revealed Bowen was sitting behind her in an elegant green gown.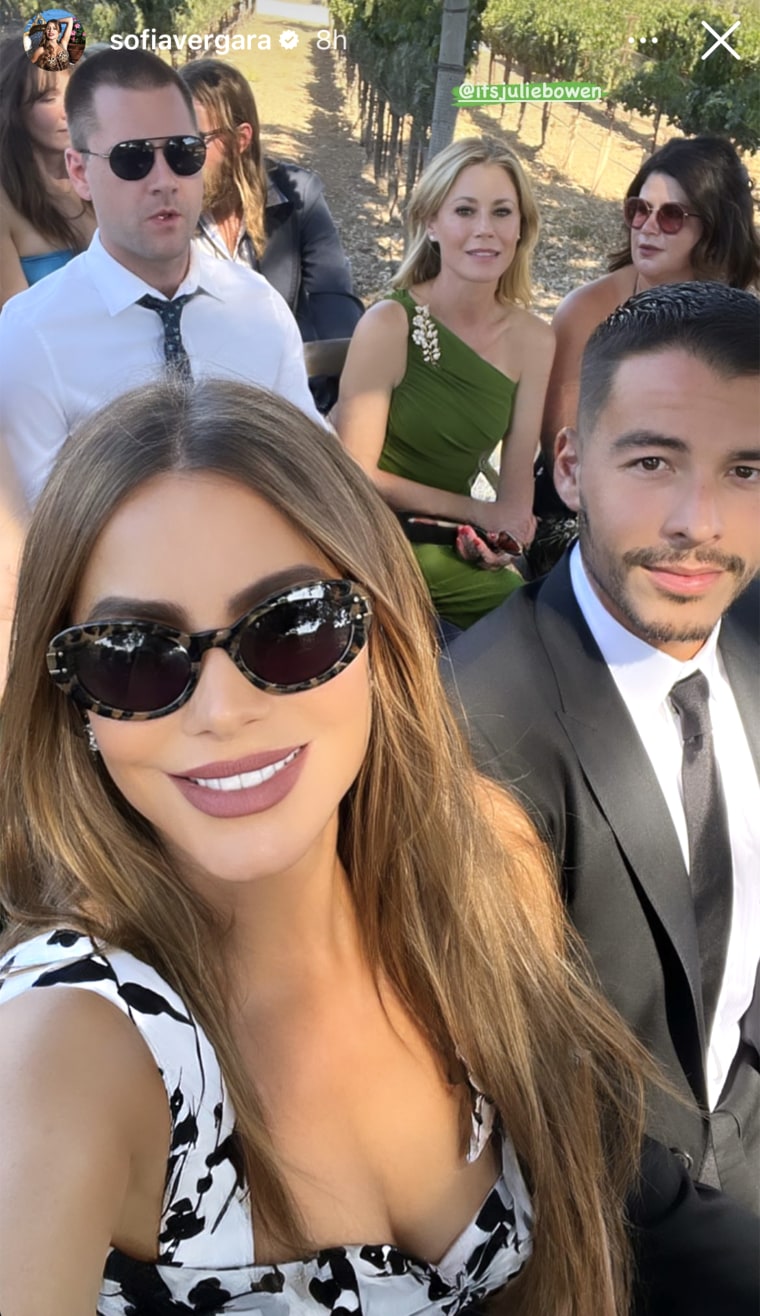 Earlier in the day, Ferguson shared a snap on Instagram of himself, Bowen and Gould posing for a photo in a corner booth.
Bowen shared the same image in her feed with the caption, "Yay! Just…yay. I love my fake family."
In the evening, Ferguson shared a photo posing next to his husband as they donned coordinating blue suits. 
He wrote in the caption, "dads night out," adding a single red heart emoji. 
Hyland and Adams' relationship began in September 2017 after meeting on Twitter. The new "Love Island USA" host revealed on "Jimmy Kimmel Live" that Adams had initiated the conversation when via direct message.
In July 2019, Adams popped the question in a romantic proposal on the beach while the couple was on vacation. They were originally set to tie the knot on Aug. 8, 2020, but the wedding was ultimately postponed due to the coronavirus pandemic.
Hyland appeared on TODAY with Hoda & Jenna to talk about her new hosting gig, as well as her relationship with her then-fiancé. After she was asked if it was love at first sight with Adams, she responded, "A bit, yes."
Hyland also revealed the moment that she knew she felt strongly about Adams, telling Hoda Kotb and Jenna Bush Hager, "I just kind of threw him into the lion's den and for our first date, I took him to the night before the Emmys with all of my co-stars and a bunch of other actors, writers and directors."
"We were dancing on the dance floor, and I had a water in my hand and my purse in the other and he asked me if he could hold my purse for me and I recoiled in PTSD, being like 'Why would you want to hold my purse?'" she recalled. "And he was like, 'So you could dance more comfortably.' And I was like, 'I'm going to marry this guy.'"
Related: