Michaela Jaé Rodriguez is best known for her Golden Globe Award-winning role in the television show "Pose," a role that made her the first trans woman to snag the coveted trophy. Now, the actor and singer is forging new paths for herself in an industry where just succeeding in one area is challenging enough.
In celebration of LGBTQ pride this month, Rodriguez sat down with Morgan Radford on the 3rd Hour of TODAY for an in-depth look at where she's been — and where she's going next. The interview was sponsored by Citi.
'There's slow change all the time'
Growing up in Newark, New Jersey, Rodriguez was drawn to music at a young age, honing her skills in performing arts and theater programs. But early on, she knew she was different.
"At seven years old, I had an understanding that I was this extremely divine feminine creature on this earth," the 31-year-old told TODAY's Morgan Radford. "Obviously, there were things that to the world they didn't understand, but for me it made perfect sense. When I got into high school, it was a clear vision of who I was. And at that point, I was like I'm not letting anyone deter me."
After graduating from Newark Arts High School, she majored in songwriting and performance at Berklee College of Music. It was onstage in her 20s where she learned more about who she was, performing in an off-Broadway production of "Rent" as the character Angel, a drag queen who presents as a woman for most of the show.
"I would say (the role) definitely really gave me an understanding of what it was like in a time I wasn't living in," she said, referring to the early 1990s time period "Rent" is set in.
"Seeing what went on, seeing what happened to us in those times and it just kind of prepared me for what was to come and it was educational," she said. "It was like a tutorial on what life could possibly be if there was slow change and, as you know, there's slow change all the time."
At 24, she came out as transgender. From there, that changed how she would have to navigate the entertainment industry, where opportunities are limited for trans people. That nervousness was hard to avoid, but her friends and family were nothing but supportive.
"There were times where I would sit and just overthink about how someone would assess me in the world," she said. "I had family members who loved and adored me, so that was the easiest part, right? I had a pillar and a foundation. But outside in the world, you just never know what's going to come your way."
Rodriguez said she would openly ask her loved ones: "Do you think I'm going to survive in the industry being the person that I am?"
Not she not only survived, she thrived.
Her big break came in 2018, when she was cast in "Pose," a television series that told the story of the underground ballroom community of New York City in the 1980s. Rodriguez played Blanca Evangelista, an up-and-coming house mother who was in charge of taking care of her chosen family that included young, queer outcasts.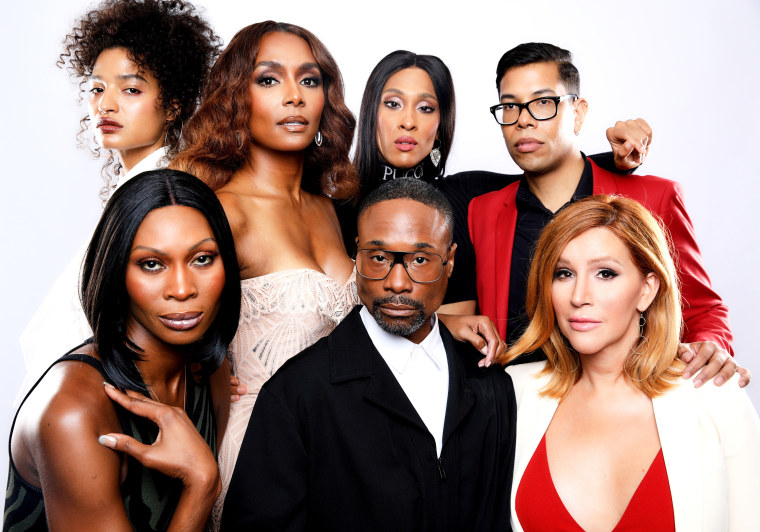 Did she identify with Blanca as a character? 
"Yes," she said, adding, "to the point where a lot of people thought I was Blanca."
The star turn earned her an Emmy nomination in 2021 for lead actress, and this year, she won the Golden Globe.
"It was overwhelming. I was surprised and I'm not usually surprised, you know what I mean?" she said. "But I was very surprised because it's not as easy as you think for a trans woman to be in that space, to be mainstream, to be in the limelight, to win a historic award. That doesn't happen and it hasn't happened in a long time."
"I'm going to always have Blanca on my shoulder everywhere I go."
A new album and a name change
Rodriquez told TODAY that she's now returning to her musical roots — and with it, came a name change. She went from MJ to Michaela Jaé.
"I wanted people to really get to know the person behind MJ," she said. "MJ was my nickname for all of my life and it was my nickname in classes and in school and no one really knew who Michaela Antonia Jaé Rodriguez was and I wanted to really break that down."
Her first official song as Michaela Jaé was "Something to Say," an upbeat empowering song that shows off joy in effervescent lyrics and catchy melody. With more than one million plays on YouTube, the comment section there is full of fans praising her for continue to break boundaries.
"The only way to do that is to show them what I really love and the best side of me, which is my musicality, which is my artistry," she said. "So when we came out with 'Something to Say,' that was the initial moment for me to say, well, people need to see me and they need to know who I am. I've got a lot to say, I've got something to say — and one of the things to say is my name. So I did that and I changed it."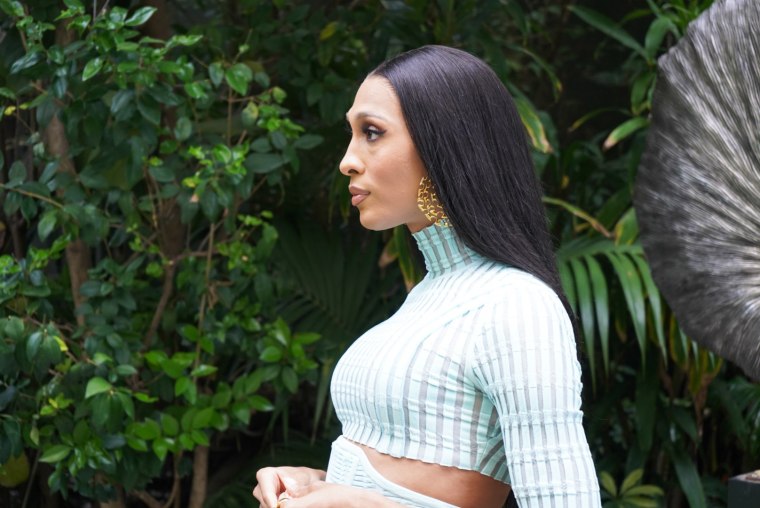 'People need to actually pay attention'
Rodriguez has her debut album coming out later this year, and she is about to star alongside Maya Rudolph in the new Apple TV+ series "Loot."
On why it's important for representation of LGBTQ people to be represented in all art forms, she said, "When you create space for us, then it makes it an even playing (field) for us to do all of the things that we dreamed about doing."
"People need to actually pay attention more and show much more representation when it comes to LGBTQAI talent after this (Pride Month)," she added. "This month I think of as a celebration, as time for us to just be happy and to live. But I always think about the work afterwards and how long it's going to take and I think that's not only up to the LGBTQAI youth and LGBTQAI+ individuals, but it's up to our allies, too."
To celebrate LGBTQ pride, TODAY is sharing this community's history, pain, joy and what's next for the movement. We will be publishing personal essays, stories, videos and special features throughout the entire month of June.