Justin Bieber is opening up about his wife Hailey Bieber's recent health scare. During the 28-year-old singer's concert in Denver, Colorado, on Wednesday, he shared that Hailey is doing well after she was hospitalized last week — but that the moment was "really scary."
In video shared on his Instagram on Thursday, Bieber is seen speaking to the crowd after the venue's power went out.
"It's kind of crazy how life randomly throws you curveballs. You know, we can't really control much ... tonight the power cutting out," he said. "Obviously, you guys know, most of you probably know or seen the news about my wife."
"But she's OK, she's good, she's strong. But it's been scary, you know? Like, it's been really scary," he continued. "But I know for a fact that god has her in the palm of his hands and that's a good thing."
On March 12, Hailey revealed on her Instagram story that she went to the hospital after she "started having stroke like symptoms." The 25-year-old model said that doctors told her she "suffered a small blood clot to my brain, which caused a small lack of oxygen."
"But my body had passed it on its own and I recovered completely within a few hours," she added, also calling it one of the scariest moments she's been through.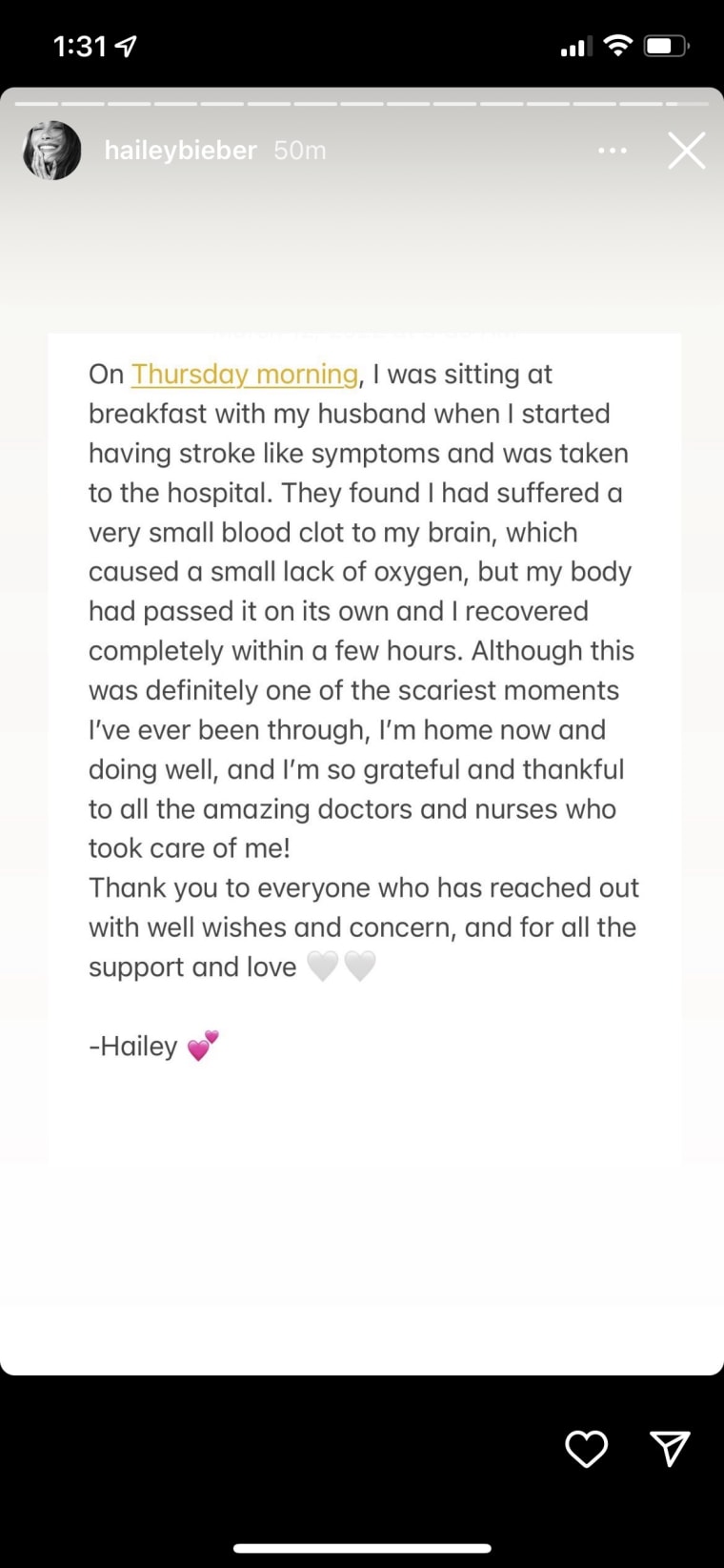 Related: Hailey Bieber recently hospitalized after experiencing 'stroke like symptoms'
During his concert, Bieber also expressed his gratitude amid "horrible things happening."
"I'm really grateful to be here with you guys just celebrating life," the singer relayed. "There's a lot of horrible things happening in the Earth right now, and for us to be in this room all together laughing, smiling, singing songs. I mean, I can't think of a better place I'd rather be. So, thank you guys for joining me tonight."
He also took the time to address the importance of talking about one's fears and insecurities.
"I think talking about it is the greatest thing you can possibly do because then you just let it out," he told his fans, adding that people make deeper connections when they share their feelings. "I have insecurities, I have fears, and you don't have to hide those things. That's what makes you you."
While Hailey wasn't in attendance that night, she cheered on her husband during his March 8, Los Angeles, concert. In a video captured by fans and shared on social media, he dedicated his song "Anyone" to her. That night, Hailey shared videos of herself at the show on her Instagram story, as well as showed off her outfit on her grid.