Australian pop diva Kylie Minogue has undergone successful surgery for early breast cancer at a Melbourne hospital and her spirits are high, her surgeon said on Saturday.
"I am very pleased to be able to confirm that the operation was successful," said Jenny Senior, who operated on Minogue on Friday afternoon. "I feel confident that we caught the cancer in time and she is now on the road to a complete recovery."
She added: "Her spirits are high and she's feeling fine."
Minogue, 36, said on Tuesday she had been diagnosed with early breast cancer and postponed her Australian and Asian "Showgirl Tour" concerts.
Her management said on Thursday initial tests had shown the cancer was confined to the breast.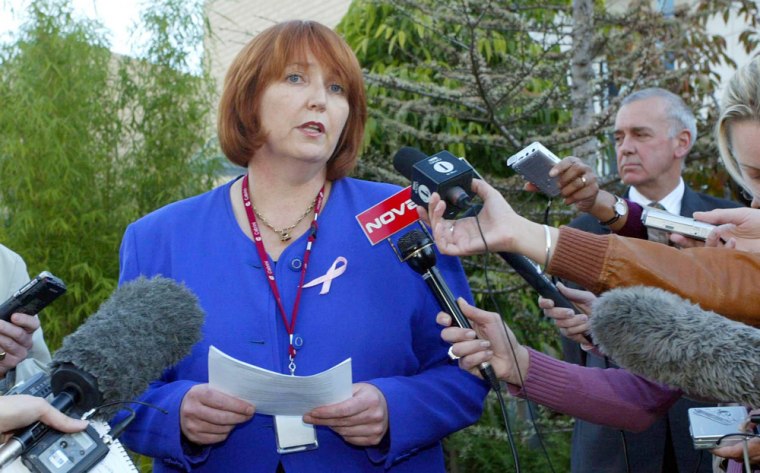 Senior did not give any details about the operation but said the surgery was considered "best practice" around the world for early breast cancer.
She said Minogue was resting but wanted to thank her many well-wishers.
"Kylie has asked me to pass on her thanks once again to all who have expressed their love and concern for her," Senior said. "Your support has certainly helped her through a tough time."
She declined to say where Minogue was recuperating.
Her younger sister Dannii, also a pop singer, flew from London to join family and friends by her side.
Minogue, signed to EMI, is worth about $46 million, according to a 2004 list of rich, young Australians compiled by BRW magazine.
Media frenzy
Minogue rose from humble showbiz beginnings as a teenage actress in the Australian soap opera, "Neighbours", in the 1980s to international stardom as one of the world's top pop singers.
News of Minogue's breast cancer has dominated Australian and British media and has attracted words of sympathy and support from some of the music industry's biggest names -- from Britain's Elton John to American pop singer Madonna.
Australian and international media have camped outside the Minogue family home since news of the cancer broke. Some have staked out hospitals in Melbourne.
Minogue's stardom has boosted the campaign to raise awareness of breast cancer and the singer has asked fans to donate to cancer research instead of sending her flowers.
Australia's Cancer Council said on Saturday fans had donated $6,070 within 24 hours to a special fund it had set up.
Breast cancer is the biggest cause of cancer deaths in Australian women, unlike the United States and Britain where it is second, behind lung cancer.
Australian cancer clinics have reported a flood of women seeking breast cancer check-ups. There is currently no cure for breast cancer, with the medical focus on early detection as the best way to survive the disease.