Sandra Bullock has yet to make any further statement about the alleged affair between her husband, Jesse James, and tattoo model Michelle "Bombshell" McGee, but more details are pouring out.
According an interview McGee gave In Touch Weekly, the whole affair began after she sent James a social-media friend request, hoping to be on his television show, and things escalated to the point where they had "intimate relations." 
She went on to tell the magazine that she and James had sex "two or three times" the night they met (Bullock was away filming "The Blind Side," said McGee) and from there a "serious relationship" began.
McGee and Bullock certainly couldn't look more opposite. While Bullock dazzled in old-Hollywood style on the red carpets during awards season, McGee sports a tattoo on her forehead that reads "Pray for us sinners."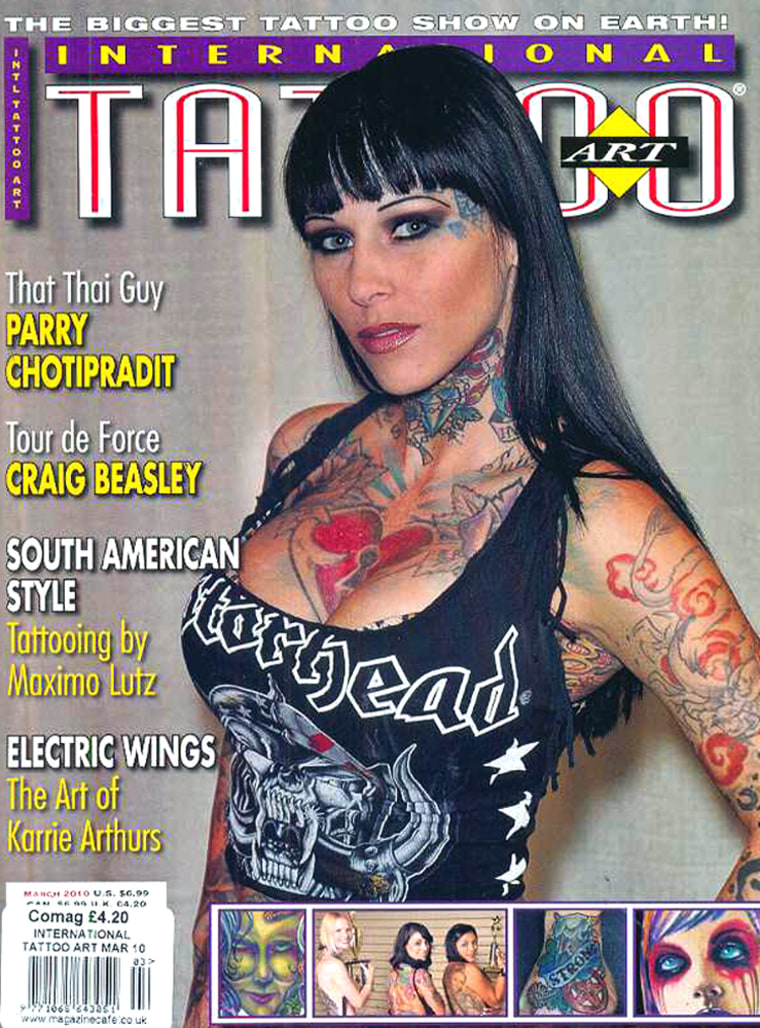 McGee has also said in various interviews that she's broken a bone performing on a stripper pole, and she was raised Amish.
"I grew up Amish but left the church when I was 16 — I never looked back. I moved to L.A. and got tattooed," she told press at a Miss Ink contest in Las Vegas.
Don't tell Miley Cyrus what to doMiley Cyrus might have grown up on Disney, but at this point, she's basically all grown up — and beginning to make her own judgment calls as to what is appropriate.
"I hate being thought of as a product. I am not a doll, and people want to treat me that way," Cyrus told Parade magazine. "They say, 'Now this is what we need to do to your makeup, and this is what I want you to wear,' and I'm like, 'Dude, I choose.' When I was 12, that was OK. But I'm older now. I have an opinion. I have my own taste."
Her taste has often clashed with public opinion. That was certainly the case when she danced on an ice-cream cart and against a pole as if she were a stripper at last summer's Teen Choice Awards.
Jake Johnson and Damon Wayans Jr. on the "Let's Be Cops," red carpet, Selena Gomez is immortalized in wax and more.
Cyrus found out that "Morning Joe" co-host Mika Brzezinski was among those who took issue with the performance, and Cyrus said that she'd do the pole again, as it was right for the song.
"My impulse is to say, 'Get off my case, Mika. Get over it.' " Cyrus said. "(But) my job first is to entertain and do what I love, and if you don't like it, then change the channel. I'm not forcing you to watch me. I'm not forcing you to talk about me. I would do that pole dance a thousand times again, because it was right for the song and that performance. But, dude, if you think dancing on top of an ice-cream cart with a pole is bad, then go check what 90 percent of the high schoolers are really up to. It's funny. I don't know if a lot of parents remember what they were like as kids. But I'm like, 'Dude, as if you were an angel!
Oprah's camp ready for courtWhen Oprah Winfrey goes up against the former headmistress of her South African girls' school in federal court this month, don't expect Winfrey to shy away from telling her side of the case.
According to Chip Babcock, an attorney working on behalf of Winfrey and her production company, Harpo, "Oprah and Harpo await the opportunity to present the case in court."
The school's former headmistress, Lerato Nomvuyo Mzamane, accused Winfrey of defaming her while discussing details surrounding an alleged abuse scandal that took place at the school in 2007.
A Pennsylvania federal court judge decided Tuesday that the case could go to trial, and it is expected to begin March 29 in federal court in Philadelphia.
Courtney Hazlett delivers the Scoop Monday through Friday on msnbc.com. Follow Scoop on Twitter @courtneyatmsnbc.