"Pitch Perfect 2," like the wildly successful song-and-dance film that came before it, is a musical comedy. But for star Rebel Wilson, preparing for the sequel was more like a real-life action flick.
As Wilson explained during a Tuesday morning visit to TODAY, the film opens with aerial acrobatics routine gone wrong, and using a stunt double just wasn't an option.
"Apparently stunt doubles for aerial acrobatics don't come in my size," she said. "So the choice was to train me or have a completely different opening to the film."
WATCH: Natalie dances her way through 'Bella Boot Camp'
But as far as she was concerned, that was no choice at all.
"I'm like, 'OK, I'm really deathly afraid of heights, but let's just do it. I may die, but let's just do it!" she recalled. "So I trained for five weeks for a just a 40-second stunt routine in the opening of the film."
It's sure to be worth it. After all, Wilson said it's a "flashy opening," as in — spoiler alert! — she flashes the president and the first lady during her death-defying stunt.
"There's a conscious uncoupling of my unitard," she laughed.
But despite the risky routine (and the exposure), Wilson didn't panic when the cameras rolled.
"The weird thing is my character is so confident and sassy, so even though I am totally afraid, I was like, 'No, I've got to be like Fat Amy and get out there and just crush it,'" she said.
WATCH: Natalie goes behind the scenes of 'Pitch Perfect 2'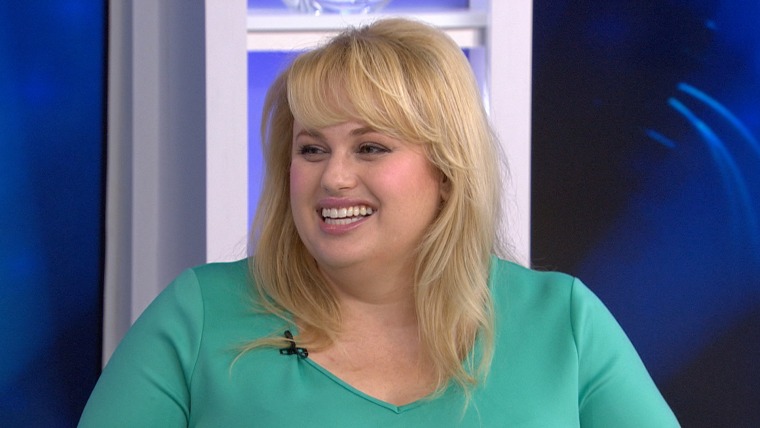 Playing Fat Amy is a thrill for the Australian actress, but it's not her favorite thing about working in Tinseltown.
"The best thing is the megahunks. Zac Efron — hi, Zac! — Channing Tatum, James Franco ... I've made a lot of new friends," she said with a wink.
MORE: 'Pitch Perfect 2's' Elizabeth Banks talks Bella underdogs and aca-Packers
Check out the full interview to see what else she had to say about Hollywood, and see even more from her when "Pitch Perfect 2" hits theaters Friday.
Follow Ree Hines on Google+.