When photos of Pink at a charity event in April prompted nasty comments about her weight, the singer took to Twitter to shut down her critics.
Pink proclaimed that she felt beautiful — and happy — despite their insults, and finished the post by asking her followers not to fret over her weight.
Now, in a new interview with "Entertainment Tonight," the 35-year-old has further opened up about her inspiring response to body-shaming.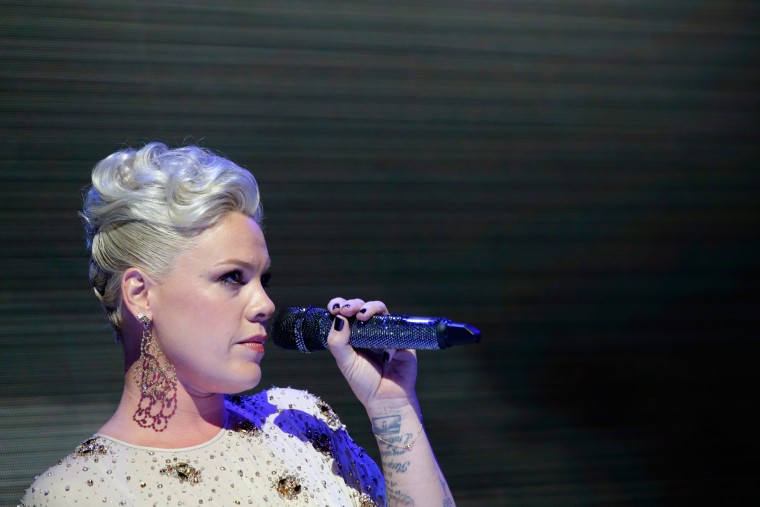 "I don't take well to bullying. I never have. I'm not a person that will be bullied. I'm not a person that will stand by watching other people bullied," she said.
Pink explained that she addressed her own bullies in an effort to show them that their taunts were irrelevant.
"I think people have gotten it wrong. They think their opinion matters and holds weight and I don't know where or why they're giving themselves so much credit you know?" she said. "So I thought it was important for me to remind them that I don't care. My life is full, I like food a lot and I really like to cook. I like to live. I find joy in that, and we're doing all right in the Hart household."
Pink, who has a 3-year-year old daughter with husband Carey Hart, added that the secret to taking it all in stride is maintaining a sense of humor.
"We're very goofy in my house and life is very serious, and while you shouldn't hide your feelings, or run from pain, or numb yourself down, I still think it's really important to laugh at all of it," she said.
Pink's latest comments echo the sentiment of her Twitter message, which she ended by writing, "I am perfectly fine, perfectly happy, and my healthy, voluptuous and crazy strong body is having some much deserved time off. Thanks for your concern."