After being hospitalized for a stomach virus and dehydration, Pink returned to the stage on Saturday to resume her Australia tour. And she got some support from a few famous friends — Katy Perry and Hugh Jackman!
The 'What About Us' singer, who is currently in Sydney on her Beautiful Trauma tour, performed at Qudos Bank Arena Saturday.
Katy Perry, who will be performing in the same arena in a few days, showed the singer some support. In fact, she even spent time backstage playing games with Pink's daughter, 7-year-old Willow Sage.
Posting an adorable photo, Pink thanked the singer for "pretending to be a lizard with my girl:) we love you darlin'!"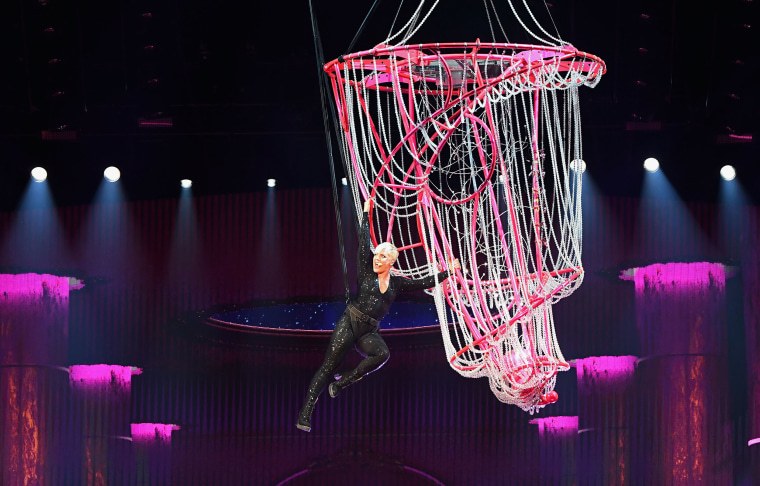 Another famous face was also in attendance. Australian actor Hugh Jackman posed with Pink with a backstage pass around his neck and a big smile on his face.
He gave credit where credit is due.
"The amazing @pink One of the best concerts I have ever seen! And, she's been sick all week. Inspiring," the X-Men actor wrote on Instagram.
The support from Pink's friends comes after the singer and mother was criticized when photographs showed her on the beach after cancelling her shows. But the singer fired back, saying that paparazzi only capture part of the whole picture.
Pink revealed to fans that it was "excruciating pain" and serious medical problems that kept her from performing.
Shortly after criticism began to surface, Kathie Lee Gifford wisely pointed out on TODAY that fans would not want the star performing her signature aerial moves above them if she was suffering from a stomach virus!
Pink is set to perform at Qudos Bank Arena again tonight, before heading on to Brisbane. Her cancelled Sydney tour dates have since been rescheduled for later this month and September.