Pink has opened up about the "excruciating pain" that led to her hospitalization on Sunday and caused her to cancel a second straight show during the Australian leg of her current world tour.
The pop star apologized to fans and vented her frustration after having to miss Monday's "Beautiful Trauma" tour stop in Sydney due to what event promoter Live Nation said in a statement was dehydration and a gastric virus.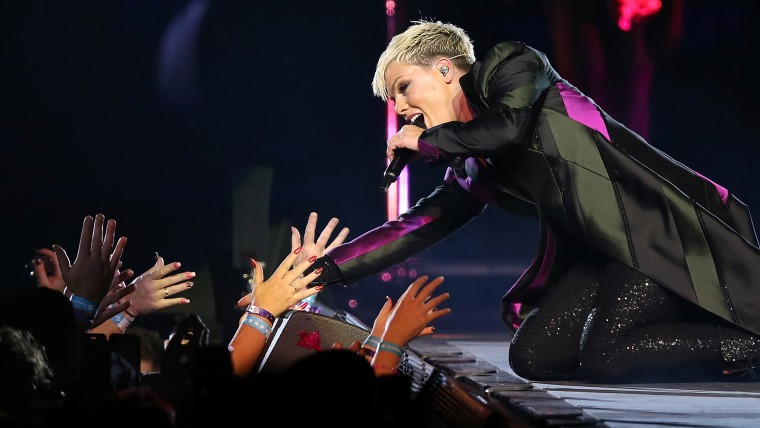 "On Monday, we were absolutely planning on going ahead with the show, and about 20 minutes before I left for soundcheck, I was rushed to the hospital, in excruciating pain,'' she wrote on Instagram. "That was the reason for the late cancellation. It was out of anyone's control, and of course, wasn't planned that way."
She was discharged from St. Vincent's Hospital in Sydney on Monday night and is currently resting and making sure to get plenty of fluids.
"A lot of you know how physical my shows are, and that I don't just stand in front a microphone and sing,'' she wrote. "Therefore, I need to be physically healthy and well in order to perform this show. I think all of you deserve the full show and me at my best."
Pink, 38, says she will be recovered in time for her next show on Saturday in Sydney. She is spending her recovery time with her two children with husband Carey Hart.
Last week she fired back after an Australian tabloid criticizing her for canceling a show in Byron Bay on Aug. 3 by insinuating she wasn't sick and was instead frolicking on the beach with her family.
"Pink's Sydney concert cancelled as she chills in Byron Bay," an Australian newspaper wrote next to a picture of the singer lounging in the sand with her 7-year-old daughter, Willow.
Doctors had advised her to cancel the concert while she was suffering from an upper respiratory infection.
"This time, what these parasite paparazzi don't show you, is two doctor visits in Byron on two consecutive days, antibiotics, steroids, Vick's, nose spray, throat spray, more steroids, NyQuil, a screaming baby in the middle of the night, every night, while mama gives him warm baths and tells her daughter everything is fine," she wrote on Instagram.
""I'm doing the absolute best I can, and you can believe it or not."
Follow TODAY.com's Scott Stump on Twitter.