Michael Phelps is one of the greatest competitors the world has ever seen. From teen sensation in Sydney to bona fide phenom in Athens, he is now — after the Beijing Games — a living Olympic legend. With an unprecedented eight gold medals and world-record times in seven events, his performance at the 2008 Games set a new standard for success. He ranks among the most elite athletes in the world, and is both an inspiration and a role model to millions. The incredible focus he exhibits in practice and during competition propels him forward to his unrivaled excellence. In "No Limits: The Will to Succeed," Phelps reveals the secrets to his remarkable success, from his training regimen to his mental preparation and, finally, to his performance in the pool. An excerpt.
Prologue
I screamed. You bet I did. I mean, I totally let loose. I clenched my fist and arched my back and screamed and howled and yelled.
And it felt so good. So very good.
No, it felt great.
Better, maybe. It was primal. It was as good as it gets.
I let it all out: joy, relief, excitement, passion, and pride, especially pride in being an American.
It's like that at the Olympic Games. Years of training, of hard work, of desire and discipline — all of it compressed into minutes, sometimes just seconds, and time seems to stand still as history plays itself out.
There's nothing sweeter than winning.
And we had just won. We had set a world record, too, obliterated the old record, really. The Stars and Stripes. The American men. Us.
I had just been part of, had also just been witness to, the most amazing, thrilling, exciting, supercharged swimming race ever, an instant classic if ever there was one, one of the greatest moments in Olympic history.
Even before the start of the race that morning, the atmosphere inside the Water Cube in Beijing, the swimming and diving venue at the 2008 Summer Games, was electric, the noise ferocious.
This was the 400-meter freestyle relay. Four guys on each team. Each swims two laps of the pool.
Eight lanes in the pool, eight teams, but really only three that were likely to win: the Americans, the French, the Australians.
I went first. Garrett Weber-Gale followed. Cullen Jones followed him. And then came Jason Lezak, our anchor.
When Jason dove in, the French were slightly, ever so slightly, ahead.
Halfway through his leg, Jason, who has for years been one of the truly outstanding sprinters in the entire world, one of the best freestyle relay swimmers ever, had fallen farther behind the French racer, Alain Bernard, who had come into the relay as the world-record holder in the 100.
With 30 meters to go, Jason was behind.
With 20 to go, he was still behind.
But he was charging.
Now Jason was gaining.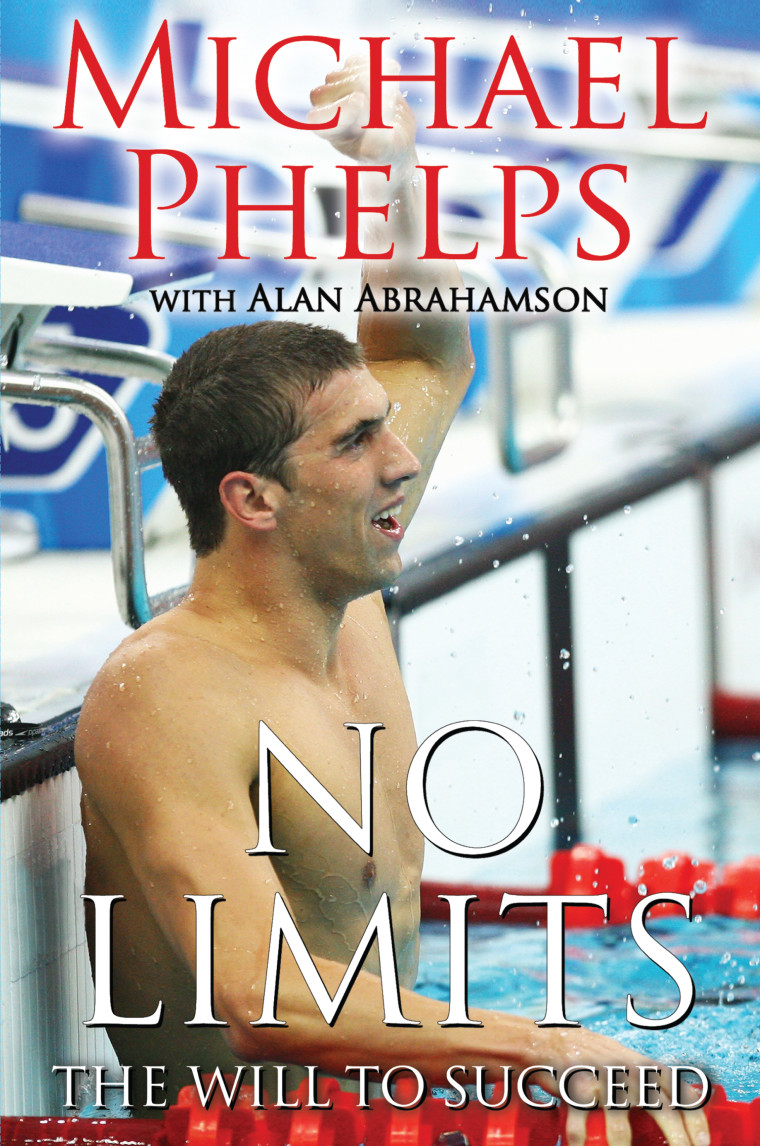 On the deck, we were going crazy, Garrett and I. Not that anyone could hear us. It was so loud inside the Water Cube that you couldn't hear yourself think. Not that anyone was thinking. We were wishing, hoping, praying, urging. Shouting, screaming, yelling. Come on, Jason! Get that guy! Get him! Get that guy!
Get him!
At the wall, Jason reached out his hand. We turned to look at the big board across the pool and — yes!
Jason had done it! He had, somehow, done it!
Jason had thrown down the fastest relay leg of all time. We needed every bit of that. We had won, the scoreboard said, by eight-hundredths of a second. The French were second, the Australians third.
I had no words. I had only screams.
Because this was not about me.
It was epic.
Of course I had won a gold medal, and that was the goal. But this was about something way bigger than any personal accomplishment. We swam together, competed together, four as one, together, as a team and as Americans.
But that only begins to explain why I had no words.
Of course the relay gold kept alive my quest to chase eight gold medals at a single Olympics. I understood that then even as I understand it now, as I will understand it always.
But that was not why I had no words. The notion of eight golds was always a means to an end. It was never about chasing fame or fortune or celebrity.
Never.
If I could win eight, could go one better than the great Mark Spitz and the seven golds he won at the Munich Olympics in 1972, those eight medals might do what nothing else could. They could help to make real my biggest dream, to elevate swimming's place in the American sports landscape, and to make it an every-year sport instead of a once-every-four-years sport.
I never set out to be the second Mark Spitz.
I only wanted to be the first Michael Phelps.
I wanted to do something no one had ever done before.
Baseball is great, basketball so cool, football so fine; I love the NFL, especially my Baltimore Ravens. But in other countries, particularly Australia, swimming has the same cachet that baseball, basketball, and football have in the United States, with packed houses and passionate fans. Why can't it be like that in the United States?
It can.
That's why, when Jason touched first, I had no words.
A few days later, I found myself again without words, after I swam my last race at the 2008 Summer Games, the 400-meter medley relay. Aaron Peirsol went first, swimming the backstroke; Brendan Hansen swam the breaststroke; I swam the third leg, the butterfly; and then, just as he had done in the 400 free relay, Jason brought us home in first, this time ahead of the Australians.
We had done it, another gold.
I had won eight gold medals.
I let out another scream. I thanked my teammates, and a jumble of emotions washed over and around me. I felt gratitude and relief and joy, just sheer joy at the moment, at the culmination of a journey filled with twists and turns and ups and downs. I felt humbled, too. I felt profound humility at learning how I had become a source of inspiration for so many back home, everyone who said I offered renewed proof that America and Americans could still take on the world with courage and grit, who declared that the virtues so many Americans hold so dear — hard work, character, commitment to family, team, and country — could still triumph.
No matter where Americans were in the world, I'd been told, they were watching and cheering; that was special. Back home, I'd heard, bars were erupting in cheers when I'd won. I'd heard that my races had been shown on jumbo video screens at Major League Baseball and NFL games, on one of those big screens in Times Square. I understood that the drama and anticipation and excitement of some of my races had kept people glued to their television sets into the night. That very first relay. The 200-meter butterfly, when my goggles filled with water and I couldn't see, literally couldn't see, and still won. And then the 100-meter butterfly, which I had won by one-hundredth of a second.
I looked into the stands, for my mom, Debbie, and my sisters, Whitney and Hilary. When I found them, I walked through a horde of photographers and climbed into the stands to give each of them a kiss, with the memories of where we'd been and what we'd overcome flooding over me. Mom put her arm around my neck and gave me an extra hug.
When I was in grade school, I was diagnosed with attention deficit/hyperactivity disorder, or ADHD. I had overcome that. When I was in school, a teacher said I'd never be successful. Things like that stick with you and motivate you; I flashed back to that with my family there in the stands. I started crying. My mom started crying. My sisters started crying.
I started swimming when I was a little boy. Both Hilary and Whitney were champion swimmers, and when I was very much the baby brother, it looked like Whitney was the one from our family who was going to make it to the Olympics. That didn't happen. And here I was.
I felt lucky for the talent that I have, the drive that I have, the want, the excitement about the sport, felt lucky for every quality I have, and have worked so hard to have. In some sports, you can excel if you have natural talent. Not in swimming. You can have all the talent in the world, be built just the right way, but you can't be good or get good without hard work. In swimming, there's a direct connection between what you put into it and what you get out of it.
I knew I would find my coach and longtime mentor, Bob Bowman, around the pool deck. Bob, the only coach I've ever had. He had trained me, punished me, motivated me, inspired me, and proven to me the connection between hard work and success. Bob has long been one of the very few people in my life to tell me the unadulterated truth, even when I didn't want to listen. Perhaps most important, especially when I didn't want to hear it.
Bob's philosophy is rather simple: We do the things other people can't, or won't, do. Bob's expectations are simple, too. It's like the quote he had up on the whiteboard one day at practice a few months before the Games. It comes from a business book but in sports it's the same: "In business, words are words, explanations are explanations, promises are promises, but only performance is reality."
Bob is exquisitely demanding. But it is with him that I learned this essential truth: Nothing is impossible.
And this: Because nothing is impossible, you have to dream big dreams; the bigger, the better.
So many people along the way, whatever it is you aspire to do, will tell you it can't be done. But all it takes is imagination.
You dream. You plan. You reach.
There will be obstacles. There will be doubters. There will be mistakes.
But with hard work, with belief, with confidence and trust in yourself and those around you, there are no limits. Perseverance, determination, commitment, and courage — those things are real. The desire for redemption drives you. And the will to succeed — it's everything. That's why, on the pool deck in Beijing in the summer of 2008, there were sometimes no words, only screams.
Because, believe it, dreams really can come true.
Excerpted from "No Limits: The Will to Succeed" by Michael Phelps with Alan Abrahamson. Copyright (c) 2008 by Michael Phelps. Reprinted by permission of Free Press, a Division of Simon & Schuster, Inc.