"Saturday Night Live" is back! The Season 49 premiere of the late night sketch comedy show aired Oct. 15, and host Pete Davidson caught viewers up on the latest moments in pop culture, including the unforgettable summer of "Barbie."
Davidson performed in a sketch about the NFL's obsession with the rumored relationship between Travis Kelce and Taylor Swift (who fittingly made cameos in the episode) and parodied Ryan Gosling's marquee song from "Barbie," in a pre-taped skit called "I'm Just Pete."
In the music video, Pete Davidson re-enacts the "I'm Just Ken" scene from Greta Gerwig's "Barbie." He sings about his public dating life, his "butthole eyes" and his recent Peacock show "Bupkis," starring Edie Falco and Joe Pesci.
"No one cares about the work I do. I made a show with Joe Pesci, too, and no one streamed it but my mom," he sang.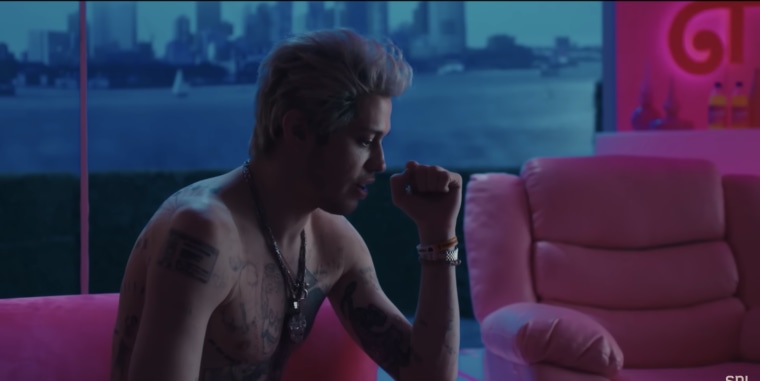 Davidson, who left "SNL" in 2022, has been a fixture in the news, partially for his dating history (Ariana Grande, Kim Kardashian, Emily Ratajkowski, Kate Beckinsale) of successful celebrities.
"My dating life is not discrete. I generate tons of publicity. For everything except my comedy," he belted in the parody.
His latest rumored relationship is with "Outer Banks" star Madelyn Cline, who was photographed with Davidson attending an "SNL" afterparty in the early hours of Oct. 15.
The comedian and actor even referenced the famous "BDE" that the internet has assigned him.
"Can you feel that energy?" he sings. "That famous BD energy."
Bowen Yang, Devon Walker and Mikey Day joined him in the sketch, playing other "Petes," and helped re-create the iconic dance sequence from the original film.
Elsewhere in the song, Davidson referenced his recent car crash, his rehab visits and that Staten Island ferry boat he purchased with former co-star Colin Jost.
The self-deprecating, but ultimately very funny, sketch signaled that Pete Davidson knows that people find him confusing and attractive at the same time.
"'Cause I'm just Pete," he said. "Anyone else, I'd be a three. But I guess I'm hot for dudes in comedy because it's an ugly industry.'"