September is childhood cancer awareness month, and in "Perseverance: True Voices of Cancer Survivors," author Carolyn Rubenstein presents important life lessons through the journeys of 20 young people who were diagnosed with childhood cancer. The following is an excerpt.
Chapter 1On June 11, 2005, I had my first phone interview for this book. Before I dialed, I had that nervous feeling in the pit of my stomach. I had prepared questions, but felt as if I were invading someone else's life. I asked myself repeatedly, "What gave me the right to ask these questions?"
Then I picked up the phone and heard Emily Corwin's voice. Her words ran fast as she spoke with great excitement and energy. She disarmed me with confidence and humor, which encouraged questions. Emily and her mom, Pat, have been my greatest supporters since day one of this incredible book journey.
Throughout high school, Emily was involved in Spirit of Sound, a women's singing and dancing group. She played percussion in her school's band and was involved in school plays. But singing is definitely her favorite hobby. She says, "I love to sing. I never stop singing. When I sat for hours in waiting rooms, I would start singing if I became bored. I would be goofy and funny, but sing. My favorite music is anything acoustic. I love hearing live raw music. My least favorite is hard rock."
Emily's creative energy and passion for life keep her grounded and connected to her individual self. She doesn't want to fit a mold and defines her own path with every choice she makes. In school, she never belonged to a clique. Her friends are all very different from one another.
Humor and laughter help Emily to overpower negative thinking. She focuses on what she can do and has faith in herself to overcome adversity. Growing up, Emily attended church regularly, as well as Sunday school. She credits her faith for all the good that occurred during her illness — never the bad. She believes religion creates the basis for how she lives her life. For Emily, every experience has a purpose. The purpose of her cancer experience: to help others.
Emily was diagnosed with osteosarcoma her junior year of high school.
Emily Corwin's story Before I was diagnosed, I thought I was in perfect health. In July 2002, my ankle began to hurt. Some days it was swollen and painful, but other days it would feel completely normal. It hurt more frequently at night; I would have excruciating pain and not be able to walk on it. I remember one night crawling to the kitchen for ice, to help the swelling. Sometimes I'd rub my ankle in class and complain to my friends, but they told me I was probably fine. My mom didn't seem worried either. Sometimes she'd suggest having it X-rayed. It seemed like every time I was ready to go get an X-ray, my ankle would temporarily stop hurting.
I finally went for an X-ray in October 2003 because my ankle was hurting while we were in my hometown in Michigan for my grandmother's funeral and my family was familiar with that hospital. My sisters were with me, and they encouraged me to go to the doctor. I thought I might as well get it over with, since we were there.
The doctor told me it looked like I had a calcium deposit on my ankle, which is what develops with an unhealed fracture. Strangely enough, there was no evidence I'd had a fracture. The doctor told me there was a very small chance it was a tumor, but the idea that it actually could be one didn't even run through my mind. They sent me home and said I might want to have an orthopedic surgeon look at the X-ray just to be sure. The stepfather of my sister Cathy's friend in Michigan is a retired orthopedic surgeon, so Cathy asked him to look at the X-ray the following morning.
Cathy said he told her he'd seen something like this before, and he definitely thought it was a tumor. My family had already made plans for us to travel to Memorial Sloan-Kettering, a cancer treatment center in New York City. It was a rare cancer, and the orthopedic surgeon told my family it was the best hospital in the country for that specific type of cancer treatment. Cathy told me we were going to leave Michigan early and go to New York City to that hospital. I cried for thirty seconds. Then I thought, "I can do this. I'm going to be okay." When my family found out about the tumor, everyone babied me. I worried they would treat me differently.
When Cathy and I returned to my grandparents' home, I went into the bathroom to be alone. I didn't want my extended family to find out and get upset until we knew for sure; however, my mom had already told all her sisters. They were sad, but I didn't want them to be. I remember my mom crying as she hugged me when Cathy and I came into the house. My mom strongly believed I would get better, though, and she tried to remain positive throughout my whole treatment.
An adventure
I just tried to tell myself it would be fine — it would be an adventure. My family didn't have time to sit down and talk about it. We left Michigan and came home to Ticonderoga, New York, then headed to New York City. My mom, dad, and sister Cathy were there with me. We packed enough for about four days. I didn't say good-bye to my school friends because we were only expecting to be there for three days. When I ended up being there for two months, it was hard not having said good-bye to my friends.
Before surgery, I know it was difficult for my mom. She takes everything so seriously, and I'd never even broken a bone before. She was the one affected the most, and she was in a whirlwind. I wanted to be strong for her; this kept me from crying because I didn't want to make her feel worse. When we first arrived at Memorial Sloan-Kettering, they did lots of tests: MRIs, X-rays, blood tests, a bone scan, an echocardiogram, an EKG. All these tests were necessary before they could schedule a biopsy. It took four to five days of testing before my biopsy.
Everything was coming at me so fast that I didn't have time to be scared. It was sad to see all these little kids in the treatment center; I felt like the newbie because I still had all my hair. But Cathy and I joked the whole time, so that helped keep me positive. I didn't really know what cancer or chemo were even though I'd heard about them. I asked Cathy all kinds of questions that I couldn't ask the doctor; she was pre-med and a biology major, so she knew things about the treatments.
Before I went into surgery for the biopsy, I was told that if my doctors thought it was cancer they would put a Mediport, a device that allows the medication to be sent directly into my blood system, in my chest. When I woke up from surgery, I felt a pain in my chest, so I knew they had put in the Mediport, which meant I had cancer. I tried to be positive when Cathy told me it really was cancer. I don't think it really had hit me yet what was happening.
Unconditional love and support
During treatment, I tried to communicate with friends as much as possible, but it was difficult to stay in constant communication. Also, I don't like to talk about my illness, and prefer to focus my attention on others. As a result, my friends never knew the severity of my illness. They knew I lost my hair and threw up, but they didn't really know why. I could talk on the phone to my best friends and my boyfriend at the time.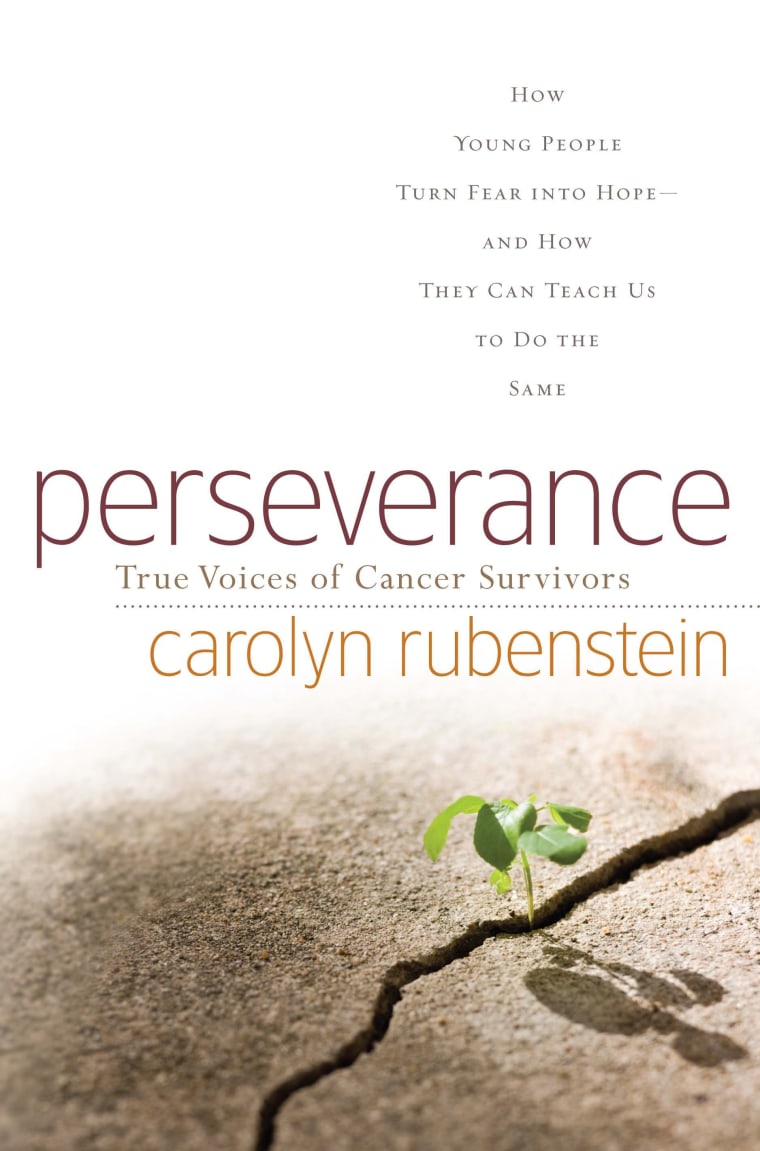 None of my friends backed away; even people I didn't know were there for me. They tried to be there as much as they could. My boyfriend came down to visit me right before I lost my hair, and we went to the movies. He was so supportive. I only saw him a couple of times while I was down there, but the way he treated me didn't change at all. We dated throughout my entire treatment, although we broke up after I went away for my freshman year of college.
My sister Sarah, a schoolteacher in Michigan, came down about once a month. When she came into town, we loved to shop and see new things — like a Broadway show. My dad and my brother, Matt, were also able to visit me frequently. Matt visited me during school breaks and whenever he got the chance. My dad sacrificed a lot and continued to work full time so my mom and sister could stay with me throughout treatment.
My relationship with Cathy became so much stronger because of my cancer. I still call her two or three times a day. We're constantly in communication. She was the one who was there all the time. When my mom needed a break, my sister would stay with me. She always remained strong for me.
Throughout my fight, my mom repeated the following mantra: "You have to walk forward, one step at a time. Don't look side to side and never look back. Keep going forward!" We both live by this statement. I always try to recall the positive aspects of my experiences in the hospital.
Absurdities and uncertaintiesWhen my entire world changed from the typical teenage setting a high school student is familiar with to the impersonal and terrifying realm where a cancer patient lives, it was hard to retain my sense of balance and identity. I tried to accept my new reality and appreciate all of its absurdities and uncertainties to the fullest. In fact, I embraced them.
My sense of humor remained strong, no matter what was happening in my life. This kept me from developing a negative attitude even though so many things could go wrong from day to day. I created a new world for myself: "normal" had changed. People came into my room at least every three hours during the night to take tests. Interns were doing rounds early in the morning, around 6:00 A.M. I hated when six doctors would come into the room at the crack of dawn without saying hi. They would just turn on all the lights and look at me like a subject.
I wasn't like everyone else my age: I didn't have hair, and I was on crutches for a very long time. I endured an intensive round of treatment, which included ten months of chemotherapy. I repeated a three-week cycle: one week of chemotherapy, one week of inpatient chemotherapy, one week of going home — if I felt well enough.
I experienced hair loss, kidney failure, high blood pressure, and a blood clot in my heart. I was very weak, and I couldn't do what others could do physically. To this day, I can't run, jump, or dance. The isolation was very difficult. I coped by trying to keep myself busy. I went to the movies with my sister. That always made me forget about where I was and about treatment. I loved just going out to dinner and having that period of time away from the medical world I was consumed by.
Excerpted with permission from "Perseverance: True Voices of Cancer Survivors" by Carolyn Rubenstein. Copyright 2009 by Carolyn Rubenstein. Published September 2009 by Tom Doherty Associates.