For just the third time ever, there is a two-time winner of People magazine's "Sexiest Man Alive" award.
On Wednesday, Johnny Depp joined Brad Pitt (1995 and 2000) and George Clooney (1997 and 2006) as the only two-time winners of the much-debated title. It was something of a surprise: Usually, People's sexiest man is coming off a year spent in the public spotlight because of a major movie release. Depp, who won in 2003, breaks the mold, winning despite his keeping a low profile in 2009.
And according to the U.K. Daily Mail, that profile is about to get a lot larger. Its Web site is reporting that Depp has just signed to film a fourth "Pirates of the Caribbean" film, "On Stranger Tides," in return for a whopping $35 million payday.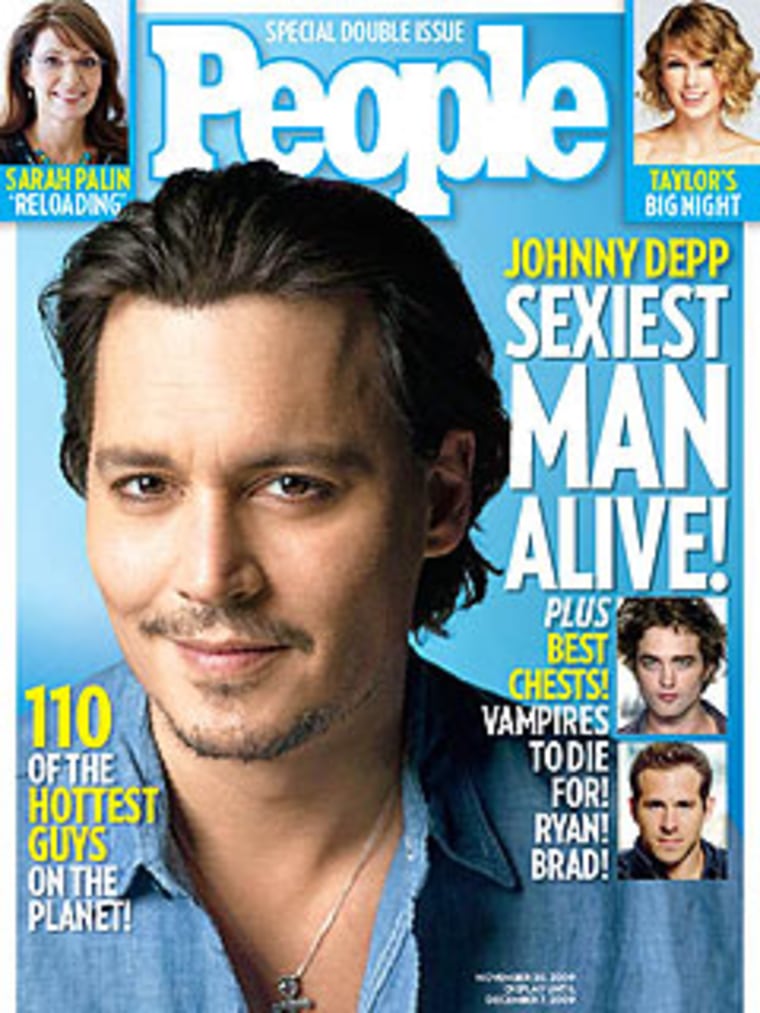 People editor Julie Jordan said the magazine's editors considered 2009's hunk-of-the-moment, "Twilight" star Robert Pattinson, for the award, but decided instead to go with the 46-year-old unmarried father of two for longevity that has withstood the test of time.
"The thing about Johnny is he has proven his sexiness over the years," Jordan explained to TODAY's Natalie Morales. She said he was the only actor who "can pull off the sexiness" behind such bizarre characters as Willie Wonka and the Mad Hatter.
"Johnny Depp has magical powers. He's unlike anyone else," actress Isla Fisher agrees in the Sexiest Man issue of People. "He's funny, generous and clever. It's just a shame he's so hard on the eyes."
The actor, who was born in Owensboro, Ky., and had a difficult childhood during which his family moved many times, has also proved his versatility. Since first hitting the public radar in the cop show "21 Jump Street" in 1987, he has created a succession of memorable roles, from Edward Scissorhands to Gilbert Grape to Willie Wonka to Raoul Duke, a.k.a. Hunter S. Thompson, to Sweeney Todd to Captain Jack Sparrow.
More sexy stars
Depp didn't make it to New York for the announcement, but another of People's sexiest men did. "Sex and the City" fans know (and lust after) French heartthrob Gilles Marini, who played Samantha's naked neighbor in the big-screen spin-off of the HBO TV series. Marini also nearly won "Dancing With the Stars," has a recurring role in "Nip/Tuck" on F/X and recently completed a story arc on ABC's "Brothers and Sisters."
Marini's purpose in appearing on TODAY wasn't to celebrate his selection, but to promote his 2010 calendar, which features 12 months of his barely clothed self in various enticing poses. The actor doffed his duds for a good cause: Proceeds from the calendar, he said, benefit the Maximum Hope Foundation for terminally ill children.
Marini is featured in a section of People's Sexiest Man Alive issue called "Waking Up in Vegas" (use your imagination, ladies). Honored with him for their masculine allure are James Marsden, Eddie Cibrian, Hunter Parrish, John Legend, Justin Bartha, and the male cast members of TV series "Glee," Mark Salling, Matthew Morrison and Cory Monteith.
Other categories
This year's issue is broken into other playful categories. And while it is dominated, as usual, by Hollywood hunks, it also includes the heads of state of the United States, France and Russia — Barack Obama, Nicolas Sarkozy and Vladimir Putin. They earned mention in the "Sexy Shirtless" category, along with such show-biz entries as Zac Efron.
Another section of the issue is called "Vampire Awards," and those are broken down into subcategories such as "Hair," in which Robert Pattinson takes the honors. The magazine also put actor Jerry O'Connell in a Speedo swimsuit, then photographed him going through his day's activities — everything from perusing a book in the library to ordering meat in a deli — calling it "My Life in a Speedo."
There are also "Celeb Look-Alikes," where People makes a case that Jon Hamm, for example, looks exactly like Fabio. Then there's "Leading Men by Leading Ladies," where the co-stars of various sexy men dish on the guys' sex appeal. Men in that group include Matt Damon and Ryan Reynolds.
History of sexy
People's first Sexiest Man Alive was Mel Gibson in 1985, and with the exception of 1994, when no winner was named, they have continued to confer the honor every year since. In 1993, People named a "Sexiest Couple Alive," Richard Gere and Cindy Crawford, but after that went back to men only.
Over the 24 years People has been naming a sexiest man, the list has been dominated by actors. John F. Kennedy Jr., who won in 1988, is the only winner who had nothing to do with the entertainment industry. Past winners are: 1985, Mel Gibson; 1986, Mark Harmon; 1987, Harry Hamlin; 1988, John F. Kennedy Jr.; 1989, Sean Connery; 1990, Tom Cruise; 1991, Patrick Swayze; 1992, Nick Nolte; 1993, Richard Gere and Cindy Crawford ("The Sexiest Couple Alive"); 1995, Brad Pitt; 1996, Denzel Washington; 1997, George Clooney; 1998, Harrison Ford; 1999, Richard Gere; 2000, Brad Pitt; 2001, Pierce Brosnan; 2002, Ben Affleck; 2003, Johnny Depp; 2004, Jude Law; 2005, Matthew McConaughey; 2006, George Clooney; 2007, Matt Damon; and 2008, Hugh Jackman.