Pedro Pascal speaks frequently about his roots, and in his latest Instagram post, he revealed that they included a bit of blond!
On Oct. 4, the 47-year-old "Last of Us" star shared a sweet throwback post of him alongside his older sister Javiera Balmaceda. In the photo, the two siblings look like mirror images of each other with one surprising exception: Pascal's hair.
The actor's picture reveals he was a very light blond in his much younger days. He can be seen smiling in the photo alongside his oldest sibling, who appears unamused.
"BIG SIS. Forever," the actor captioned the post, which included his sister's Instagram username. 
"Pedro was blonde as a kid?!" one person commented, while another added, "Aww you were a blonde baby!"
Others wrote in Spanish how his Chilean roots were very much present as a lighter-haired toddler.
While Pascal and his sister Javiera don't appear close in the sweet throwback photos, the Chilean-American actor has previously spoken about his tight-knit relationship with his siblings. 
Here's everything you need to know about what he's said about his three siblings.
Javiera Balmaceda
While the family's eldest sibling did not pursue an on-camera career in Hollywood like her brother, she didn't stray too far away, either.
Javiera Balmaceda is Amazon Studios' head of local originals for Spanish-speaking Latin America. The company produced "Argentina, 1985," which was nominated for best international feature at the 2023 Oscars.
Speaking to Variety about her involvement in the project, Javiera said, "It's exciting to be part of such an ambitious project that will take audiences on a journey through a pivotal point in Argentina's history."
While Pedro was at the Oscars on March 12 to present best animated short and best documentary short, he was also playing the role of a supportive brother. The sibling duo attended the prestigious event arm in arm.
Balmaceda started her career in investment banking in Chile, she revealed on the "Girls Gone Boss" podcast. She said she "got burnt out," and then found her way to television through friends in the field.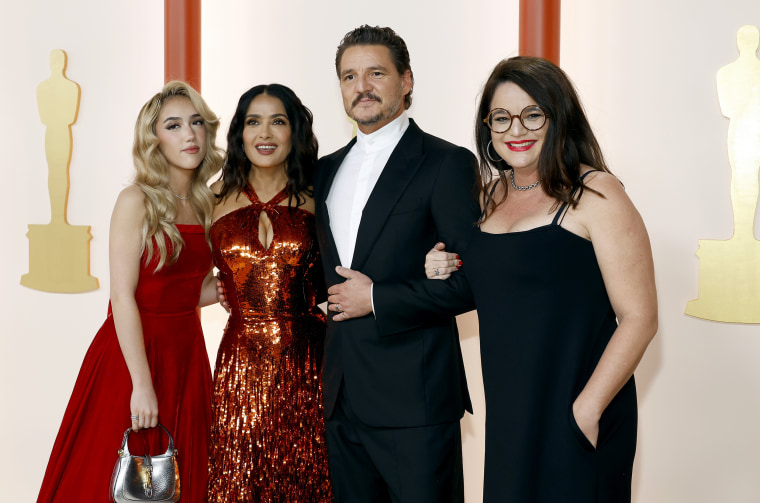 Nicolás Balmaceda Pascal
Unlike his show business-adjacent siblings, Nicolás pursued a medical career. In 2019, Pedro posted on his Instagram that his younger brother was getting his PhD in pediatric neurology.
"He hates attention and he loves doing good," Pedro wrote. "It's his birthday. To punish him for being younger, smarter, and more handsome I thought I would announce this to the world."
Lux Pascal
Lux Pascal seems to take after her big brother's footsteps, making forays as a public figure and actor – a Julliard-trained actor, mind you.
She's also an activist and came out as transgender in 2021. Speaking to Chilean magazine Ya, Lux Pascal said her brother Pedro Pascal was an "important part" of her transition journey.
"When I officially told him about my transition through FaceTime, he asked me how I felt … because I remember that he was worried," she said. "I told him: 'I'm happy.' And his answer was: 'Perfect, this is incredible.'" 
And to celebrate her coming out and being on the cover of Ya, Pedro Pascal posted a sweet message on Instagram for his sister in February 2021.
"Mi hermana, mi corazon, nuestra Lux," he wrote (translated to "my sister, my heart, our Lux.")
Why are Pedro Pascal and his siblings refugees?
When the "Last of Us" and "The Mandalorian" star made his hosting debut on "Saturday Night Live" last month, he had a heartfelt message for his family.
"(My parents) were so brave, and without them, I wouldn't be here in this wonderful country," he said. "And I certainly wouldn't be standing here with you all tonight."
The actor's parents, Verónica Pascal and José Balmaceda, were part of the opposition movement against Augusto Pinochet's military dictatorship in Chile, per Telemundo. At just nine months old, the Chilean-born American and his family took refuge in Denmark and later in San Antonio, Texas, he explained in his "SNL" monologue.
When Pedro was just 11 years old, his family moved to California and he began taking classes at the Orange County School of the Arts. It wasn't until his 2014 role in the "Game of Thrones" series that the actor's career began to take off in a major way.
But Pedro's mother did not live to see his success as she took her own life in 2000. In her honor, the "Last of Us" actor changed his name from José Pedro Balmaceda Pascal to Pedro Pascal.