It is probably not a role Paul Walker would have embraced — the subject of a documentary.
The late actor was, after all, so private that he hid his role as founder of the charity Reach Out WorldWide, which sends first responders and doctors to disaster areas, even as he assisted Haiti Earthquake victims on the ground away from cameras.
But still grieving over his death at just 40 years of age in a fiery November 2013 car crash, his family needed to show the rest of the world that Walker was a lot more to a lot of people than just the handsome face on the posters for the "Fast & Furious" movies. So they agreed to cooperate, providing intimate family video footage and hours of interviews, with director Adrian Buitenhuis on "I Am Paul Walker," which airs Saturday at 9 p.m. on the Paramount Network.
"He wouldn't be like, 'Yeah, it's my documentary!,'" Cody Walker, 30, Paul's youngest brother, told TODAY. "Well, Paul, wherever you are, too bad. Love you. But we want to brag about you and we want to tell everybody about how awesome a brother and a friend and a son and a father you were."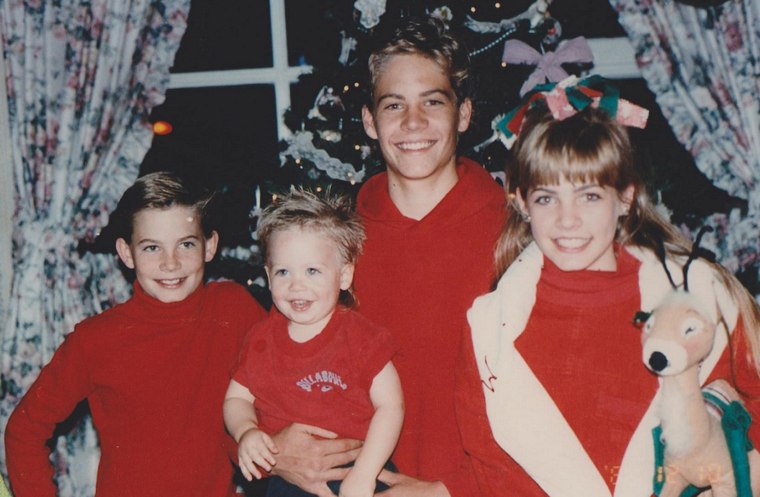 "It brought us closure," said brother Caleb Walker, 40, an executive producer on the documentary.
And to do that, they had to reopen some raw emotions on camera — including reliving their memories of that painful day nearly five years ago.
"It's hard but it's also therapeutic to talk about it and to go through it," said Buitenhuis, who directed similar documentaries about the late Heath Ledger and Sam Kinison. "They're really brave to go on camera and talk about (those painful memories). My heart physically felt their hearts hurt... You go right back into the moment and you can feel the pain and grief and the emotion in the room."
"I Am Paul Walker," though, pulls few punches in revealing the personal side of its subject. Including his struggles to adjust to being a young father when his daughter, Meadow, was born in 1999. That was a role he grew more serious about, and better at, as he got older.
The documentary also shows how he struggled with the weight of the celebrity that zoomed from zero to 60 from the success of the "Fast & Furious" franchise. He could afford the most expensive sports cars, but at the expense of time with his loved ones.
"It wouldn't do Paul justice just to portray him as an individual who had everything and was just so happy and had no conflicts in his life," said Cody. "And it humanizes Paul in the way that we knew him.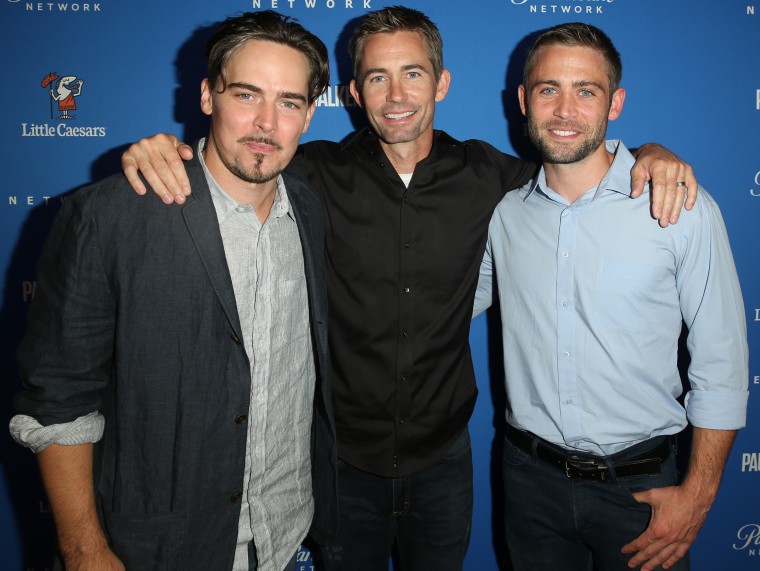 "There are so many people out there who can relate to Paul whether it's having an untraditional relationship (with the mother of his daughter), having a child out of wedlock, not having money for a long time, and then going from not having anything to having everything, but with the struggles and the bumps along the way."
It is a tribute that both brothers said they felt like they needed for their own catharsis, something they did not fully get out of standing in and lending their voices in place of their brother to help filmmakers finish "Furious 7." At the time of his death, Walker had only completed about 70 percent of his scenes, which necessitated reshoots and CGI.
"Four months after he died, you're told, 'Act like your brother, walk like your brother," remembered Caleb. "Talk about a constant painful reminder. It was intense."
Most of all, "I Am Paul Walker" shows that he was so much more than a pretty boy from Southern California more at home surfing waves than navigating interviews. He was also more at home, it turns out, on a boat tagging great white sharks with marine biologists than on a yacht sipping champagne.
"It's kind of a funny, ridiculous problem to have: 'Sorry, I'm ridiculously good-looking," said Cody. "It was a blessing and a curse, it's what got his foot in the door, but it also something that he had to struggle with because of being typecast."
But Walker was maturing as an actor as well in later years. In one revealing interview for the documentary, "Running Scared" director Wayne Kramer revealed that his leading man secretly paid for key equipment without telling anyone to help get the crime drama made. Kramer had assumed it was paid for by the studio. That is just the kind of person Walker was.
"We're honoring him by showing who he really was," said Caleb. "That was something that we were able to do for him — and my parents ultimately."