While millions of viewers tune in to watch Rihanna's Super Bowl halftime performance, Paul Rudd said he might have to tune out to focus on the game
During an interview with Insider, Rudd talked about his nerves ahead of the matchup against the Philadelphia Eagles and Kansas City Chiefs at State Farm Stadium in Glendale, Arizona on Sunday, Feb. 12.
The actor, who grew up near Kansas City, Missouri, revealed that he will likely be too stressed about what's happening during the game to concentrate while Rihanna is on stage.
"I will be watching it for sure, and Rihanna's amazing and I think she'll be great at halftime, but I will not be able to concentrate on the halftime show because I will be too nervous about what's gonna happen in the second half," Rudd said of the historic matchup.
The 2023 Super Bowl marks the first time two Black quarterbacks will face off at the big game, with Jalen Hurts and Patrick Mahomes. It is also the first time two brothers will appear in the big game on opposing teams with Jason and Travis Kelce.
Rudd later added, "I'll probably just have to watch Rihanna after the game is over and go back so I can really pay attention to what's happening."
As a Kansas City sports fan, Rudd just hopes he'll "be in an OK mood" during the game before explaining his game day antics.
"I'm such a Chiefs fan that you don't wanna be around me during a game," he said. "I pace and I scream and it's a sad display of obsession. So, I'll be doing that with my kid and we'll both be essentially doing the same thing."
Over the years, Rudd has publicly — and proudly — shown his support for Kansas City sports. 
In October 2014 after the Kansas City Royals clinched the American League Championship to make it to the World Series for the first time since 1985, Rudd appeared in a live interview on a local news channel to celebrate the team's victory.
"Party at my mom's, man!" Rudd joked. "She's out of town. I've got a keg. It's gonna be sweet."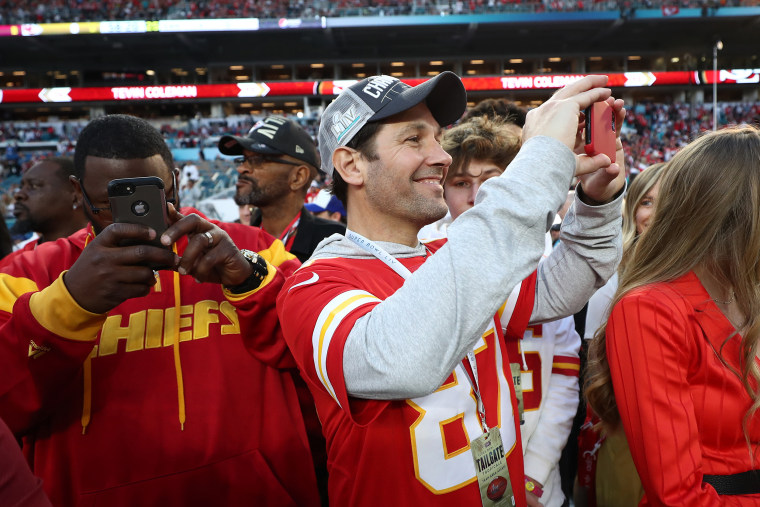 Rudd and his son Jack Sullivan Rudd were also both present when the Chiefs won the Super Bowl in Feb. 2020 at the Hard Rock Stadium in Miami Gardens, Florida.
The father-son duo were even caught on camera on the field after the big win to celebrate their team's victory, with one video showing them embracing Mahomes in a hug.
After the game, Rudd was interviewed by Fox and explained to the outlet what it felt like to have his team win the Super Bowl.
"It feels like I'm seeing colors for the first time in my life," Rudd said, with his son adding, "It doesn't even feel real."