A few minutes into his set at Albany, New York's Times Union Center Saturday night, Paul McCartney took a moment to size up the sold-out crowd. "Good evening, Albany," he said with a big grin. "I've a feeling we're going to have a little bit of fun tonight."

Behind Beatlemania: Intimate Photos of Paul McCartney
It's a line he's probably used in a thousand other cities over the years, but Saturday night, that promise had a little more than usual riding on it: It was McCartney's first show since a virus sent him to a Tokyo hospital in May, forcing him to cancel or postpone a string of dates in East Asia and the U.S. What kind of night were we in for? Would he seem tired, or tentative?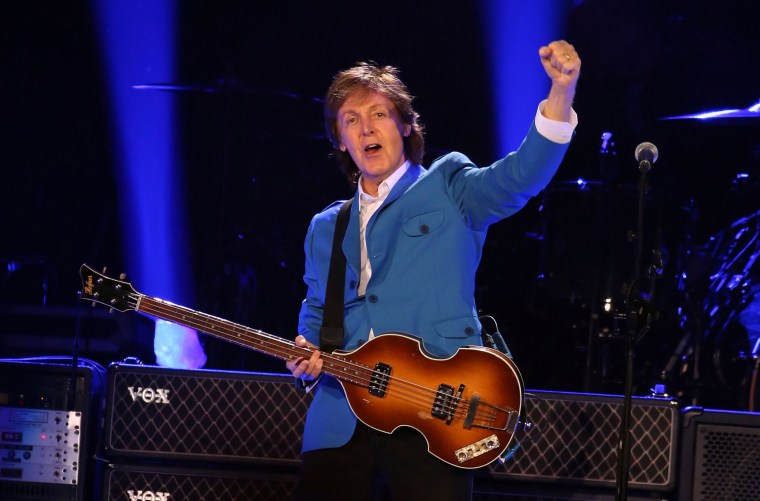 Not a chance. You'd never have guessed that McCartney had recently been ill from the fully charged 40-song set he put on. If you've seen him at any point in the last five or so years, you know how much fun his well-oiled arena machine is these days: Nearly three hours of tender ballads, wild rockers, heartfelt tributes to John Lennon and George Harrison, cocktail-party banter about Jimi Hendrix and the Soviet defense minister, eyebrow-singing pyrotechnics — and, oh yeah, a couple dozen of the greatest pop songs ever written. Saturday night, McCartney did it all with, if anything, an extra dash of rock 'n' roll aplomb.
He took the stage around 8:15 in a royal-blue blazer, pumping his fists in the air and stopping short in mock surprise at the crowd's enthusiastic roar. Then he and his longtime backing band jumped right into "Eight Days a Week," just like any other night. He really hit his stride a few songs later with "Let Me Roll It," switching from his signature Hofner bass to a cherry-red electric guitar and leaning into the mic with all the hound-dog swagger he had in 1973. He carried it into the next tune, "Paperback Writer," delivering a ripping electric solo that bled into a gnarly feedback coda.
McCartney has spruced up his set in the past year by bringing live rarities like 1971's "Another Day" and "Sgt. Pepper" classics "Lovely Rita" and "Being for the Benefit of Mr. Kite" into full-time rotation. All three were definite highlights Saturday night. He also worked several bright, lively tunes from his most recent album, 2013's New, into the set — although he acknowledged that getting the crowd on board for newer material can be a challenge. "When you do one of your really old songs, that's when you see the phones come out," McCartney noted wryly.
McCartney turned 72 in June. He's made enough money in his life to have retired quite comfortably long ago, and he's weathered enough loss over the years that no one could really have blamed him if he made that choice. But with each new tour, the idea of retirement seems more distant. Saturday night, you could see the pleasure in his eyes every time the crowd cheered — the unfakeable joy at getting to play his music for an adoring arena.
About an hour into the show, after McCartney rose high above the audience on a "Watch the Throne"-style video tower and played a sweet solo acoustic "Blackbird," a group of young women below him suddenly screamed in excitement. "Don't do that to me! Those days are gone," he said, slightly startled (but obviously loving it). He smiled wider as the entire arena did its best Beatlemania scream. "Oh," he added. "Maybe they're not."
Around 11 p.m., in the final encore, McCartney invited a middle-aged couple onstage. They'd been standing toward the front of the house all night, waving matching signs: His read "I HAVE THE RING AND I'M 64," hers said "HE WON'T MARRY ME TIL HE MEETS YOU." Now the romantic gentleman knelt, proposed, and sang a few shaky bars of "When I'm 64." (She said yes.) After they left, everyone in the house must have expected McCartney to sing a love song — maybe "I Will" or "Michelle" or "Can't Buy Me Love." Instead, he tore into "Helter Skelter" with a wicked grin, and the crowd went even wilder.
"Listen, guys," he said afterward, breathless and happy. "You couldn't have given us a better welcome back."
Set list:
"Eight Days a Week"
"Save Us"
"All My Loving"
"Listen to What the Man Said"
"Let Me Roll It"
"Paperback Writer"
"My Valentine"
"Nineteen Hundred and Eighty Five"
"The Long and Winding Road"
"Maybe I'm Amazed"
"I've Just Seen a Face"
"On My Way to Work"
"We Can Work It Out"
"Another Day"
"And I Love Her"
"Blackbird"
"Here Today"
"New"
"Queenie Eye"
"Lady Madonna"
"All Together Now"
"Lovely Rita"
"Everybody Out There"
"Eleanor Rigby"
"Being for the Benefit of Mr. Kite"
"Something"
"Ob-La-Di, Ob-La-Da"
"Band on the Run"
"Back in the U.S.S.R."
"Let It Be"
"Live and Let Die"
"Hey Jude"
Encore
"Day Tripper"
"Hi, Hi, Hi"
"Get Back"

Second encore
"Yesterday""Helter Skelter"
"Golden Slumbers"
"Carry That Weight"
"The End"

More from Rolling Stone: