In the end, after much rumored speculation pre-show, Paul McCartney and Ringo Starr did share a stage at Sunday's Grammy Awards, performing McCartney's 2013 release "Queenie Eye." But to call it a Beatles "reunion" might be overstating things.
After all, when Ryan Seacrest asked Starr when he had last performed with McCartney, the drummer quipped, "Last week."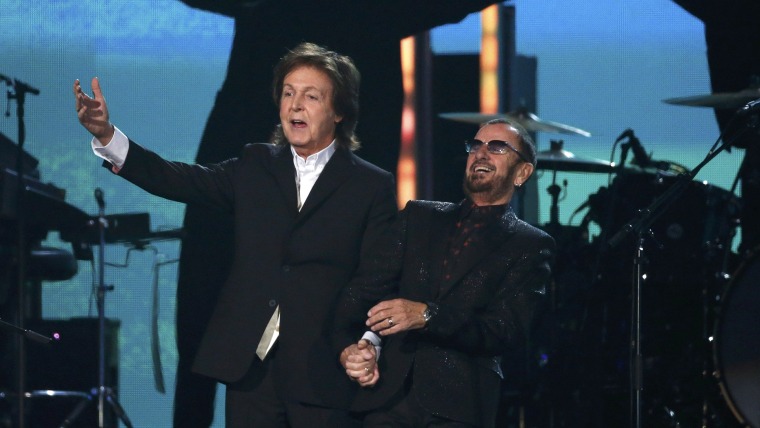 McCartney and Starr are the only surviving members of what is almost certainly pop's most influential musical act. And ever since the band split in 1970, fans have hoped and prayed for some kind of musical reconciliation — which was made impossible in 1980, when John Lennon was shot. George Harrison died of cancer in 2001. But even when all four members were still living, no enticement (including a $3,000 offer from "Saturday Night Live" executive producer Lorne Michaels to play on the show) was enough to get them to all perform together on stage again. 
But that doesn't mean seeing Macca and Starr onstage together isn't exciting, particularly in 2014, the 50th anniversary year of the band's breakthrough performance on "The Ed Sullivan Show." CBS (home to this year's Grammy telecast) is all set to air a special tribute, "The Night That Changed America: A Grammy Salute to the Beatles" on Feb. 9, and the Recording Academy gave a long-overdue Lifetime Achievement to the band in a pre-telecast ceremony. 
Plus, McCartney even got to take home the best rock song Grammy, shared with Dave Grohl, Krist Novoselic and Pat Smear, for "Cut Me Some Slack." And Starr had his own few minutes in the spotlight, singing his big 1973 hit, "Photograph" while black and white images of the band spun in and out of screens at the back of the stage.
But Starr and McCartney, when they finally got together on stage for "Queenie Eye" (with McCartney playing a piano he used on the band's 1968 movie "Magical Mystery Tour," according to the Grammy Twitter feed), were not actually having a reunion. That's because while all four Beatles never did perform on stage again together ... Starr and McCartney have done so many, many times. The pair are clearly friends, sharing a hug and a bow after the performance.