Even with his impressive acting résumé, Patrick Stewart fears there are some roles he'll never get to play.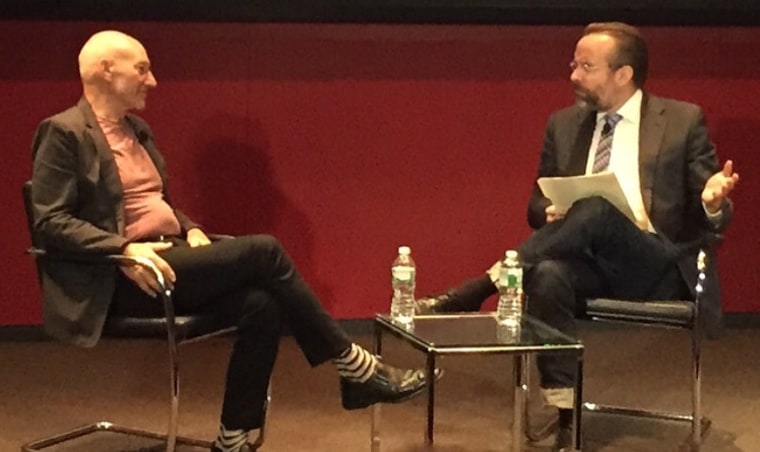 "There are so many that I'm now too old for," the 74-year-old actor told Esquire's Mark Warren as part of Hearst Corporation's Master Class series Monday. "Nobody now is going to cast me as Hamlet, as Romeo, as Mercutio. ... It's never going to happen."
But even if that's true, his current TV project might fulfill a different wish. The Royal Shakespeare Company-trained thespian, whose myriad credits range from "Waiting for Godot" and "Star Trek: The Next Generation" confirmed to Warren that he wants to be known ... for being funny.
"Do you think there's any hope?" joked Stewart, who is gunning for laughs as the lead of the new Starz comedy series, "Blunt Talk," premiering Aug. 22. In it, he plays a dynamic British journalist with a flair for poor decisions, on and off the air of his American show.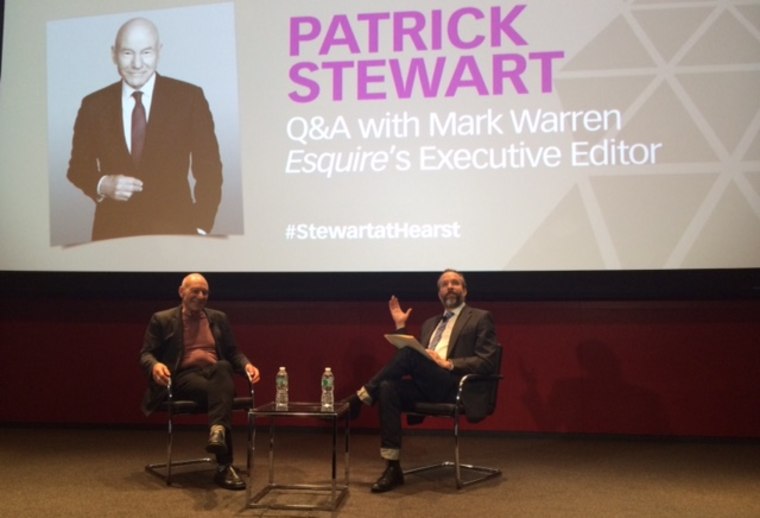 Here are six more things we learned from Stewart's chat with Esquire on Monday.
1. He's floored by Seth MacFarlane, who's "one of the world's biggest, most devoted Trekkies."
It's no secret the "Family Guy" creator, who's an executive producer of "Blunt Talk," has always been aware of pop-culture phenomena, but even Stewart appears astounded by just how much of a "Star Trek" geek MacFarlane is.
Said Stewart of his frequent collaborator: "He's an authority on all things 'Star Trek: The Next Generation."
2. Stewart likes playing against type.
Although many fans assume he shares personality and character traits of Picard and as "X-Men" authority figure Professor Charles Xavier, Stewart doesn't necessarily agree.
"They share some similarities: highly intelligent, highly caring, dedicated to their profession, good decent individuals," he said. "Well, people kind of got the idea that that's who Patrick Stewart was as well." He then paused, earning a huge laugh from the audience.
3. He doesn't know how he's been able to look so young.
The age-defying actor has looked roughly the same for the past three decades. So when Warren asked about his aging secret, Stewart remarked, "I wish I knew, because if I knew, I would market it."
But as someone who grew up in a two-room house with his brother and parents, the descendent of generations of coal miners credits his humble upbringing and "peasant genes" as reasons why he feels young. "I'd like to think that somehow that life, a life of relative simplicity, with only the basics available, has given me an enthusiasm for living and working," he added. "And I've had it since I was very small."
4. Despite going bald by the age of 19, he realized he was better off ditching his hairpiece.
He swore his old toupée looked "brilliant," but when a young Stewart auditioned for two parts — one with the piece, and one without — in front of his "idol" and National Theatre casting supervisor Laurence Olivier, it didn't go over well.
"There was a silence and he sat back, and he said, 'Do it again,'" Stewart recalled. "I said, 'I'm sorry. Do you want me to do the speech again?' He said, 'No, I want you to take the thing off your head [again].' ... He didn't employ me."
5. Before he was BFFs with Ian McKellan, he was an "intimidated" fan first.
Long before Stewart and McKellan became a meme-worthy bromance that saw them posing with a knockoff Elmo in the middle of Times Square, picking their Super Bowl favorites and auditioning for Seth Meyers' job on "Late Night," Stewart found himself marveling at McKellan's talents from afar.
"I was a fan for years and years. Then, Trevor Nunn cast us in a play by Tom Stoppard [1977's 'Every Good Boy Deserves Favour'], and to be quite truthful, I was intimidated by him. He was so well-established, so confident, so sure of himself and so highly respected, I felt to be kind of in the shadow of this great man. Then, someone had the bright idea of casting us in a little thing called 'X-Men.'"
6. His difficult upbringing became the inspiration for two of his most passionate causes.
Stewart said he grew up with an abusive and alcoholic father, who'd exhibited symptoms now associated with post-traumatic stress disorder after serving in World War II. Stewart didn't talk about the subject until about three years ago, but has since become an outspoken advocate for Refuge, a charity for domestic-abuse victims, and for Combat Stress, a mental-health charity for military veterans.
He added, "The victims of violence understand — meaning women, children and occasionally men — understand that there is somewhere for them to take refuge, and the way that they are living their lives need not, and should not, be like that. You should not live in a controlling and dangerous environment."
Follow TODAY.com writer Chris Serico on Twitter.