One of the world's best-liked actors, Patrick Stewart, took on some of the least-liked airplane behavior in a hilarious video that aired Tuesday on "Jimmy Kimmel Live."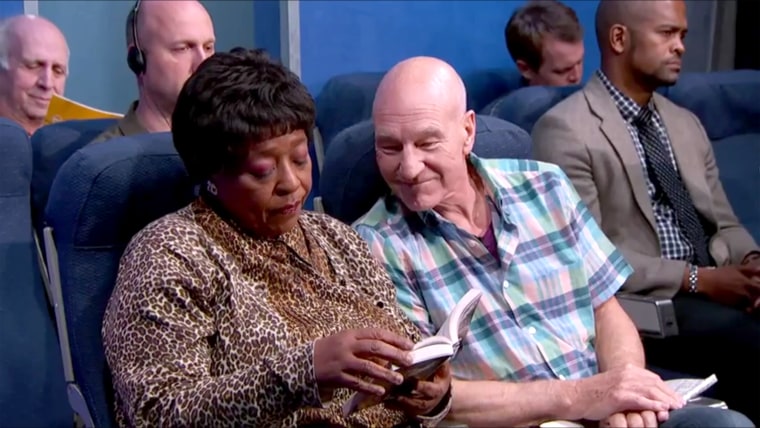 Instead of just reading the outcome of an Expedia poll that cited the most annoying types of airline passengers, host Jimmy Kimmel had Stewart enact the behaviors of the worst offenders. (After all, Captain Jean-Luc Picard of "Star Trek: The Next Generation" knows a thing or two about how people behave aboard flying objects.)
Calling upon his Royal Shakespeare Company training, Stewart delivered robust interpretations of:
The Chatty Charlie: "Hello! Hello, what's your name? Where are you from? What is it you do? My name is Patrick. I'm English. Like the muffins. I've read that book. She dies in the end. Oops, spoiler alert!"
The Stinky Snacker: Even Stewart's infectious charms can't make up for the "day-old tuna sub and this slice of camembert" he's brought onboard.
The Seat Climber: Stewart's clumsiness while climbing over a passenger to get to the bathroom doesn't end with just a spilled drink: his seatmate all but gets a public viewing of Patrick's privates.
The Seat Kicker: No matter how funny the Tyler Perry movie, it's generally frowned upon when you're "kicking the seat in front of [you] in hysterical laughter," as Stewart demonstrates.

The Landing Clapper: Stewart offers some hearty applause and an earnest "Bravo!" when the plane touches down, and he doesn't stop there.

Can't get enough Patrick Stewart? Don't worry: The Internet agrees with you. Check out his Ice Bucket Challenge video, his assorted antics with frequent co-star Ian McKellan, and that time he rocked a lobster costume for Halloween.

Follow TODAY.com writer Chris Serico on Twitter.