Actress Patricia Arquette has made it her mission to get people talking about equal pay for women and a lack of diversity in Hollywood.
She drove her point home during a panel discussion on Wednesday in New York, in which she introduced a group of female filmmakers whose work will appear at the upcoming Tribeca Film Festival, even recalling Jennifer Lawrence's powerful essay about not earning as much as her male co-stars.
"When Jennifer Lawrence came out and talked about fair pay, she got a big backlash for speaking up about it," Arquette said. "It doesn't matter how many zeroes there are — the point was that she should have been OK with taking less. And that's not acceptable in any job."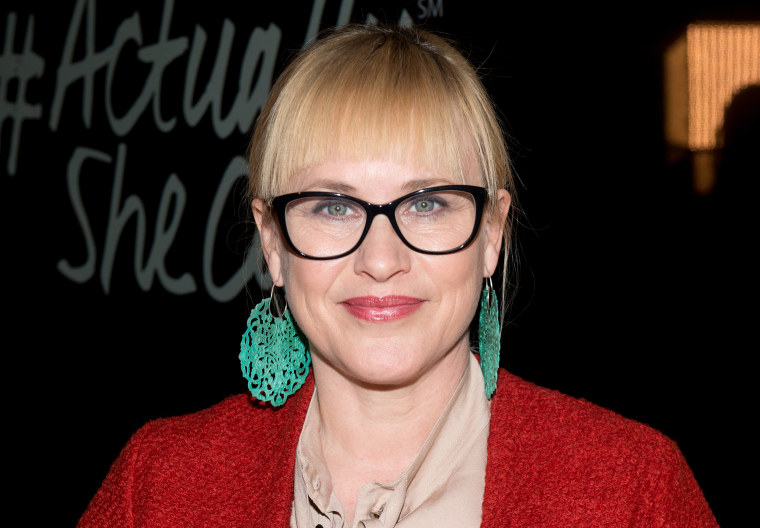 Arquette also brought up her now-famous speech at last year's Academy Awards.
"Before I made that speech, I said to my boyfriend, 'I'm going to say something if I do win, and I'm going to lose some jobs over this,'" she said. "I might not work anymore. I'm cool with that; are you cool with that? And he said, 'Well, you gotta say the right thing.'"
RELATED: 27 actors and filmmakers talk discrimination in Hollywood
Arquette, who won the Oscar for "Boyhood," has said her remarks have cost her work.
"I have lost some jobs from it... but I'm OK with that," she said.
It's a small price to pay for getting people to talk about pay issues and overall diversity.
"Men of color are not having enough opportunity [in film], women of color are certainly not having enough opportunity, and obviously women in general are not having enough opportunity," Arquette said. "And I think art is suffering for it."
Arquette also stressed that gender imbalance isn't unique to Hollywood, repeatedly saying it's a problem for 98 percent of industries. She explained that it's important to keep the conversation going, applauding efforts like #ActuallySheCan, a campaign from Allergan that teamed up with Tribeca Digital Studios to release three short films about women, directed by female filmmakers.
Those filmmakers sat next to Arquette on Wednesday, talking about some of the issues they faced as women in a male-dominated industry.
RELATED: Gillian Anderson: I was offered 'half' of what new 'X-Files' paid David Duchovny
"I think there is an aspect of, how much extra work do you have to put in to be considered equal to your male counterparts?" said Anne Munger, a producer on one of the films. "And that can be hard at times."
Paula Weinstein, executive vice president of Tribeca Enterprises, applauded women like Lawrence and Arquette, and others who are speaking up about discrimination.
"There's a third, fourth wave of feminism now that's happening, where you have women who are standing up very tall and saying it's not enough to just honor women for the jobs they have gotten," Weinstein said. "You have to honor women for reaching back and helping others move forward. And what Patricia did at the Academy Awards was to remind us of where we are... rather than just say thank you, look how fabulous I am, she spoke to other women."
The short films can be viewed on ActuallySheCan.com after premiering at the film festival next month.