Drama students from the Marjory Stoneman Douglas High School took to the stage at the 2018 Tony Awards to pay an emotional tribute to their slain classmates while singing about their hope for the future.
The students, survivors of the Feb. 14 shooting that took place on their Parkland, Florida, campus, gave a moving rendition Sunday night of "Seasons of Love," the emotional classic from the musical "Rent."
The surprise performance visibly moved audience members, leaving many of them in tears, and earned the students a standing ovation.
On Monday morning during a visit to TODAY's Studio 1A, one of the singers, Kali Clougherty, who impressed everyone with her breakout solo, called the evening "a dream come true."
"I've been dreaming that since I was, I think, like 8 years old," she said Monday. "I just graduated high school and I'm not even on Broadway yet, and I got to do what a lot of Broadway people haven't even had to do yet."
Clougherty said she had been fighting a cold and worried about hitting the high notes, but after drawing energy from the audience and her classmates, "it went there."
The student performance came after their teacher, Melody Herzfeld, the drama department director at Marjory Stoneman Douglas, received an Excellence in Theatre Education Awards from The Tony Awards and Carnegie Mellon University.
Herzfeld, a 15-year teaching veteran who has directed more than two dozen productions, sheltered 65 of her students in her office for two hours as a former student opened fire nearby on campus.
The shooter killed 17 students and faculty members and injured more than a dozen others. Herzfeld has since urged her students to use theater and music to help work through their trauma and express how the experience affected them.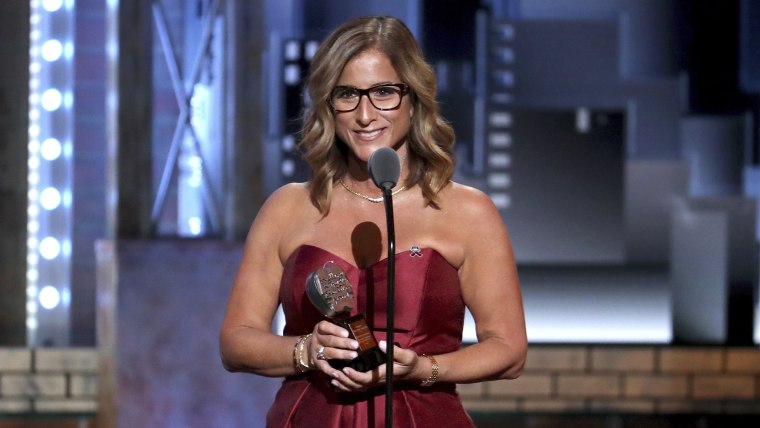 "We all have a common energy. We all want the same thing. We cannot deny it: To be heard, to tell our truth, to make a difference and to be loyally respected. We teach this every day in every arts class," she said in her acceptance speech, which she ended by thanking her school and the words, "MSD strong."
During her visit to TODAY, Herzfeld said she and her students continue to deal with the aftermath of the February massacre.
"Even just being invited here brings all of that back again, when it's just gone away, for a little while and given us a break," she said. " And then it gets a little emotional again. It's not easy. It's very hard to take any of it."
The 72nd annual Tony Awards took place Sunday night from Radio City Music Hall.