Elena Desserich was diagnosed with brain cancer at 5 years old. She began to hide hundreds of little notes around the house — in sock drawers, backpacks and tucked between the books on the shelves — for her parents, Brooke and Keith, to find after she was gone. In "Notes Left Behind," her parents share the journal entries they kept during her battle, as well as content from the notes left by Elena. An excerpt.
From Part 1: The beginning
Day 1—November 29
It began early. We called it "binner." With her IV surgery scheduled for 7 a.m., the last time she could eat was 1 in the morning. So at midnight I woke her up to a breakfast/dinner of yogurt — except the nurse forgot to order yogurt before the kitchen closed and we ended up with a meal of pudding and applesauce instead. From 1 a.m. to dawn we talked about "Alice in Wonderland," her new discovery of the TV remote and what she always wanted to do. And although I couldn't always understand her words because of the tumor, I could usually understand her drawings.
First came a circle with squiggly lines. This was where she wanted to go — the only problem was that I did not know what she was telling me. After several tries and more than enough frustration on her part, I figured out that she was talking about the "little restaurant" — the chili parlor a mile from our house. With this her face lit up as she told me she wanted spaghetti and cheese. This was a remarkably simple request and we added it to the list. The next one was a bit harder: the Eiffel Tower. To this day, I still don't know where she came up with this one. Regardless, this was the list and what we needed to accomplish. From there the list continued to the "street of dresses," which I immediately recognized as a wedding dress district in our town, but I feigned ignorance. It was the same street I had deliberately driven down on the way home with the girls for the past five years, while telling them to pick out their dresses. Now she was asking me to take her to the same shops that I had always envisioned taking her to when she was engaged. Now I questioned if she would ever make it that far. Still, it went on the list.
As the night went on, we continued to talk. She wanted to talk and I wanted to listen. Sleep was not as important as it was three days ago. I watched her face illuminated by the lights on the heart monitor wondering if I would remember every detail: the softness of her cheeks, the dancing glow of her eyes, the innocence of her thoughts. But was it all a nightmare? Would I awake tomorrow and the tumor would simply be gone? Maybe this was just a lesson from life and by tomorrow the tumor would miraculously disappear. I could only hope.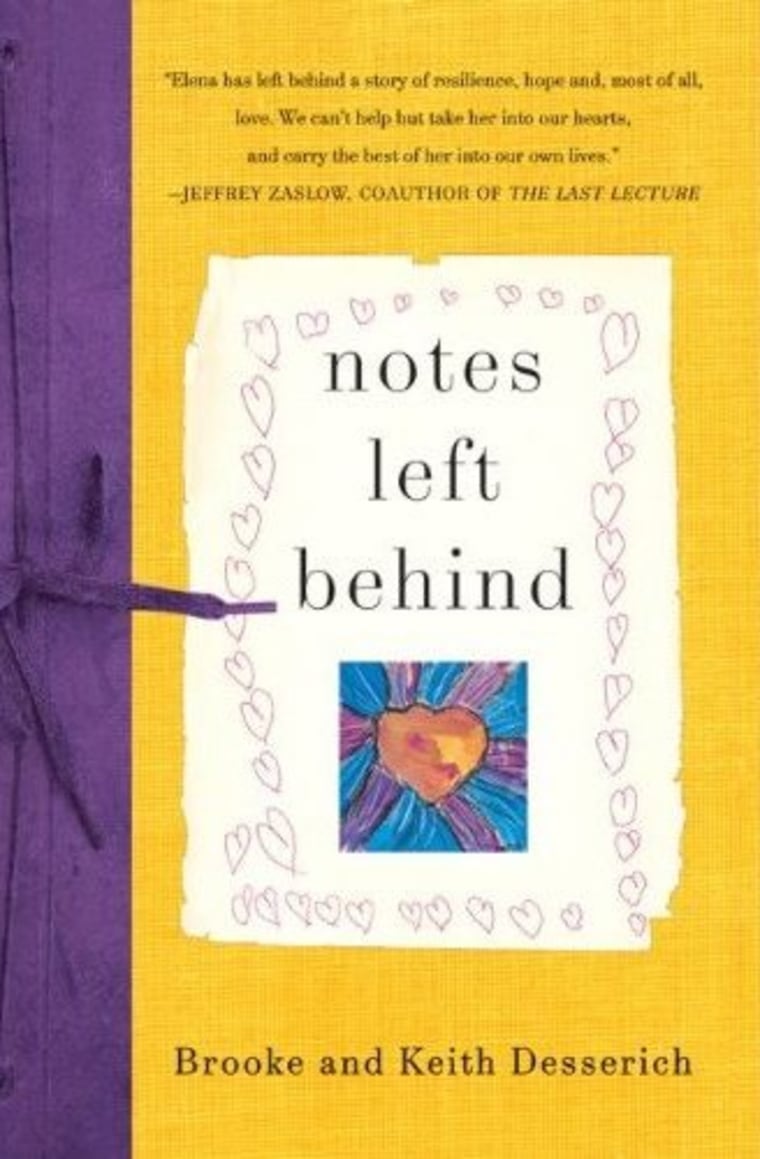 That night, the doctors sent us home for rest, but after they told us that our daughter had only 135 days to live, sleep wasn't in our plans. Still we smiled, wiped the tears from our eyes and tried to pretend that everything was all right. But it was Elena who had the best suggestion. Before leaving, she wanted to celebrate Christmas. So we took time to carefully find her precious Jesus and angel ornaments and hang them on the tree that the grandparents had hastily put up only minutes before. Ironic, because in previous years, I'd always insisted on not putting up the tree before December 15. Still, this year it couldn't come soon enough. Brooke read the girls a book before bed. It was the longest book we could find.
Day 2—November 30
The trip to Memphis was a long one. Elena has been accepted into a program there, offering experimental brain stem treatments, so we booked the first flight out. God love Elena and her desire to be pretty. To protect her from sickness, we took all of the necessary precautions, from air scrubbing and cleaning the home to getting flu shots for the entire family. Lastly, we brought dust masks from the hospital to have Elena wear on the plane. She would have none of this. Of course, she did appreciate being wheeled around in a wheelchair like a queen on a throne, but to wear a dust mask was just too much. After all, how would her fellow passengers feel about her looks? After much prompting and prodding, we both ended up wearing masks. She said I looked silly.
Airline clearance was another issue. With Elena and her drugs, it took a good hour to get through security. It took another hour to get Mom past all the gift shops. Whatever Elena wanted, she got, as Mom caved and bought her a new Beanie Baby and ice cream. If we had passed any more gift shops through the terminal, I'm certain we would have gone broke.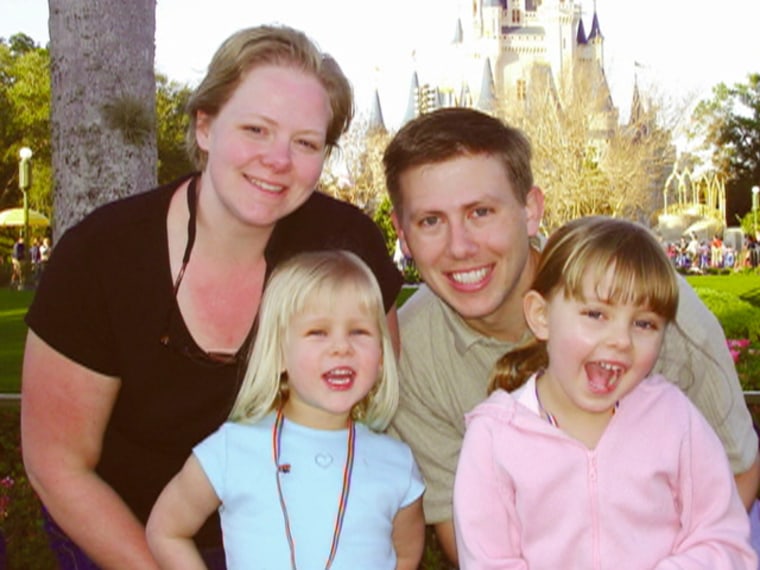 Two hours later we were in Memphis. There we were introduced to the new hospital and our new regimen. Contrary to previous conversations, the pace was fast as Elena received the attention she needed to give us a fighting chance. Before the evening was out, we had had four consultations lasting over one hour each, two X-rays, an orientation and a new home. She was exhausted and so was I. We ended the evening in the hotel room reading the get-well cards written by her classmates from kindergarten. She crawled into bed clutching the cards beneath the covers. I'm still trying to figure out how to get them away from her before she falls asleep. So far, so good. Two days into our time and we've met all the right people. We've even taken care of two of Elena's wishes — to put up the Christmas tree and go to the airport.
Day 3—December 1
For the first time, we saw a picture of the tumor. It's not only large, but concealed within the walls of Elena's brain stem. The prognosis isn't good. Originally, we were told that we would have three to six months. It's little reassurance that now the doctors say possibly seven months to over a year. That's still not enough time to see my baby's driving lessons, first date, wedding or children. The milestones that we remember most in life have been ripped from her hands. No chance, no hope. But it's still months and right now anything is better than what we were originally told.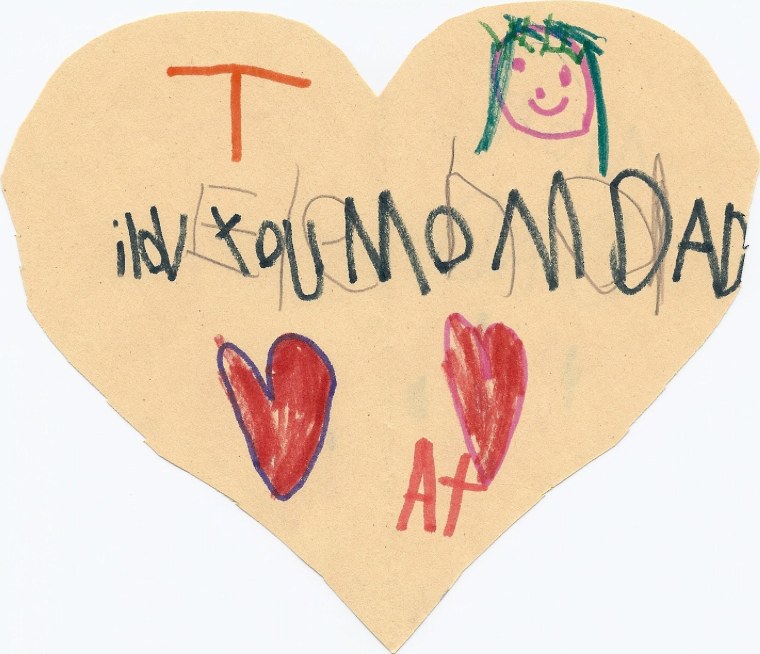 Elena's getting very tired now and has developed a fear of anyone with blue gloves. After all, these are the same hands that poked and prodded her for the past week. I think she fears the gloves over the shots at this point. I'm thinking of buying a pack of clear gloves for the doctors in her wing just to calm her anxiety. She's also started to listen and ask questions. I've always known that Elena listened to our conversations, but now she's added to her vocabulary words such as "IV flushing," "MRI" and "CT scan." Somehow I always knew she would learn about all of this if she ever decided to become a doctor, but I never imagined she would be getting this education as a patient. But now she listens intently while I try to conceal the truth of what we face.
Tonight we decided to treat her to a dinner of her choice with her cousins, who drove up from Alabama to visit. It was a good idea at the time, but by the time we ended her doctors' appointments at 7 p.m., it was a bit late. As a result, while she enjoyed the balloon art hat that we had made for her, Elena didn't make it far into the meal before she fell asleep on her aunt's shoulder. From there her fatigue only contributed to her condition and we ended up having to carry her out of the restaurant or risk her falling over her own feet. I know she needs the company, but right now I think she also needs the rest. She has had a rough week and it's just the beginning.
Day 4—December 2
Today was a good day. It was Saturday and we didn't have to go to the hospital — all we had to do was make Elena smile. She was tired this morning, but also very hungry for waffles. After waking up at 6 a.m. from her open-eyed and teeth-gnawing sleep, all she wanted was waffles with butter. At first we couldn't understand her with her limited voice, but thank goodness she could at least spell "WFL" to communicate her wishes. She had to have waffles with whipped cream, chocolate chips and cherries for eyes. And except for the cherries, she ate the entire thing. Must be the steroids working.
For the first time, Elena has now lost sensation in her thighs. Now she has a limp in her right leg, no gag reflex, limited ability in her right arm, loss of left-eye peripheral vision and reduced sensation in her legs. I know this because in an attempt to raise a smile, I tried to tickle her most ticklish part: her knees. It used to be that all I needed to do was motion toward her knees and I would instantaneously get a wide-mouth smile. Now she simply looks at me with annoyance. I miss tickling my little girl. For a dad, it's always about more than horseplay — it's a way of expressing my love. I'll just have to find another way to make her smile.
Day 5—December 3
A horse-drawn carriage ride was her third choice after the "little restaurant" and the Eiffel Tower. (I think part of it was because when we read "Alice in Wonderland" that first night we skipped past "Cinderella" and an illustration of the pumpkin carriage.) Luckily, Memphis had plenty of them. So in the face of 20-degree wind chills, we made our way downtown to catch a horse-drawn carriage ride. Instantly, the smile came back through the strain of anxiety that had recently robbed my little girl's face. It was back and I felt like a father again as we roamed the streets. In the face of cancer I could make her smile and I could give her back the childhood that she was about to lose. And while it was bitterly cold, Elena's smile was enough to warm all of our hearts. I hope this will be a lasting memory.
From there, we went to the stuffed animal factory to create a bear of her choosing. Although one of her requests, this was far less satisfying for both of us in the Christmas rush. Packed into a store, we found nearly one hundred Christmas shoppers vying for first place in the commercialized race against time. And for the first time, I was jealous. I was jealous of their joy, jealous of their ignorance, jealous of their rushing. I wanted to be the one more concerned about getting to the next store rather than struggling to lock away every memory of a conceivably limited future.
But then, I realized that my family and I were the ones who truly appreciated the season and all that it meant. You see, Elena's illness has taught us to squeeze the very last sunlight out of every day and to see our children as more than just a Christmas list. And while I certainly still don't desire this lesson, I will never squander another day again. I think Elena also realized this and instead asked to leave the mall and get an ice cream cone. We proceeded to leave, of course, after having convinced Gracie, who already had her eyes on a ballerina outfit for her stuffed poodle.
What does all of this mean? I don't know and I don't think that every moment demands a lesson. All I know is that these memories need to last. Whether we go to the Eiffel Tower or to the grocery store, they both can be treasured moments if you make the most of them.
Day 6— December 4
Today was Elena's birthday. Not really, but close enough. With the radiation treatments and biopsy happening this Wednesday, today was close enough for her grandparents and us. So after her morning appointments, we all headed off to lunch and then back to the room for presents. There she opened a guitar from her aunt and a digital camera from Grandma and Grandpa. Now we have pictures from her point of view. Too bad that every picture she takes is from the waist down.
Day 8— December 6
Last night we faced one big heart-wrenching decision. In the end, we decided that the two-week delay in treating Elena's tumor was more than we were willing to risk. With her mouth now paralyzed and her inability to swallow, we feared that waiting another two weeks for a biopsy would just be too much. Our hopes are that in treating this now with radiation, we will be able to recover many of her normal functions for the recovery period.
About midway through the day today, I noticed Elena was getting very quiet. I asked her what was wrong and she told me she was getting mad that everyone was talking about her and around her and no one was talking to her. This is the new challenge. So I asked the doctors and nurses to talk directly to her, all while not going too far. We explained what will happen with radiation and how everything we are doing now will help her to get home and back to normal. We have a long six weeks ahead of us, but I think as the radiation begins, we will settle into our routine and she will start feeling better.
The prognosis has not changed, and we are still looking for a miracle, but we have found tentative comfort in making a decision and moving forward to make Elena better. Though we still feel the anger and sadness, we force ourselves to stay positive. I am pretty sure that if there is any child who can beat this disease it's Elena.
Day 9—December 7
I guess you could call it regret — possibly remorse. But without a conclusion it doesn't quite feel like either. Today while waiting for a procedure with Elena, I saw a mother and a son sitting across from us. He was about eleven years old and was obviously a brain cancer patient. Although in very good spirits, he had undergone just about every surgery and procedure that you could imagine. He had lost his hair from aggressive chemotherapy, was undergoing his last MRI and radiation treatments and had a scar from the front of his brow to the back of his head with a shunt placed under the skin. Still, he had his personality and his sense of humor to go with the characteristic limp and facial paralysis that often come with brain surgery.
Was this what my daughter would have looked like if we had chosen the biopsy, the surgery and the chemotherapy? And even if we had this option with the type of tumor she has, could the outcome have been worse? I guess we'll never know, but the one question I can't avoid is whether our decision to treat this as a glioma rather than performing the biopsy cheats her of a complete cure. Sure, the odds are overwhelming and brain stem surgery almost never ends with a perfect conclusion. But then again, what are the odds of getting this type of tumor in the first place, in the worst possible place with one of the worst tumors out there? I guess, ultimately, it comes down to making the very best decision possible in enough time to prevent the inevitable complications that come with us exploring every option and doing every test. Still, these are questions that as a dad I will never escape.
Although she has had very few invasive procedures, Elena has had increasing difficulty with walking, talking and moving her right arm. for the first time I've also noticed that she can no longer make the kissing sound when she presses her lips up against my cheek. I'm going to miss that the most. At least her spirit is strong and her punch is as well. Right now she wants Mom more than dad; after all, dad teases and tickles while Mom cuddles and cares. And right now she needs more cuddling than teasing. Still, I manage to get a smile every now and then, about as much as I get a punch from her still strong left arm when she wants me to quit bothering her. That's when I tell her that if she wants to punch and kick me, she has to do it with her right side — the side that has the partial paralysis. I figure there's more than one way to approach therapy.
With the tumor progressing, her speech is now very limited and you can see her actively counting the amount of times she chews her food so she doesn't choke. I think she's as much aware of her situation as we are. Her tongue and palate paralysis are also making it very difficult to understand her words. She's getting visibly frustrated now and with her right hand almost completely immobilized, she has difficulty in helping convey her thoughts with hand motions. Brooke and I are now trying to teach her sign language in the event that she loses speech altogether, as well as her sight. Hopefully she will never have to use it, but we are painfully aware that this might be her only connection to the outside world. She already knows the alphabet A–E and knows the signs for "mother," "father," "thank you," "tree," "thirsty," "hungry" and "proud." We use the sign for "proud" the most throughout the day. Brooke is teaching her the sign for "bulls--t" so at least she can curse when she gets frustrated. I don't think "shucks" has a sign. I keep telling her that as long as she keeps trying to tell us things, we'll keep working to understand; that way we'll never give up talking.
Excerpted from: "Notes Left Behind." Reprinted by permission of the publisher William Morrow, an imprint of HarperCollins. To learn more about the Desseriches' nonprofit, please visit www.notesleftbehind.com.