Editor's Note: This book excerpt contains some profanities and may not be not suitable for minors.
Once that sleep-deprived first year of parenthood has given way to the exhausting days of toddlerdom, where do you find advice and comfort? Author Stefanie Wilder-Taylor's witty "Naptime Is the New Happy Hour: And Other Ways Toddlers Turn Your Life Upside Down" lends a helping hand. Here's an excerpt from a chapter entitled "Shear Madness."
My daughter's first day of preschool was just two weeks away. We did a major trip to Target for a Hello Kitty backpack — all cool and black with pink straps and a subtle sparkly finish — definitely ensuring her membership with the preschool glitterati set. She also got a colored pencil set, Snow White lunchbox with matching dwarves thermos (which she'd been sleeping with in her bed every night since she'd made its acquaintance), plus we'd hit the Carter's outlet for a few new outfits and potty training was sort of in the home stretch. Yup, my daughter was poised to become a preschool prodigy. There was just one thing missing: a hair cut.
Personally, I'd always dreaded this event because my mother, who believed hair cutting was just a natural extension of her so-called sewing abilities, thought it was perfectly fine and a great money saver to pull out the old Singer sewing scissors and chop away. The woman wasn't satisfied until I had a straight wall of bangs well above my eyebrows. It wasn't until I was in the sixth grade, after years of begging and pleading, that my mother finally agreed to get me a professional cut. Only, it wasn't at a salon per se, it was a friend's mom who cut hair out of her house on the cheap while enjoying a few gin and grapefruit juices — But hey, I thought, at least it wasn't my mom. That cut left me with a version of the much sought after Dorothy Hamill that was dangerously closer to a Mark Hamill.
Given my past trauma, I would've just let my kid's hair go long but even though she has the cutest naturally curly hair you've ever seen, its growth wasn't following any plan approved by nature and was quickly becoming a 'fro.
Hoping to spare my daughter the Singer sewing scissors routine that plagued my youth, I figured the least I could do for my daughter's future self-esteem would be to let only someone with actual scissor know-how anywhere near her hair.
It turns out that kiddie hair salons are a growing trend, and you can find a place that specializes in lopping off children's locks almost anywhere. I was excited because I'd heard that these hair salons for children typically offer movies, toys, and the promise of a balloon to keep kids busy and prevent unnecessary meltdowns. I thought this was genius! And why stop there? Why not do that in adult salons? I know that during my last hair appointment, watching "The Devil Wears Prada," snacking on a chocolate croissant, and sipping a glass of bourbon would've gone a long way to take my mind off the fact that I walked out of there looking like the newest member of the Bay City Rollers.
So I set out to find a cute kids' chop shop near me for my daughter's inaugural cut, but I wasn't prepared for the wave of nausea that overtook me when my Google search for kids' salons also turned up a slew of kid spas which cater to toddlers, tweens and teens offering manicures, pedicures, massage, formal hairdos, Mystic tan and a host of other amenities. Hold the phone. Toddlers? Does a three-year-old really need an exfoliating seaweed wrap? Isn't their skin new enough as it is? And what exactly is so stressful about a kindergartner's lifestyle that they could possibly need a ninety-minute, 180-dollar relaxation massage? And call me prickly but I don't ever want to hear a precocious seven-year-old compare the merits of acrylic nails versus artificial gels. Is it me? Am I the asshole?
Feeling decidedly less giddy, I chose a kid-friendly hair-cutting place in my neighborhood which featured all the bells and whistles, plus the cost-efficient price of twenty bucks, and hoped for the best.
From the minute we sat down in the waiting area, I knew I'd made a mistake — no matter where you looked, there were endless stuffed animal, colorful barrette, and flavored lip gloss buying opportunities, which I guess was supposed to make up for the lack of current gossip rags for me. After thirty minutes of staring into space listening to my daughter whine "I want a toy, I want a toy," I would've been ecstatic to see a back issue of Golf Digest.
I was dangerously close to purchasing the little lady some apple-scented detangler and a floral Afro pick and calling it a day when our names were called. Too bad the wait ended up being the best part of the whole unmitigated disaster. The hairdresser, a guy mysteriously costumed as Edward Scissorhands, greeted us, and reached out a plastic-scissored hand to my kid to lead her to his station. My daughter, not getting the early '90s reference, started crying, and she continued bawling sporadically for the rest of the appointment.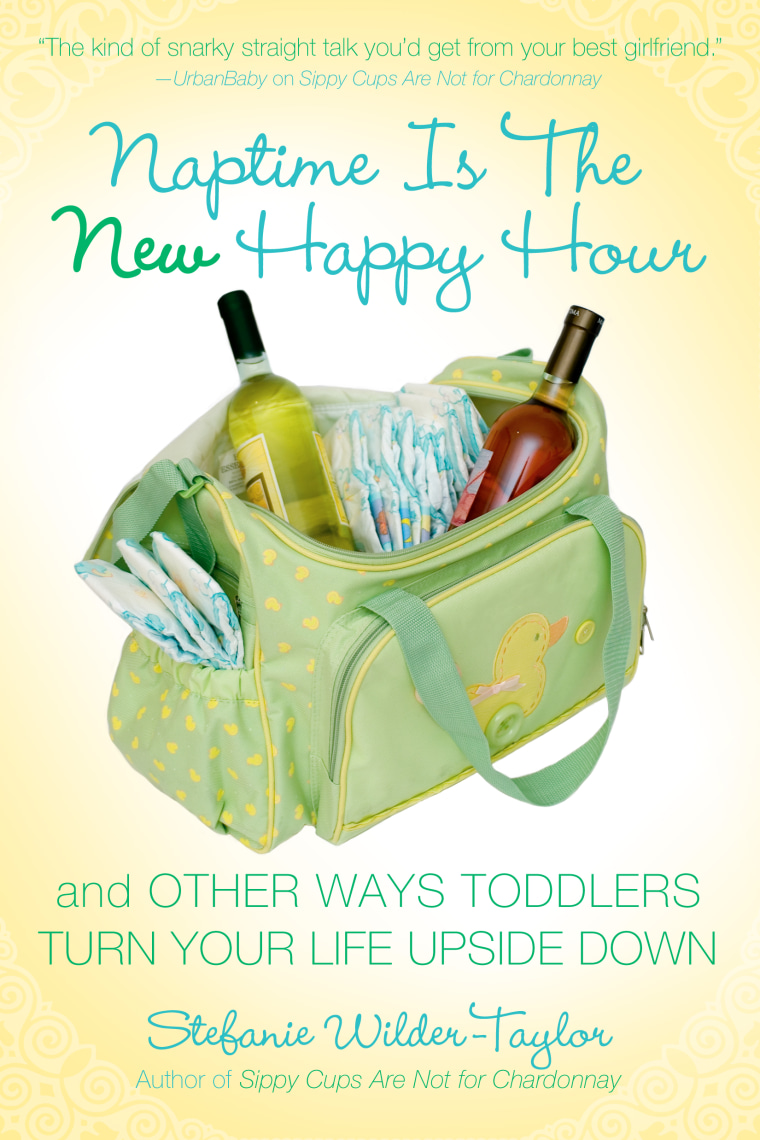 Minutes later my wet-cheeked daughter was seated in an adjustable-height mini-yellow racecar chair, where she gripped the steering wheel for dear life as Eddie draped a plastic zebra wrap around her neck, pulled out a spray bottle of water, and started squirting down her hair. Watching my baby's worried little face almost made me nostalgic for the sewing scissors. Almost. But I kept my eyes on the prize — a daughter who would have stylish, non-laughed-at hair. Little did I know the one I really should have been worried about was me.
"So what are we looking to do here today?" Scissorhands asked me while my daughter sat teary-eyed staring at Shrek the Third being projected on a big-screen TV.
"I guess just a trim. She's never had her hair cut before, and it's getting a bit unmanageable." Scissorhands held up a sixteenth of an inch of her hair through two fingers.
"About this much?"
"Um, you could probably go shorter than that." For twenty bucks I'd like to actually be able to tell it's been cut. He moved his fingers down an indiscernible amount.
"That's fine, I guess." But this didn't satisfy him. He needed to know if she wears her hair parted, to which side, and did she plan to style it, with mousse. I felt like saying, "Jesus. She's three! Just cut it already!"
When Eddie finally got my daughter's cut under way, he turned his attention to me. "Honey, I can see a little gray in your hair. Do you dye it?
"No." And come on! When you cut toddlers' hair, everyone over four is gonna look old. Of course, now I was starting to worry. Shit, last I checked I had maybe two strands of gray which I meticulously plucked out.
Without looking away from me, he repositioned my daughter's face to the TV screen and told her to hold still. "You should really let me color that, or at least get a nice herbal rinse to get rid of that ugly gray. Have you considered highlights? At your age, you could definitely use a little light around your face to lift it up."
I was too stunned to say "Listen, I'm only forty, and for your information a lot of people tell me I could easily pass for very late thirties — and furthermore, I don't need style advice from a guy who dresses up as an early nineties Johnny Depp character and cuts hair for kids who are still in diapers for a living." But it didn't matter because although it had barely been five minutes, he was done with my daughter's hair, which pretty much looked the same only wetter.
"Are you ready for a blow-dry?" he asked, whipping it off its hook. My daughter looked at me — and I looked at him like he'd just pulled out a .45. Blow dry? Had this freak ever met a toddler before? The sound of a blow-dryer scares the hell out of most of them, and the extra cost definitely scared the hell out of me!
"No thanks. I think we're all good here."
"Are you sure? It's included in the thirty-five-dollar price."
"I thought a kid's haircut was twenty?"
"Oh that price list is six months old." Gee, thanks for the heads-up.
"Hey I have an idea: How about you put up the correct price list and then I'll give you the corresponding amount of money? Sorry, but I'm a little anal, and the money that leaves my purse has to match the sign." After my little outburst, he quietly put the blow-dryer away and handed my daughter an old, pink, hair-covered balloon which had been sitting on the floor near her chair gathering dust and static electricity, and we finally headed for the exit, passing a little Down syndrome boy in a Batmobile chair screaming his head off. I'm so with you, little man, I thought. I felt a little bit like crying myself. I tried to catch the kid's eye to show him that he and I were truly simpatico on this place, but his mother gave me a stern look like she'd caught me staring inappropriately, so I quickly turned away. There was nothing left to do but whip out my credit card.
To add insult to injury, after the haircut fiasco, we ended up having to go to Baskin-Robbins for a couple of ice-cream sundaes just to get over our mutual trauma. The final tally for the ten-minute haircut: sixty-five dollars. It broke down like this:
Buying toys and barrettes so kid won't cry … as much: $20
Hair cut (including unused blow-dry): $35
Soothing after-cut treats: $10
Getting out of there without committing homicide: Priceless.
I have a sneaking suspicion there are a shiny pair of Singer sewing scissors in my daughter's future. Let's just hope the Dorothy Hamill comes back in style soon.
Excerpted with permission from "Naptime Is the New Happy Hour" (Simon Spotlight Entertainment) by Stefanie Wilder-Taylor.