/ Source: The Associated Press
The rumors are true, according to Sarah Palin. The McCain-Palin campaign was not a happy family.
In Palin's "Going Rogue," Palin confirms reports of tension between her aides and those of the 2008 Republican presidential candidate, Sen. John McCain. The vice presidential candidate confirms that she had wanted to speak on election night, but was denied the chance and says she was kept "bottled up" from reporters during the campaign.
Palin also writes harshly of CBS anchor Katie Couric, whom she describes as "badgering" and biased. Palin's series of interviews with Couric were widely regarded as disastrous, leaving the impression of an ill-informed candidate who was unsuited for the job.
But the 413-page tome doesn't contain a single reference to the father of her grandson, soon-to-be nude online model Levi Johnston.
The book, which has 16 pages of color photos but no index, comes out Tuesday, Nov. 17. The Associated Press purchased a copy Thursday. "Going Rogue," with a first printing of 1.5 million copies, has been at or near the top of Amazon.com and other best-seller lists for weeks, ever since publisher HarperCollins announced that the book had been completed quickly and the release date was being moved up from next spring.
The book follows Palin from childhood to her departure last summer as Alaska governor. It includes much of what her admirers, and detractors, expected: tributes to family and faith and patriotism, and attacks against the media and other perceived opponents.
Wondered who was footing clothing billShe writes about the "jaded aura" of professional campaign aides and how McCain's entourage limited her access to the media, leading to allegations — unfounded, she says — that she was avoiding reporters.
And she says that most of her legal bills were generated defending what she called frivolous ethics complaints, but she reveals that about $50,000 of the $500,000 was a bill she received to pay for the McCain campaign vetting her for the VP nod.
She said when she asked the McCain campaign if it would help her financially, she was told McCain's camp would have paid all the bills if he'd won; since he lost, the vetting legal bills were her responsibility.
Trevor Potter, the McCain campaign's general counsel, told the AP the campaign never asked Palin to pay a legal bill.
"To my knowledge, the campaign never billed Gov. Palin for any legal expenses related to her vetting and I am not aware of her ever asking the campaign to pay legal expenses that her own lawyers incurred for the vetting process," Potter said.
If Palin's lawyer billed her for work related to her vetting, the McCain campaign never knew about it, Potter said.
Written with Lynn Vincent, "Going Rogue" is folksy in tone and homespun. For example, Palin says her efforts to award a license for a massive natural gas transmission line through Alaska was turning a pipe dream into a pipeline. She writes in awe about how the McCain campaign had hired a New York stylist who had also worked on Couric.
Taken aback by all the fussing, she wondered who was paying for the $150,000 worth of clothes — family members were told it was being taken care of or was "part of the convention."
Palin shares behind-the-scene moments when the nation learned her teen daughter Bristol was pregnant, how she rewrote the statement prepared on her behalf by the McCain campaign — only to watch in horror as a TV news anchor read the original McCain camp statement, which, in Palin's view, glarmorized and endorsed her daughter's situation.
She writes that the incident made it clear to her that McCain headquarters was in charge of her message. She said when she tried to find out what the McCain camp would and would not allow her to say, Schmidt told her to simply "stick with the script."
Palin laments that she wasn't allowed to bring up loads of family members to the stage while McCain gave his election night concession speech, the vice presidential candidate having found out minutes earlier that she wouldn't be permitted to give her own speech.
Almost 'felt sorry' for CouricShe writes that ABC newsman Charles Gibson, who had an early interview with her, seemed bored by "substantive issues" stemming from her time as governor and that while speaking with her he "peered skeptically" at her over his glasses like a disapproving principal.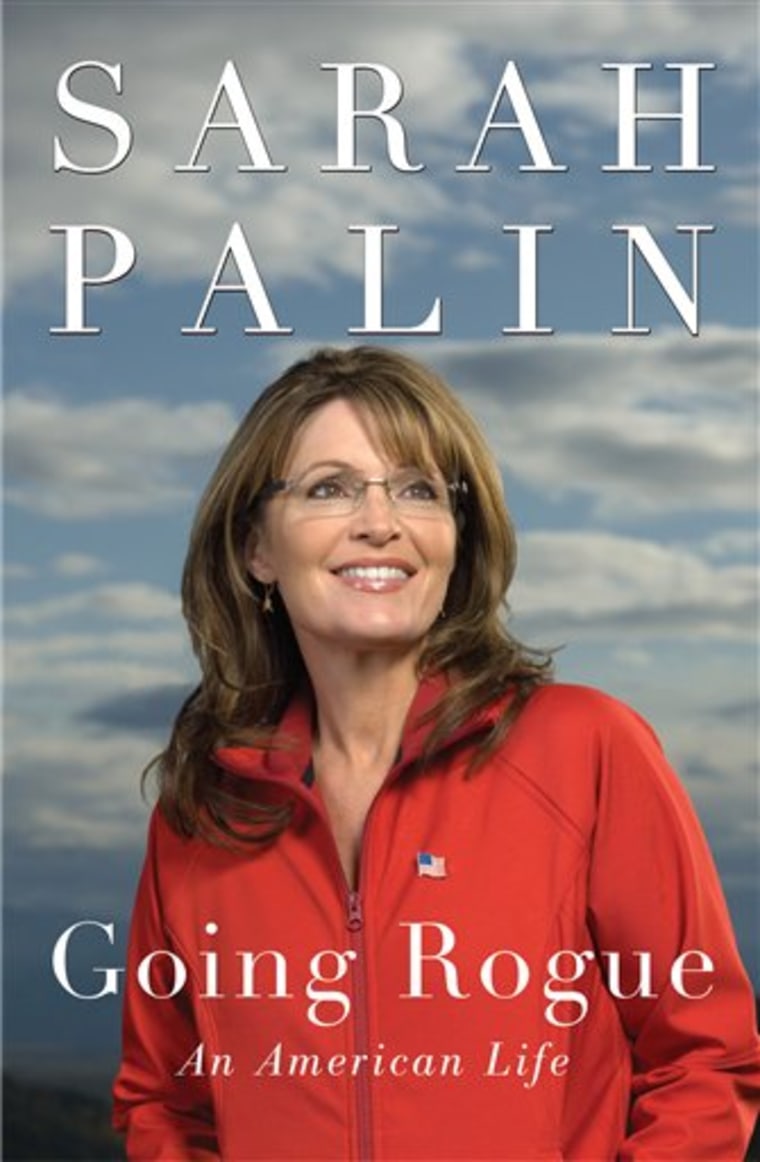 She writes at length about Couric. She says that the idea to meet with Couric came from McCain campaign aide Nicolle Wallace, who told Palin that Couric — also a working mother — liked and admired her. It would be a favor to Couric, too, whom Palin notes had the lowest ratings of the network anchors. Wallace said Couric suffered from low self-esteem. And Palin replied that she almost began to "feel sorry" for Couric.
She alleges that Couric and CBS left her more "substantive" remarks on the cutting room floor and settled for "gotcha" moments. She writes that Couric was far easier on Palin's Democratic counterpart, Joe Biden, and asserts that Couric had a "partisan agenda" and was "badgering" and biased while interviewing Palin.
"In this case, I really do think that the quality of the interview and the quality of the questions speak for themselves," CBS News President Sean McManus said Friday. "When I go back and I watch the interview and I listen to the questions, it's really difficult for me to think that any of the questions were unfair or any of them were questions that a vice presidential candidate shouldn't be expected to receive."
Palin takes another dig at Couric while asserting her expertise on energy matters. She writes that she was shocked Couric had asked her which newspapers and magazines she read; given what she called Couric's lack of knowledge about energy issues, Palin wondered whether she should have asked the news anchor what she read.
View images of her rise from governor of Alaska to a potential presidential contender.
Couric, through her spokesman Matthew Hiltzik, had no comment Friday. McManus said the network had no plans to revisit the interview or broadcast what was left on the cutting room floor.
Childhood memories
In her book, Palin also writes warmly of her childhood and her mother's "nurturing, hospitable" personality. Her priorities were set early — faith (she would read scripture each night before bed), hunting, current events and sports (she even dreamed of being a broadcaster alongside Howard Cosell). She remembers being a voracious reader, favorites including John Steinbeck's "The Pearl" and George Orwell's "Animal Farm." Long before Tina Fey parodied her on "Saturday Night Live," Palin enjoyed watching the show as a girl.
She met her future husband, Todd Palin, in 1982. He was good-looking and mature, like no one she had ever known. He was quiet, gruff, strong, spiritual.