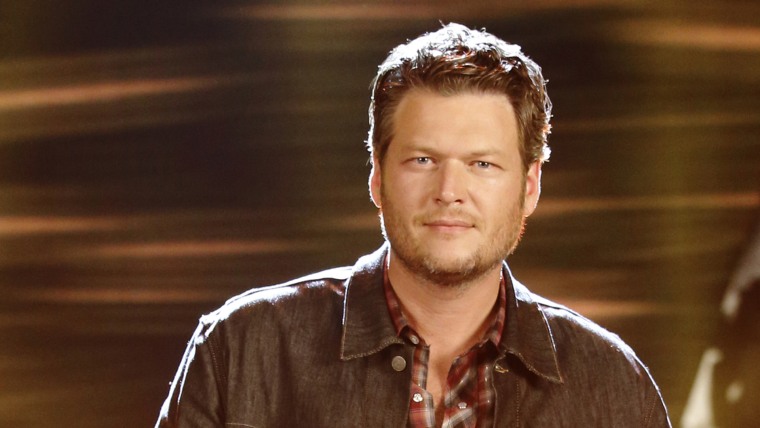 "The Voice" will have a new winning coach this season because three-peater Blake Shelton is officially out of the competition after Cole Vosbury was eliminated Tuesday.
But that doesn't worry the country superstar, who was concerned only about his artist.
"I'm bummed about it. I wanted that for Cole. He's just a good dude, he truly is," Shelton told TODAY. "But that's not all it takes to win this thing. You've got to have something that none of us can figure out."
"I don't know if we've ever seen competition this tough on this show," he continued. "Normally at this point I think you see somebody ... that really becomes an obvious person that's going to win the thing. This year, that hasn't been the case. It's like week to week.
"And if you go by this week's performance, everything points to Tessanne (Chin) right now, so that wouldn't surprise me to see (her win)."
Though fellow coach Christina Aguilera had said during a TODAY visit to "The Voice" set that Shelton had become "a little boastful this season," his defeat wasn't what she had on her mind Tuesday.
"I really wasn't invested in (his defeat). Adam (Levine) I know is going to pop champagne over that," she laughed. "But I kind of felt bad. I feel bad when anybody goes home."
Added host Carson Daly, "No one needs to worry about Blake. He'll be fine."
More than fine, judging by Team Blake's representation during the results show. Shelton presented season three winner Cassadee Pope with a plaque recognizing that her album, "Frame by Frame," has been certified gold; The Swon Brothers, who finished in third place last season, performed their new single; and season four champ Danielle Bradbery was on hand to debut a new song plus a tease of her music video for the Sochi Olympics.
As for Cole, elimination day was an understandably difficult day.
"I went through so many emotions (Tuesday), honestly," he reflected. "I was angry. I was angry and sad. And then when me and James (Wolpert) started talking about it, we were just laughing about it. We were just trying to make light of the situation as best as we could.
"But it was definitely sad," he continued. "I definitely had to fight tears back being sent home. Because when you make it this far ... you see the light at the end of the tunnel. You're like, 'Maybe I can win this thing.' So it's disheartening to have to go home now, but I've done everything I wanted to do."
With Team Blake's ouster, "The Voice" will again have three artists representing two coaches in the final round. Team Adam's Tessanne Chin and Will Champlin will compete for the title opposite Team Christina's Jacquie Lee.

"The Voice" airs Mondays at 8 p.m. and Tuesdays at 9 p.m. on NBC.