What ... just ... happened at the Oscars?
There really are no words to describe the final moments of the ceremony, but we'll try our best.
Warren Beatty and Faye Dunaway presented the final award of the night, best picture. Beatty took an unusually long time to reveal the winner. Finally, Dunaway announced, "La La Land."
The orchestra performed "La La Land" music. The film's cast and crew, including stars Emma Stone and Ryan Gosling, took the stage. There were acceptance speeches, straight from the heart. It was the perfect ending for a movie that had tied the record for the most Oscar nominations.
RELATED: Oscars 2017: Highlights from the star-filled ceremony
Only, it wasn't. To the astonishment of everyone in the room and everyone watching on TV, the wrong movie was announced as the winner. "Moonlight" earned the award, not "La La Land."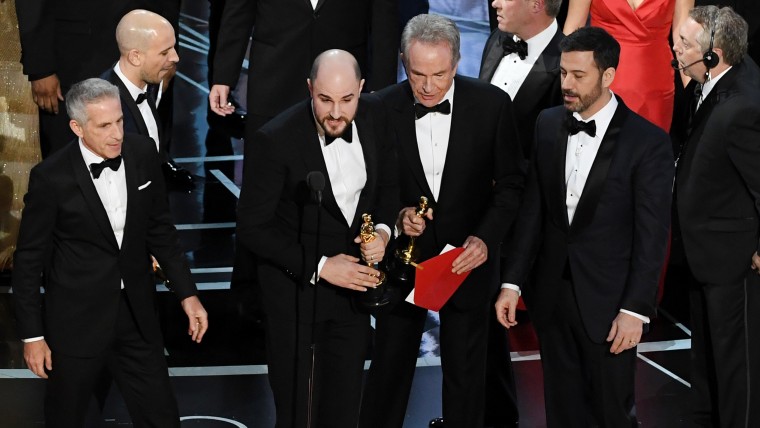 "This is not a joke," "La La Land" producer Jordan Horowitz insisted after being informed of the screw-up. He invited the "Moonlight" cast and crew to accept what was rightfully theirs.
A statement from PricewaterhouseCoopers, the firm that oversees the final balloting for the ceremony read, "We sincerely apologize to 'Moonlight,' 'La La Land,' Warren Beatty, Faye Dunaway, and Oscar viewers for the error that was made during the award announcement for Best Picture. The presenters had mistakenly been given the wrong category envelope and when discovered, was immediately corrected. We are currently investigating how this could have happened, and deeply regret that this occurred.
"We appreciate the grace with which the nominees, the Academy, ABC, and Jimmy Kimmel handled the situation."
Right, but still: What happened? Beatty offered this explanation on the air: "I opened the envelope, and it said, 'Emma Stone, "La La Land."' That's why I took a long look at Faye and at you. I wasn't trying to be funny."
Adding to the confusion: Stone revealed backstage, "I also was holding my best actress in a leading role card that entire time."
Oooooookkkkkkkk, then.
After the mix-up, host Jimmy Kimmel commented, "It's very unfortunate." Unfortunate, unbelievable, unreal ... it's all of that and so much more.
As you'd imagine, the internet is having a field day with this.
"Moonlight" director Barry Jenkins put it best:
Follow Shane Lou on Twitter.