While the 1996 Academy Awards for best picture, lead actress and lead actor were predictably memorable, that ceremony's two most unforgettable moments didn't involve any of those categories.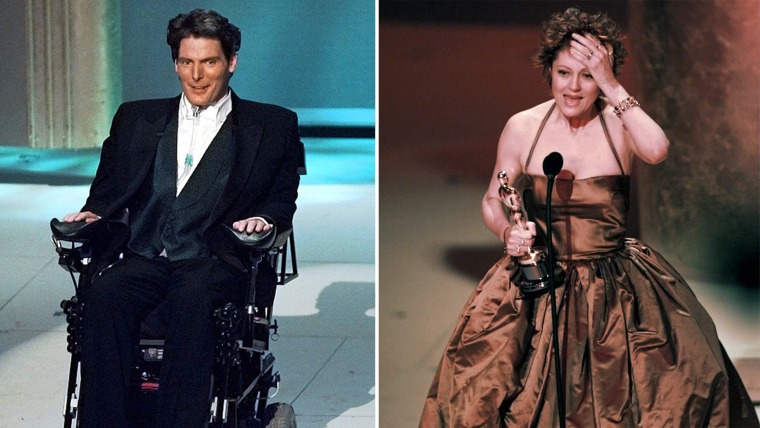 It all unfolded 20 years ago under the watch of host Whoopi Goldberg. Following her Oscar-hosting debut in 1994, she returned a year after David Letterman's 1995 stint (including the famous "Oprah, Uma; Oprah, Uma" bit) received mixed reviews — favorable ones from a share of viewers, less so from celebrities in attendance.
RELATED: The 10 most outrageous Oscar moments you — and the Internet — have forgotten about
From that monologue to the coronation of best picture, and everything in between, here are the most memorable moments relating to the 68th Academy Awards ceremony, held March 25, 1996, in Los Angeles.
11. Miss Piggy hammed it up with Goldberg.
On the fanciest pink TV available in 1996, the porcine star of the movie "Babe" was all set to chat with Goldberg in between awards. But when Miss Piggy wants face time, she gets face time, even if it means hijacking another pig's segment to do so. That's just how it works.
10. Kirk Douglas won a lifetime-achievement award, presented by Steven Spielberg.
Spielberg hailed the longtime actor and producer for his work on and off the screen, especially for his contributions to put an end to the blacklist punishing members of the Communist party. Twenty years after Douglas accepted the award, Bryan Cranston would be nominated for best actor for his titular role in "Trumbo," whose real-life inspiration returned to show business with the help of Douglas.
RELATED: Steven Spielberg wants more 'Indiana Jones' before Harrison Ford turns 80
9. Robin Williams presented legendary cartoonist Chuck Jones with an honorary Oscar.
The election-year humor may be a bit dated, but Williams' delivery crushed among celebrity attendees as he compared some of Jones' classic Looney Tunes characters with presidential candidates of the time.
8. Williams bestowed yet another honorary Oscar to John Lasseter for Pixar's "Toy Story."
Viewers might not have realized it at the time, but moments after honoring one of the most heralded cartoonists of the past, Williams' other presentation honored what would become the most celebrated animation studio of the future.
RELATED: 'Toy Story' turns 20! Here are 5 life lessons we learned from the beloved movie
7. Kevin Spacey emerged from the background to win his first Oscar.
You might not have remembered Spacey's characters oozing sleaze in "Working Girl" or stealing every non-Alec Baldwin scene in "Glengarry Glen Ross," but once the actor floored audiences with his award-winning turn in "The Usual Suspects," they'd no longer overlook his supporting roles.
RELATED: 'House of Cards' Season 4 trailer: Frank and Claire Underwood are at war
6. Hollywood's Mel Gibson love-fest peaked.
"Braveheart" won five Oscars, including best picture and best-director honors for Gibson, whose career would be hampered in subsequent years by things he did and said. Those incidents remained joke fodder at last month's Golden Globes ceremony, when host Ricky Gervais and Gibson exchanged punch lines at each other's expense.
RELATED: Golden Globes 2016: See the highlights, best moments
5. Protesters rallied with Jesse Jackson, who criticized Hollywood's treatment of people of color.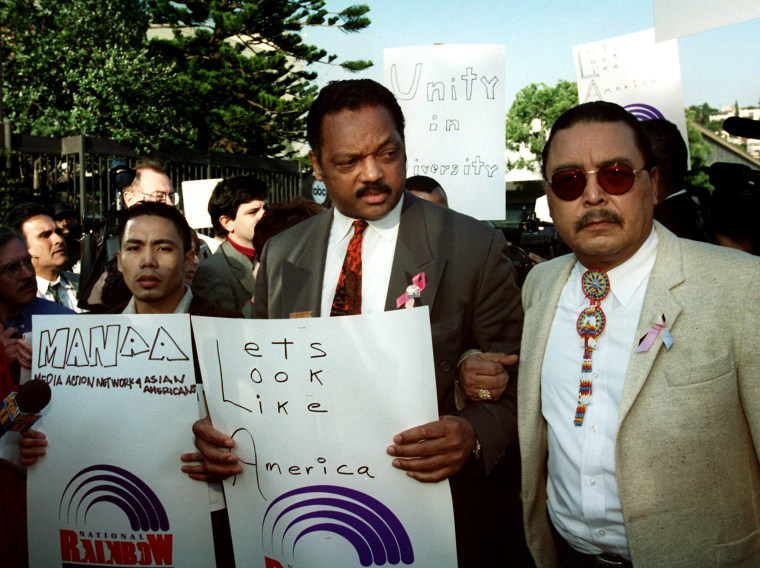 If you think criticism of the Academy for a dearth of diversity is a new phenomenon, think again. In the days leading up to the 1996 ceremony, Jackson protested the film industry for "race exclusion and cultural violence," on and off the silver screen.
RELATED: Academy Awards to take 'historic action' to improve film diversity
4. Goldberg addressed these protests, among other topics, in her monologue.
Goldberg's five-minute monologue (starting at 7:05 of the video above) addressed the protests: "I had something I wanted to say to Jesse right here, but he's not watching, so, why bother?" She also joked about awareness ribbons ("I got a milky-white ribbon for Mad Cow Disease."); Letterman's alienation of Oscar attendees ("So, [did you] miss me?"); and presidential candidates ("Oscar is 68, younger than Bob Dole.").
3. The fifth time was the charm for Susan Sarandon.
After scoring lead-actress nominations for her work in 1980's "Atlantic City," 1991's "Thelma and Louise," 1993's "Lorenzo's Oil" and 1994's "The Client," Sarandon finally took home Oscar gold for her performance in "Dead Man Walking." Could nomination No. 5 be the magic number for Leonardo DiCaprio this year?
RELATED: See Susan Sarandon's smooth response after outfit was called 'inappropriate'
2. Christopher Reeve's appearance was accompanied by an inspirational plea.
Paralyzed in an equestrian accident just months earlier, the late "Superman" star received a 60-second standing ovation from the Oscar audience. Opening with a joke ("What you probably don't know is that I left New York last September, and I just arrived here this morning."), Reeve implored his colleagues to create more films that "present painful but important issues to the public." He then introduced a montage of movies that "courageously put social issues ahead of box-office success," adding, "They've enlightened us, they've challenged us, and they've given us the opportunity to learn."
RELATED: Christopher Reeve's daughter names new son after her late father
1. Holocaust survivor Gerda Weissmann Klein and one of Anne Frank's protectors, Miep Gies, provided perspective.
When documentarian Kary Antholis accepted the award in the short-subject documentary category for "One Survivor Remembers," the pit orchestra played transitional music, but Weissmann Klein remained at the podium.
"I have been in a place for six incredible years, where winning meant a crust of bread and to live another day," she said in the otherwise silent theater. "Since the blessed day of my liberation, I have asked the question, 'Why am I here? I am no better.' In my mind's eye, I see those years and days, and those who never lived to see the magic of a boring evening at home. On their behalf, I wish to thank you for honoring their memory. And you cannot do it in any better way than when you return to your homes tonight to realize that each of you who know the joy of freedom are winners. Thank you on their behalf, with all my heart."
Within minutes of Weissmann Klein's speech, Gies — who discovered Frank's diary and whose family hid Frank during World War II — joined "Anne Frank Remembered" director Jon Blair while he accepted the award for best documentary feature. Gies remained quiet at the podium, but her presence alone spoke volumes.
RELATED: 'Woman in Gold': One survivor's fight for what's rightfully hers
Other notable moments from the 1996 ceremony:
Lyle Lovett and Randy Newman teamed up for a performance of Newman's Oscar-nominated "You've Got a Friend in Me" from "Toy Story," but it lost to the "Pocahontas" song "Colors of the Wind," performed that night by Vanessa Williams.
After channeling novelist Jane Austen while accepting the Golden Globe Award for her "Sense and Sensibility" screenplay, Emma Thompson won the Oscar for the same accomplishment, and gave Austen another amusing shout-out in the process.
In addition to the traditional In Memoriam segment, the Oscars honored the late Gene Kelly with a tribute featuring the standout tap-dancing skills of Savion Glover.
Follow TODAY.com writer Chris Serico on Twitter.