Held Sunday, the 88th Academy Awards featured a best-picture win for "Spotlight," Leonardo DiCaprio's first Oscar win in five tries, a powerful performance by Lady Gaga, and Chris Rock's requisite biting-yet-celebrated commentary throughout his second stint hosting the ceremony.
Here's a timeline of highlights and most unforgettable moments, in reverse-chronological order.
RELATED: It's awards time! See the complete list of this year's Oscars winners
12:06: Chris Rock wraps things up with invitations to attend "the BET Awards this summer" and to "buy some Girl Scout cookies." Michael Keaton, already onstage with the "Spotlight" faction who'd just celebrated a Best Picture win, unwraps a sleeve and chows down. A surge of Oscar winners emerge from the wings, and that's a wrap.
12:00: "Spotlight" wins Best Picture. "This film gave a voice to survivors, and this Oscar amplifies that voice, which we hope will become a choir that will resonate all the way to the Vatican," producer Michael Sugar says. "Pope Francis has time to protect the children and restore the faith."
11:56: "To my parents, none of this would be possible without you," Leonardo DiCaprio says. "To my friends, I love you dearly; you know who you are. And lastly, I just want to say this: Making 'The Revenant' was about man's relationship to the natural world, a world that we collectively felt in 2015 as the hottest year in recorded history. Our production needed to move to the southern tip of this planet, just to be able to find snow. Climate change is real. It is happening right now. ... Let us not take this planet for granted. I do not take tonight for granted. Thank you so very much."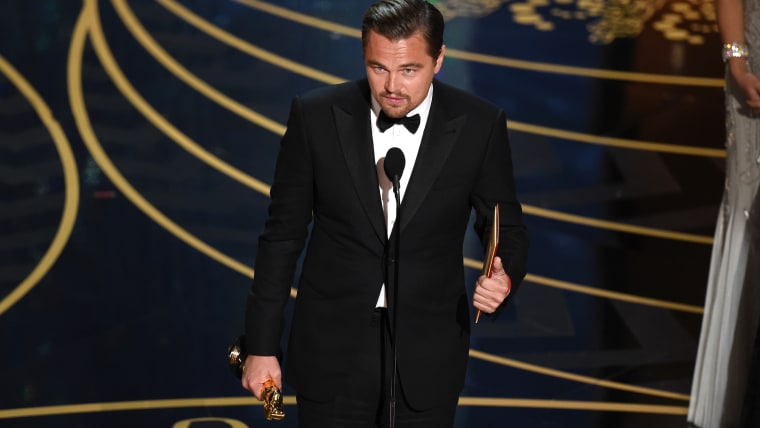 11:55: Finally! Leonardo DiCaprio wins Best Actor, for his work in "The Revenant." The crowd erupts and immediately gives a standing-O.
RELATED: Leonardo DiCaprio wins his first Oscar ever for 'Revenant' role
11:48: A happy and measured Larson thanks, among others, "Jacob Tremblay, my partner through this in every way possible, [and] my real partner, Alex Greenwald."
11:47: Brie Larson wins for Best Actress, moments after giving "Room" co-star Jacob Tremblay a high-five from her seat. Tremblay smiles from ear to ear.
11:37: Alejandro G. Iñárritu wins for Best Director, for "The Revenant." He says, in part, "Leo [DiCaprio], you are 'The Revenant.' Thank you for [giving every bit of] your soul, your heart, your life."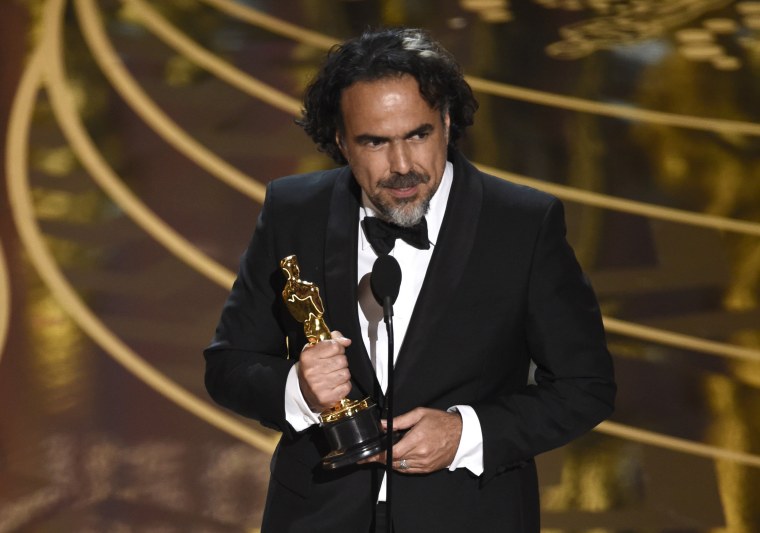 11:27: Sam Smith and Jimmy Napes accept for Best Song, "Writing's on the Wall," from "Spectre." Notes Smith, "Sir Ian McKellen … said that no openly gay man had every won an Oscar, and if this is the case, even if it isn't the case, I want to dedicate this to the LGBT community all around the world. I stand here tonight as a proud gay man, and I hope we can all stand together as equals one day."
11:23: Ennio Morricone wins Best Original Score for "The Hateful Eight."
11:15: Lady Gaga performs "Til It Happens to You," accompanied by dozens of women and several men with phases ranging from "survivor" to "not your fault" written on their forearms. It's one of the night's most powerful and emotional moments, and the crowd offers an emphatic standing-ovation in response.
11:10: Vice President Joe Biden gets a standing ovation, then implores everyone to prevent sexual abuse and to "intervene when consent has not or cannot be given." Adds Biden, "Let's change the culture. We must and we can change the culture so that no woman or man, like the survivors you will see tonight, 'What did I do?' They did nothing wrong." He then asks supporters to visit ItsOnUs.org to learn more information.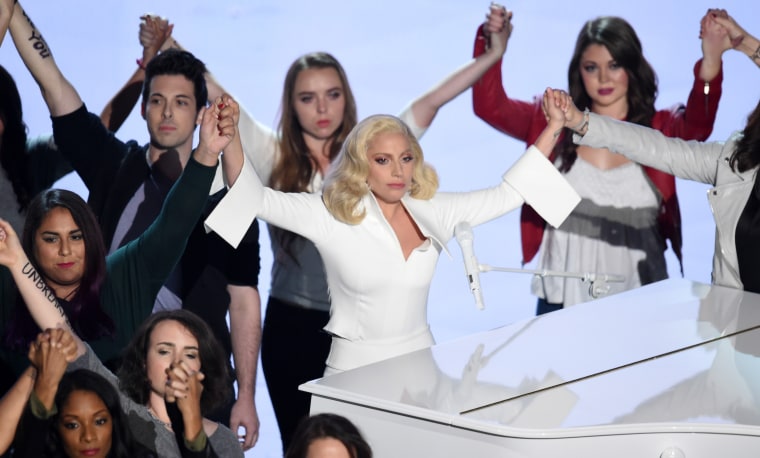 RELATED: Lady Gaga delivers powerful Oscars performance of ''Til It Happens To You'
11:08: "Son of Saul," from Hungary, wins Best Foreign Language Film. Writer-director László Nemes accepts. "Even in the darkest hours of mankind, there might be a voice within us that allows us to remain human," Nemes says. "That's the hope of this film."
11:05: "Stutterer" wins for Best Live Action Short Film. Benjamin Cleary and Serena Armitage accept.
10:58: Dave Grohl's live performance of the Beatles' "Blackbird" serves as the backdrop to this year's In Memoriam segment, which pays tribute to, among many others, Wes Craven, Robert Loggia, Maureen O'Hara, Omar Sharif, Alan Rickman, David Bowie and Leonard Nimoy. "I have been, and always shall be, your friend," Nimoy's most famous character, Mr. Spock, says as the "Blackbird" coda winds down.
10:54: Cheryl Boone Isaacs, the president of the Academy of Motion Picture Arts and Sciences, references the Academy's recent diversity initiatives. "It's not enough to just listen and agree: We must take action," she says. "While change is often difficult, it is necessary. Dr. Martin Luther King once said, 'The ultimate measure of a man is not where he stands in moments of comfort and convenience, but where he stands in times of challenge and controversy.' I am confident that, together, we can shape a future of which all of us can be proud."
10:52: Whoopi Goldberg introduces a montage of highlights from a ceremony bestowing honorary Academy Awards to actress Gena Rowlands; director Spike Lee; and actress Debbie Reynolds, who received the Jean Hersholt Humanitarian Award.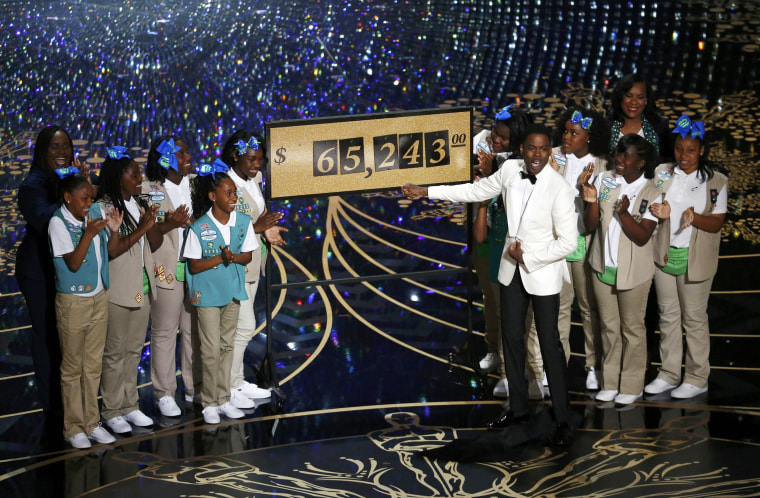 10:49: Chris Rock returns with an update on their Girl Scout Cookie fundraiser, aided by affluent members of the crowd. His tally: $65,243. The top donor, apparently, was allegedly Suge Knight.
10:43: "Amy," about the late Amy Winehouse, wins for Best Documentary Feature. Asif Kapadia and James Gay-Rees accept. "This is for the fans, Amy's fans, who loved her through thick and thin," Gay-Rees says. "That's all she ever really needed."
10:39: After Louis C.K. jokes that "Mad Max" wins for Best Documentary, Short Subject," he reveals the award goes to "A Girl the River: The Price of Forgiveness." Sharmeen Obaid-Chinoy accepts. "This is what happens when determined women get together," she says.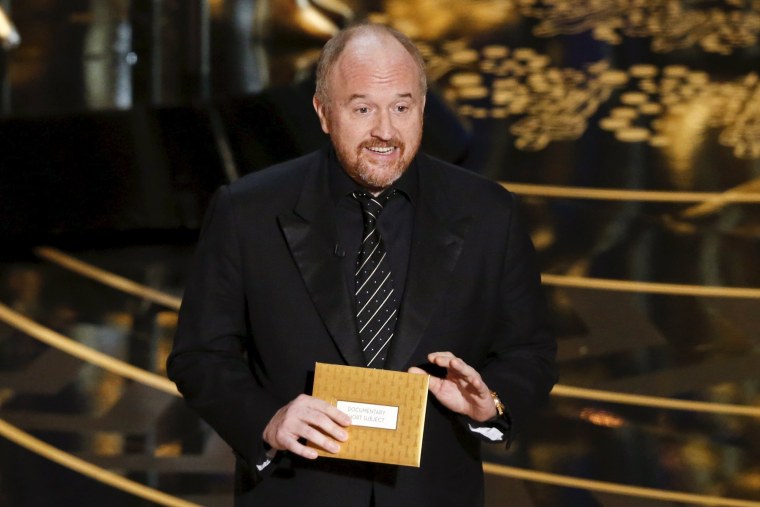 10:38: Louis C.K. presents (and kills!) while presenting for Best Documentary, Short Subject, and declares how important it is to its recipient. "This Oscar is going home in a Honda Civic," he adds.
10:32: Accepting his award for Best Supporting Actor, Mark Rylance says, "I've always just adored stories — hearing them, seeing them, being in them — so, for me to have the chance to work with, I think, one of the greatest storytellers of our time, Steven Spielberg, it's just been such an honor."
10:31: Mark Rylance wins for "Bridge of Spies," in what some might consider an upset, as many thought sentimental favorite Sylvester Stallone might win for "Creed." Also must've been tough for fellow nominee Mark Ruffalo ("Spotlight"), who had to wait until the second letter of the last name was announced before knowing if he'd won or not.
10:25: Chris Rock's pre-taped remote at a movie theater in Compton, California, to interview predominantly black moviegoers about Oscar nominees and what they'd tell the Academy. It's funny, honest and telling.
10:13: "Inside Out" wins for Animated Feature Film, perhaps as expected, as it's a Pixar movie, after all. Pete Docter and Jonas Rivera accept, and director Docter offers advice to middle- and high-school students: "There are days you're going to feel sad, you're going to feel angry, you're going to feel scared," he says, "That's nothing you can choose, but you can make stuff: Make films, draw, write. It'll make a world of difference."
10:08: "Bear Story" wins for Best Short Film, Animated. Gabriel Osorio and Pato Escala accept, marking what they say is Chile's first Academy Award win. "This is the first Oscar for our country," Escala says, "so this is very important for us."
10:06: The celebrity crowd eats up Chris Rock's plea to buy Girl Scout Cookies for his daughters: "Leo! You made $30 million! Come on!"
10:00: C-3P0, RD-D2 and BB-8 from "Star Wars" show up, partly to give props to give composer John Williams for his 50th career nomination. Is "Episode VIII" done yet?
9:57: Best Visual Effects goes to "Ex Machina," finally breaking the streak of consecutive "Mad Max: Fury Road" wins. Andrew Whitehurst, Paul Norris, Mark Ardington and Sara Bennett accept.
9:53: Best Sound Mixing goes to ... "Mad Max: Fury Road." I'm just going to cut-and-paste that title at this point. Chris Jenkins, Gregg Rudloff and Ben Osmo accept.
9:49: "Mad Max: Fury Road" claims yet another award, a fifth, this time for Best Sound Editing. Mark Mangini and David White yelp with delight.
9:40: "Mad Max: Fury Road" wins for Best Film Editing. "Us 'Mad Maxes' are doing OK tonight," winner Margaret Sixel notes from the stage. Is it destined for Best Picture at this point?
9:39: It's clear we've reached the part of the evening when the Academy wants to get a sizable chunk of the behind-the-scenes awards out of the way.
9:37: "The Revenant" wins its first award of the evening, for cinematography. Emmanuel Lubezki accepts.
RELATED: Leo and Kate walk Oscars red carpet together — and everyone lost their chill
9:30: A third straight win for "Mad Max: Fury Road," this time for makeup and hairstyling. Lesley Vanderwalt, Elka Wardega and Damian Martin accept.
9:24: "Mad Max: Fury Road" wins for Best Production Design.
9:23: Tina Fey "has been drinking," according to fellow presenter Steve Carell. These two should star in a movie or something. A date movie, perhaps.
9:20: Jenny Beavan accepts the award for Best Costume Design, for "Mad Max: Fury Road."
9:12: A breathless Alicia Vikander wins for Best Supporting Actress ("The Danish Girl"), thanks fellow nominee Eddie Redmayne, and her parents: "Thank you for giving me the belief that anything can happen — even though I never would have believed this."
RELATED: Who was best dressed at the Oscars? Vote for your favorite!
9:05: Sam Smith is here to sing the not-Adele James Bond song up for an Oscar this year. It's not exactly "Skyfall," but hey, good for him.
9:00: A sketch about Oscar-nominated films starring additional black actors crushes as hard as Leslie Jones subbing for the bear in "The Revenant."
8:52: Adam McKay and Charles Randolph win for Best Adapted Screenplay for "The Big Short." McKay concludes, "If you don't want big money to control government, don't vote for candidates that take money from big banks, oil or weirdo billionaires."
8:47: Tom McCarthy and Josh Singer win for Best Original Screenplay ("Spotlight"). "We made this film for all the journalists who have, and continue to, hold the powerful accountable, and for the survivors whose courage and will to overcome is really an inspiration [to] us all," says McCarthy, who also is up for best director.
8:44: Closing strong with a Clooney joke, Rock wraps. Strong, swift, cutting. Resounding win.
RELATED: Chris Rock addresses #OscarsSoWhite in Academy Awards monologue
8:43: "We want opportunity. That's it. Not just once," Rock says, earning resounding applause from a crowd that's squirming and laughing, but decidedly in his corner.
8:36: "Black people did not protest [in previous decades]," Rock says. "Why? Because we had real things to protest at the time."
RELATED: Best Oscars tweets, Instagrams: Celebrities share behind-the-scenes pics
8:34: Just minutes after teasing to his Instagram followers that he was "cutting the fat off my monologue," Rock takes the stage. Prepare yourselves.
8:30: Here we go, with a montage notably full of powerful cinematic performances by people of color. And a clip from "Daddy's Home." Ah well.
Follow TODAY.com writer Chris Serico on Twitter.