It's been nearly 20 years since "The Lord of the Rings: The Fellowship of the Ring" debuted, but Orlando Bloom is still paying homage to Legolas, his iconic character in the movie trilogy.
Bloom busted out his archery chops on Friday as he embraced his inner Legolas. The 44-year-old actor shared a short video clip to Instagram as he practiced aiming and shooting arrows with a bow outdoors.
In the video, Bloom calmly took two shots at a target located at the far end of a lawn. He, of course, looked like a natural!
"This is my victory lap and then we do another one," Bloom said in between shots in the clip.
In the caption, he wrote simply, "still got it."
Bloom portrayed Legolas in the Peter Jackson-directed trilogy, which included 2001's "The Lord of the Rings: The Fellowship of the Ring," 2002's "The Lord of the Rings: The Two Towers," and "The Lord of the Rings: The Return of the King," which hit theaters in 2003.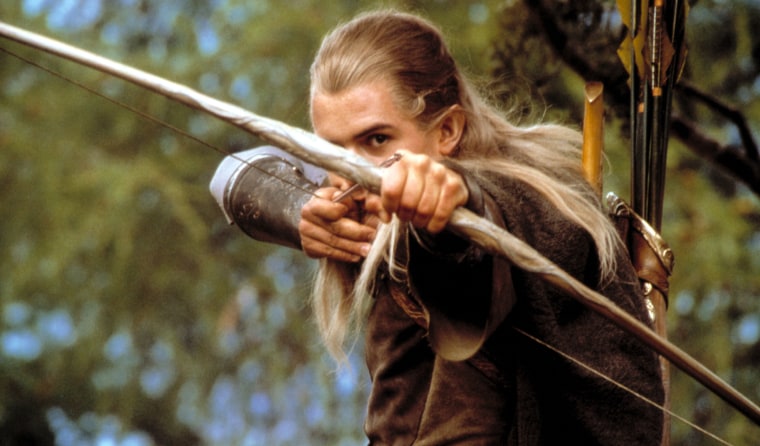 He reprised his role as the Sindarin elf during the last two installments of "The Hobbit" trilogy, returning to screen for the 2013 film "The Hobbit: The Desolation of Smaug" and again the following year for the final installment titled "The Hobbit: The Battle of the Five Armies."
In the two decades since Bloom first played Legolas on the silver screen, the actor has went on to star in a whole host of other movies and TV shows, including the "Pirates of the Caribbean" film series and more recently, "Carnival Row."
He's also learned to embrace another role in his life outside of acting — being a dad! Bloom shares one child with his ex-wife, Miranda Kerr, who he was married to for three years between 2010 and 2013. Their son, Flynn, turned 10 earlier this year.
On Valentine's Day in 2019, Bloom popped the question to his then-girlfriend, Katy Perry, in a romantic proposal. On August 26, 2020, the couple welcomed their first child together, a daughter named Daisy Dove.
Perry opened up about Bloom and becoming a parent back in February, telling Jimmy Kimmel, "He was such a great support."
As for how Bloom has been as a father and partner since the birth of their daughter? Perry said, "He's been amazing, incredible, and we're so in love and we're so grateful."
Bloom's revival of his archery skills came at a perfect time. Fans of the sport can tune in over the next week to watch archery at the 2020 Tokyo Olympics on NBC Olympics' livestream!