What do a couple of powerhouse ladies like Oprah Winfrey, Reese Witherspoon, and Mindy Kaling do on a day off?
Apparently, they go to Disneyland. (And they take a bunch of photos, so the rest of us can live vicariously through them.)
Kaling, Winfrey, and Witherspoon, along with powerhouse-in-training, 14-year-old Storm Reid, star in the upcoming film adaptation of Madeleine L'Engle's "A Wrinkle in Time." The film, which chronicle's a girl's quest to find her missing scientist father, is set to release on March 9.
In the meantime, the stars are promoting the film in what has to be the most delightful way possible —surprising some lucky fans at Disneyland!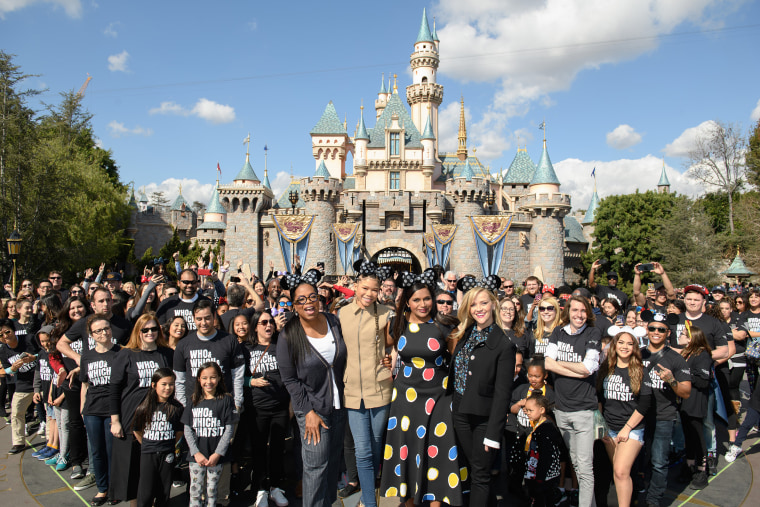 Witherspoon and Kaling managed to make mouse ears look like a fashion statement. Perhaps they should consider rocking them on the red carpet at the premiere.
And speaking of fashion statements ...
... Did they really do a full day of roaming the theme park in heels?! Besides being incredible professionally, these ladies are even more epic than we thought.
Witherspoon, channeling the sassy cartoon mouse, went ahead and laid claims to being Winfrey's best friend in an Instagram post, escalating a funny competition between her and Ellen DeGeneres for the role.
"What's better than taking your BFF to @Disneyland ?! Had a great time, @Oprah! Sorry you couldn't make it @TheEllenShow," Witherspoon wrote on Instagram, adding a wink.
Well played, Reese. Well played.
We were already excited to see the film, but now we're hoping they release a behind-the-scenes reel to go with it. We want to see more of these power-BFFs in action!