The "Once Upon a Time" gang journeyed to Neverland with one goal this season: to find Henry (Jared Gilmore). But that won't be easy because Peter Pan (Robbie Kay) has captured "the heart of the truest believer" — and Henry might stop believing that his family will save him.
Unlike the mischievous adventurer in J. M. Barrie's original stories, "Once's" Peter Pan is "quite a nasty character," Colin O'Donoghue, who plays Captain Hook, told TODAY during a press junket at the fairy-tale show's enchanting new Vancouver set. "Traditionally, Hook is the bad guy, but their relationship is complicated. It's not as straightforward as 'Hook wants to kill Pan.' "
"Even Rumpelstiltskin is scared of him," added the dashing Irish actor, "and he's the Dark One!"
"Pan is terrifying because he (seems) omnipresent on this island," Jennifer Morrison (who plays Emma, the daughter of Snow White and Prince Charming) told TODAY. "We're not sure what he might do with all of that knowledge, and how he might play us against ourselves and against each other." 
"At some stage you'll get to see some of what's gone on in the past (with Pan), because remember he's been in Neverland for hundreds of years," revealed O'Donoghue. 
Henry's group of rescues are forced to play Pan's "mindgame," Morrison added, drawing on their combined resources " to save Henry instead of lose him to this game, with Pan."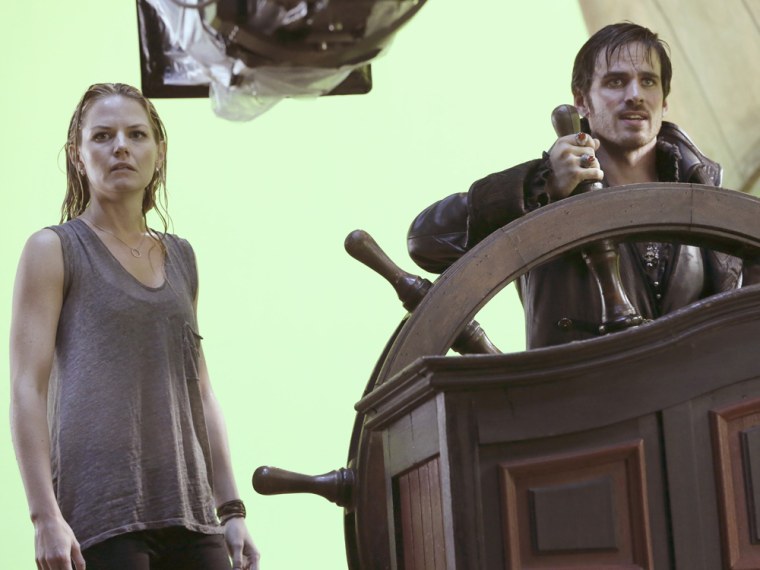 Henry's family has reason to worry, Jared S. Gilmore, the boy behind Henry, told TODAY. "(Henry) will slowly start to trust Pan — and begin to like him," the young actor confirmed. "Eventually, (Henry will) come to the point where he doesn't know if his family's coming to save him (and) this could be his new home. He starts making friends with the Lost Boys and Pan. In a way, (Henry) is a Lost Boy. He's lost, he's away from home, he doesn't know if his family's coming to find him." 
So don't expect a return to Storybrooke anytime soon. It's a fact that thrills star Ginnifer Goodwin, who plays Snow White. 
"I've really preferred being in this world," she told reporters on set. "I honestly teared up in the premiere watching Henry and Pan fly through the air because that's the Disney magic. I wouldn't be able to say how long it lasts, but I hope it lasts a long time."
Unlike season two, Goodwin added, "We are truly sharing story lines now. There's something that happens when a family is together on a road trip. And that something's going to happen a lot this season on 'Once.'"
That includes some delicious — but not deadly — skirmishes between Snow and Regina, The Evil Queen (Lana Parrilla). "We're sassing each other a whole lot more this season," Goodwin enthused. "Things are going further in some ways, because we've at least temporarily removed the threat of murder and are now able to have it out."
Regina and Snow's daughter, however, have become downright friendly. "Emma and Regina have kind of gotten to a place where they're calling themselves 'the moms.' It's a little more cordial," Parrilla said. "I think she's enjoying the camaraderie — at least with Emma."
In Neverland, "a lot of (Emma and Regina's) baggage falls away, and they are just two women who want to save their child," Morrison told TODAY. "And there are moments of friendship, there are moments of very powerful foresight into how to be powerful together, and there are definitely things for them to learn from each other."
As for the group's unlikely unity, "I don't think it will last for long," warned Parrilla. "Regina is kind of at her wits' end by episode six, she's pretty much had it. She just doesn't do things the way the Charmings do them. She doesn't go about things in a kind, loving way."
"Once Upon a Time" airs Sundays at 8 p.m. on ABC.