Fall Out Boy had some fun with their newest video, poking fun at NSYNC's "It's Gonna Be Me"... and they didn't miss a beat!
In the video for "Irresistible," Fall Out Boy (with special guest Demi Lovato), imitated the famous video by playing dolls who come to life, break out for their packaging and wreak a little havoc on a candy-colored toy store.
Both videos are directed by Wayne Isham, but Fall Out Boy's version does more than just imitate the original 'NSYNC dolls — there are even cameos by former 'NYSYNC members Joey Fatone and Chris Kirkpatrick.
MORE: Justin Timberlake on fatherhood: 'I've never slept less and dealt with more poop'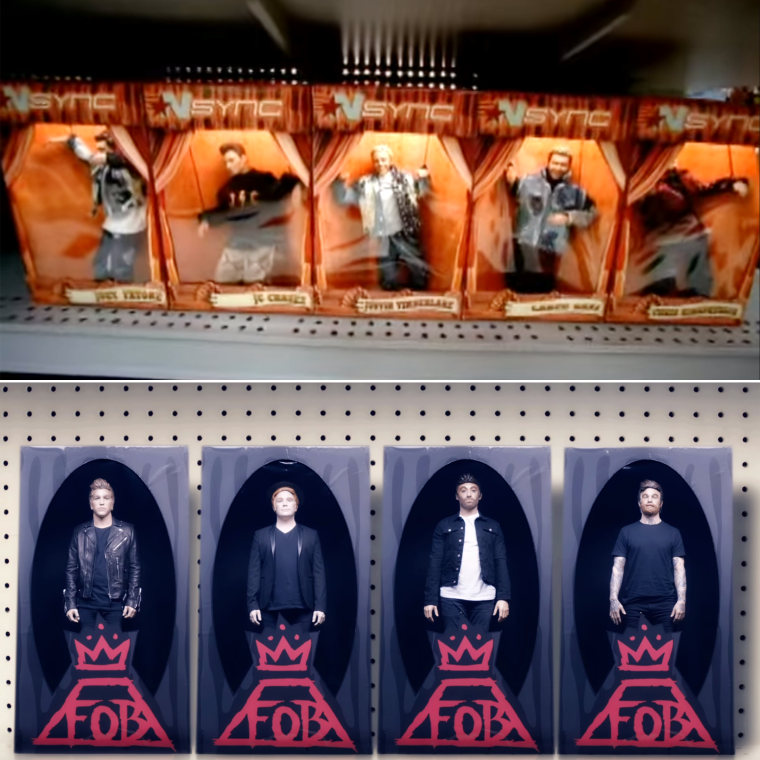 In the YouTube description of the video, Fall Out Boy said that the video was an imaginative extension of the 'NSYNC video.
What if, "in the same store there was a dollar bin full of toys that no one really wanted that would band together like the misfit, offbrand little outsiders they were," the description said. "'Irresistible' is the video for that story, it's about the toys no one ever wanted come to life."
MORE: Kelly Clarkson covers 'NSYNC's 'Bye Bye Bye' in 'throwback to junior-high days'
Be sure to watch both... and decide which band you'd take home from the store!
Follow Randee Dawn on Twitter.