/ Source: The Associated Press
Loyal customers of Bill Blass, who died of cancer at 79 last year, say the man affectionately dubbed "the dean of American fashion" will never be replaced.
But isn't there a designer who can step into his shoes at the company and continue the distinctive Blass tradition? That was the prevailing question at the Bill Blass spring 2004 preview Tuesday, as the Mercedes-Benz Fashion Week continued.
The show was the Fashion Week debut for Michael Vollbracht, who was appointed head designer of the company, following two earlier designers who tried the job.
In an effort to stabilize the design house and steer it back to the looks Blass made so popular, the company in March hired Vollbracht, a longtime designer who came to the company two years ago to work on a Blass retrospective.
Indeed, the show revived some signature Blass looks, notably ensembles of menswear-styled suits with matching coats, sweaters with taffeta ball skirts and animal prints, which Blass once called "as classic as polka dots."
For evening, a time when Blass customers typically shine, Vollbracht sent out a slew of black cocktail dresses, with signature touches of lace embroidery, silk chiffon tiers and ruffle hems.
Vollbracht said he did his homework by reviewing Town & Country magazines from the 1950s, in Blass' archives.
So, did it look like a Blass show?
"Very much so," said Town & Country Editor in Chief Pamela Fiori. "I do think it looks like Bill Blass, more than anyone else who's followed in his footsteps."
If Vollbracht dipped into the past to recount favorite Blass looks, perhaps that's why he also brought back older models who previously walked the Blass runway.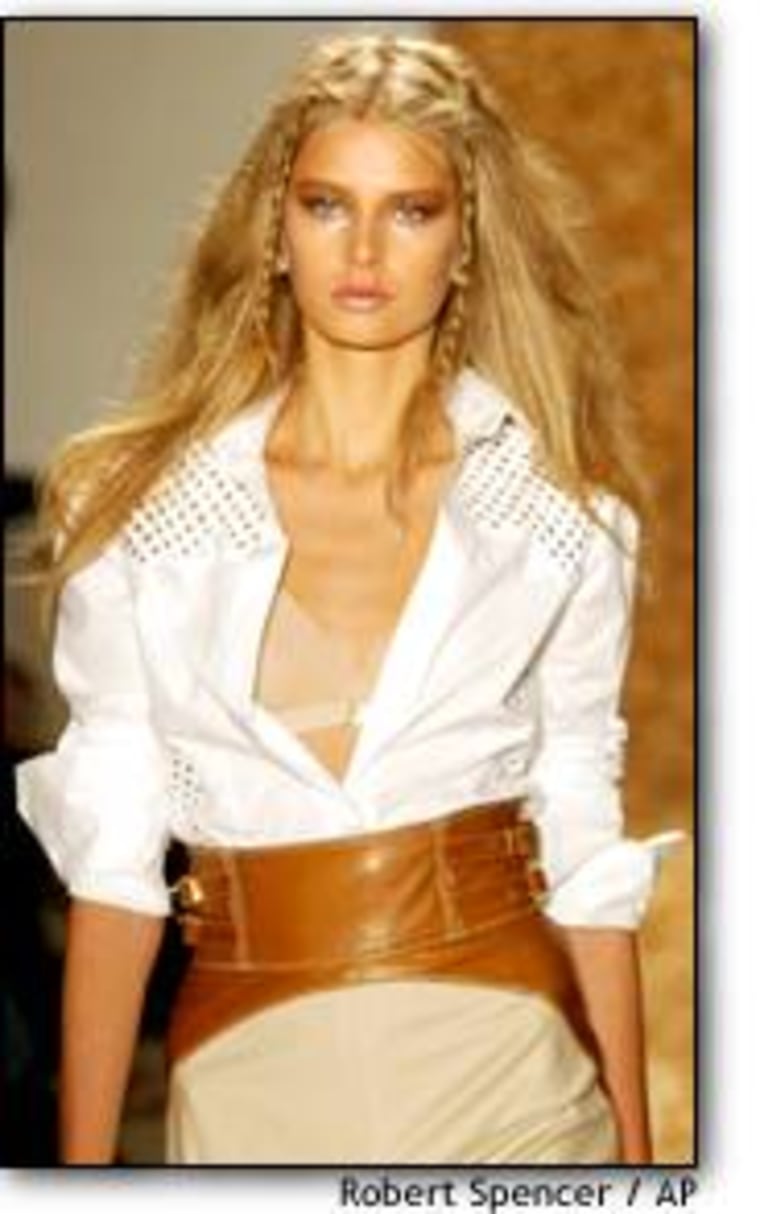 "I'm using girls my own age," said Vollbracht, who was born in 1947 in Quincy, Ill. "Women who know how to show clothes and not just teenagers who thump down the runway. These ladies know how to take a jacket off. It's great to show these women who are so beautiful and in their 50s. If we could reach a 50-year-old woman, I have done my job."
Elsewhere on the runways, if Anne Klein designer Michael Smaldone has his way, "Pardon me, your blouse is unbuttoned" will no longer be a fashion faux pas.
At his show, which featured soft, quiet clothes such as monochromatic separates in black or white, there was nothing subdued about the necklines, with blouses unbuttoned to the midriff, the better to showcase the stretch bras beneath. A white pantsuit was accessorized with a black chain belt - oh, and a black bra. Silhouettes were long and lean, with cigarette-slim knee-length skirts, which are becoming a staple on runways this week.
Kate Spade has built her business on trendy handbags in simple shapes with offbeat fabrics and colors, such as white terry cloth and wool plaid. For spring she showed an exuberant collection in raspberry pink, coral and citrus yellow - "really sherbet colors," she said. "There's a lot of energy to the collection, very optimistic. It's not too fussy or too serious."
In those colors, it couldn't be. Box-shaped white lacquered wicker bags came with lids in pink or green leather. Her footwear line advanced the whimsical notion, with polka dot mules in olive and turquoise.
Ellen Tracy did not steer from its traditional formula for success, distilling the trends for more mainstream tastes in sportswear. In a line that takes its cue from the Spice Islands, out came safari-influenced patch pockets and belt details, a halter dress in a palm-tree print and drawstring dresses and pants, all tropical togs for an out-of-Africa mood.
Badgley Mischka and Vivienne Tam were also among the designers showing their spring collections on Tuesday.